Comets travel to state No. 3 Ventura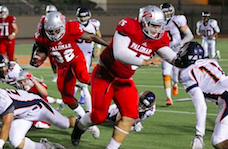 DeVion Sneed follows Francisco Rodriguez's block after catching a Shea Morales pass to help set up winning TD vs. Citrus. (Hugh Cox Photo)
2018 COMMUNITY COLLEGE FOOTBALL
From Palomar Sports Information
SAN MARCOS (9-21-2018) – Palomar College has an opportunity to do something special when the Comets travel to Ventura to play the Ventura College Pirates on Saturday in the Comets' third non-conference game of 2018.
Kickoff is slated for 6 p.m. at the Ventura College Sportsplex.
The Pirates (3-0) enter the game ranked No. 3 among California community colleges in coaches' rankings conducted by the Junior College Athletic Bureau of San Mateo behind No. 1-ranked and defending state and national champion Fullerton (3-0), which owns a 22-game win streak, and No. 2 City College of San Francisco (3-0) and No. 4 Riverside City College (2-1)
The Pirates blew out Saddleback two weeks ago in a surprising blowout and last Saturday held off Hancock 29-28, scoring the winning touchdown on a 62-yard swing pass with 1:17 left in the game.
The Comets (2-1) come in ranked No. 19 in the state. Palomar scored the winning touchdown with 54 seconds left on an 11-yard pass play from Shea Morales to Cal transfer Logan Gamble as they knocked off visiting Citrus, which had won its first two games 52-13 and 73-0
"We have a big opportunity," Palomar coach Joe Early said about the match-up with the Pirates. "Ventura not only has a good team, but they play very well at home. It will be a challenge to get our run game going, and our defense has to stop their big play guys. They have a big-time Division I tight end and big receivers."
The Pirates' tight end is 6-foot-5, 235-pound Travis Koontz, who has committed to Pitt after narrowing his final two choices to Maryland and the Panthers.
PROBABLE PALOMAR LINE-UPS
OFFENSE
Quarterback
Conner Curry (6-2, 200, Fr., Evangel Christian HS, Shreveport, LA / Ouachita Baptist University)
-or-
Shea Morales (6-4, 210, Fr., Carlsbad HS)
Running Back
Shevell Sterling (5-10, 190, Fr., Grossmont HS)
-or-
DeVion Sneed (5'9, 208, Fr., Vista Murrieta HS)
Fullback
Arnold Yoder (6-1, 260, 260, So., Toledo HS, Toledo, WA / USMC)
Receivers
Logan Gamble (6-6, 200, Fr., St. Anthony HS, Long Beach / Cal)
Bryce Walker (6-0, 180, So., Bartram Trail HS, Jacksonville, FL)
Mikel Barkley (5-11, 165, Fr., Temecula Great Oak HS)
Zack Morel (6-2, 193, So,, Vista HS)
Slot Receivers
Devin Nilson (6-0, 187, So., Carlsbad HS)
Johnny Arzola (6-0, 195, So., Oceanside HS, Dixie State)
Tight End
William Gonzalez (6-4, 230, Fr., Murrieta Valley HS)
Left Tackle 
Donovan Pati (6-3, 260, Fr., Vista HS)
-or-
Quinton Maxwell (6-3, 340, Fr., King HS, Detroit)
Left Guard
Francisco Rodriguez (6-4, 300, Fr., Sicks HS, Tampa, FL)
Center
Anthony Escalante (6-2, 240, Fr., Rancho Buena Vista HS)
Right Guard
Brayton Lindholm (6-6, 290, Fr., Moses Lake HS, Moses Lake, WA)
Right Tackle
Will Eoff (6-6, 290, Fr., Vista Murrieta HS)
DEFENSE
End
Mason Simeta (6-3, 240, Fr., Lacey HS, Timberline, WA)
End
Jordan Duson (6-1, 240, Fr., Oceanside HS)
Tackle
Koa Evalu-Robinson (6-3, 275, Lahainaluna HS, Maui, HI)
Tackle 
Isaac Tuia (6'1, 295, Fr., Bishop Gorman HS, Las Vegas, NV)
Linebacker
Spencer Kaoanga (6-1, 220, Fr., Oceanside HS / Air Force Prep)
Linebacker
Chris Calhoun (6-1, 210, Fr. Mission Hills HS)
Cornerback
Jihad Hightower (5-9, 171, Fr., Creekside HS, St. Johns, FL)
Cornerback
Louie Flores (5-10, 180, Fr., Mission Hills HS)
Safety
Jay Craft (5-11, 180, Fr., Cherry Creek HS, Cherry Creek, CO / Kansas State University)
Safety
Giovanni Herrera (5-10, 185, Fr., Mira Mesa HS)
Nickel
Maxwell Milner (6-3, 205, Fr., Mission Hills HS)
SPECIAL TEAMS
Kickoffs, PAT's, FG's)
Mark Meador (5-8, 147, Fr., Del Norte HS)
Punter
Jacob Stepanek (6-3, 205, Fr., Temescal Canyon HS, Lake Elsinore)
Holder
Jacob Stepanek
Long Snappers
Ryan McCowan (5-8, 170, Fr., Valley Center HS)
Edwin Vorachack (5-10, 175, Fr., Escondido HS
Kickoff Returners
Lamar Raboteau (5-8, 165, Fr., Mira Mesa HS)
Damon Wigand (5-10, 180, Fr., Mission Hills HS)
Punt Returners
Devin Nilson
Johnny Arzola