State No. 5 Griffins sweep Pasadena City
Updated: September 20, 2018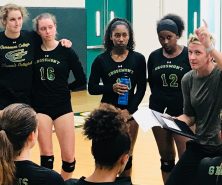 Grossmont during a time out on Wednesday night.
2018 GROSSMONT COLLEGE WOMEN'S VOLLEYBALL
By Dave Dickens
EastCountySports.com
EL CAJON (9-19-2018) – Heading into Wednesday night's home match versus the visiting Pasadena City Lancers, the Grossmont Griffins were ranked at No. 5 in the state.
Grossmont was swept by a very good El Camino team last week, which now ranks No. 3 in the state, and the Griffins defeated College of the Canyons, No. 9 in the state, in five games over the weekend.
Grossmont has proved that they have a great deal of depth, as the entire team has stepped up in several different lineups as the Griffins sat at 8-2 entering the match.
Grossmont has lost three of their key athletes, LEXI MORRIS, CARLY GONZALEZ, and ASHLEY WHIPPLE.
"We are having to change our lineup each week due to injury, like tonight as you could see we had a new lineup," said Grossmont Head Coach Jamie Ivers. "We have not been as fluid as we have been in the past with the new lineup."
Grossmont's JULIA HOLDEN was, in fact, one of the many factors leading to the defeat of the visiting Lancers.
Holden was 6 of 12 for kills and also provided some key defensive blocks with three on the evening.
"The injuries to our squad definitely took out valuable assets to the team, but they are team players, showing up to all of our practices and supporting us on game day," said Holden. "Without a doubt, they would also much rather be on the court with us. Tonight was a fun game and I was given some great sets to score off of."
The Griffins had a few miscues, but remained resilient and overcame adversity, as someone on this squad always steps up.
Grossmont was able to defeat Pasadena, 25-19, 25-20, and 25-21.
Holden couldn't do it alone as several stepped up, including the triumphant tandem SHANEY LIPSCOMB (13-22 kills, 1 assist, 3 digs) and ALEXIS VANLANDINGHAM (10-23 kills, 2 blocks, 1 assist and 2 digs).
Not only did the team work hard on the court, the team support overall, especially vocally, could bring the house down with their enthusiasm.
The last set was a back and forth affair, entertaining for the crowd, but leaving the coaches with an accelerated heart rate.
Whether a spectator or official, coach or player, it was definitely an entertaining contest.
"I thought our DS players and liberos – JEN ORBITA and KAYLI BARRERA – did a solid job back row in serve receive and transition which helped us run our offense to score points," said Holden. "Both setters also played great tonight, making the right choices and siding out quickly."
The Griffins are now (9-2) atop the Pacific Coast South and will travel north to face Santa Barbara City College, which is sitting at 2-4, on Saturday at 2 p.m.
Pasadena City fell to 3-7.