Eagles send Southwest home with goose egg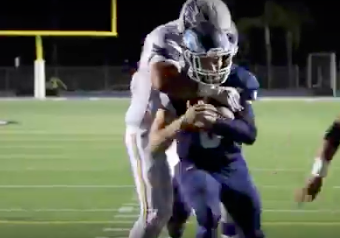 2018 EAST COUNTY PREP FOOTBALL
GRANITE HILLS 38, SOUTHWEST (EC) 0
EastCountySports.com staff report
EL CAJON (9-21-2018) – Granite Hills football has had a winning tradition for decades. This season has proved to be no different.
The Eagles are taunted by the strength of schedule remarks, however, these young men remain committed and confident to add yet another league title, this time in the tougher, quite competitive, Grossmont Hills League.
But the first order of business was to take care of the desert teams that have typically come to the East County to wreak havoc on local teams, although West Hills (4-1), decided they weren't allowing the same result when they defeated the Eagles of Southwest (El Centro), 20-3, in the desert and the Granite Hills Eagles decided to duplicate the East County success.
After some defensive stops from both the visitors and Granite, the Eagles, with a little over eight minutes to play in the first quarter, decided it was time to put a drive together and ride their spectacular defense, as well.
Granite put their first points on the board with a scamper into the end zone from senior QB CRIS OSTRENG. The extra point was successful to make it 7-0 Granite with seven minutes remaining in the first quarter of play.
Two minutes later, after another defensive stand, Ostreng would connect with senior tight end NICO SNOW, his first touchdown grab of the season. The extra point was successful and Granite was up, 14-0, with just under five minutes left to play in the first quarter.
"Offensively, we were just clicking as a whole. We were unstoppable in that first quarter," said Ostreng.
After a quick three-and-out performance by the Granite defense, yet again, the Eagles put together yet another offensive drive that was moving along with precision play by the offense.
One of the hometown heroes in the win last week, ETHAN RAYMOND, scored yet another rushing touchdown gem with under four minutes to play in the first quarter, and after another successful extra point attempt, it was 21-0, Granite.
"Defensively, the team was group tackling and plugging all the holes, said Ostreng.
The home team was still not done with the scoring frenzy in the first quarter.
Granite would opt for a JUSTIN MCELLIGOTT field goal to put them up 24-0 with 58 seconds remaining in a long first quarter of football for the visitors from the desert.
Ostreng was on fire in the first half as he would add yet another rushing touchdown just two minutes into the second quarter, and with another McElligott successful extra point try, it was a 31-0 Granite lead.
Just for good measure, Ostreng would toss yet one last touchdown pass to CARLOS DELEON, his first of the season, not to mention, WR JACOB SETTERBERG added quite a few beauties to lead the team in receiving yards.
The second half was a defensive battle for both Granite and the visitors, as the goose egg put up by the Granite defense that has only trailed West Hills for points allowed in the Grossmont Conference through four games. However, after the stats are compiled, Granite will be taking over in that category.
Just to name a few in this bruising bunch, BRIAN SMITH had four tackles on the evening, NEAL CREED had a fumble recovery, BRYCE CHRISTIAN recovered a fumble, and JACOB KRUGER had an interception.
This defense has been underestimated and underrated so far this season, but have delivered in all five games.
"We have been working on getting fumbles all week and it was pure instinct to dive on the ball," Christian said. "Our
defense is just super solid, and we executed our jobs with precision in my opinion."
"Others on the defense that also made it possible was ETHAN BISHOP and NOAH MEDERIOS," Smith said. "As far as competing in league, we are gonna have to play Granite Hills football like we always do if we want to win. We are definitely preparing to come out strong."
The Eagles are 5-0 in non-league play, and will begin their true battle test as they face last year's state champion, the Steele Canyon Cougars (4-1), who played two close ones last year, and they are more than likely wanting to avenge their one-point loss last year, which saw them exit the postseason early.
Buckle your seatbelts, ladies and gentlemen, this one will be quite the battle at Steele Canyon, on
Friday the 28th at 7 p.m.