Monarchs go to bench for Joe Bruin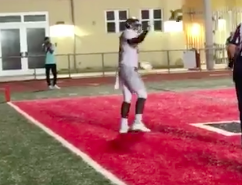 JAHMON MCCLENDON FOLLOWING HIS THIRD TD OF THE NIGHT.
2018 EAST COUNTY PREP FOOTBALL
MONTE VISTA 42, BISHOP'S 26
EastCountySports.com staff report
LA JOLLA – Trailing 19-14 at halftime, the Monte Vista Monarchs rallied in the second half big time to defeat Bishop's, 42-26, at La Jolla High on Friday night
Monarch senior running back JAHMON MCCLENDON came off the bench and rushed for 349 yards and four touchdowns.
ELSHADDAI LEVI scored the game's first touchdown on a 25-yard run, as the Monarchs led 7-0 after one quarter.
McClendon didn't start for the Monarchs in this one but he joined the lineup later in the first quarter on the team's third series.
The Knights tied the game in the second period, but Monte Vista put together a drive that was mostly McClendon. The UCLA-bound back had a 3-yard TD run to take the lead right back.
Bishop's pulled to within a point on a TD with two minutes to go before halftime, then the Knights recovered a fumble on the kickoff, converting the special team's miscue into a score just a minute later for the halftime edge.
McClendon opened the second half with a long run to the Knights' 27, the scored on a 16-yard touchdown run, putting the Monarchs up by 5, but Bishop's kept up their end of the back-and-forth with a touchdown.
With three-and-a-half minutes left in the third quarter, McClendon had a 59-yard run for a score, as Monte Vista regained the lead.
Monte Vista quarterback KENNY STEVENS ran for a touchdown at the end of the third quarter on a fourth-and-goal situation to give the Monarchs a 9-point lead.
McClendon added a score with two minutes to go.
Monte Vista's JEVON BROOKS had his second interception of the game midway through the fourth quarter, while teammate SEBASTIAN VALDEZ added a sack later in the period.
JACK WALKER and GERARDO ARRELANO helped open the way for Monte Vista's running game.