Lancers edge overmatched RedHawks
Updated: September 29, 2018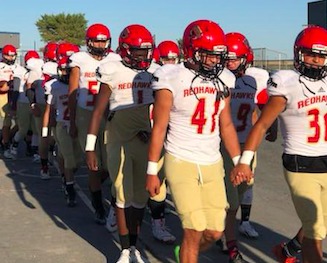 2018 EAST COUNTY PREP FOOTBALL
HILLTOP 21, MOUNTAIN EMPIRE 14
By Roxy Burns
Special to EastCountySports.com
PINE VALLEY – For the second game in a row it was a battle down to the wire as Mountain Empire again faced a bigger opponent, both physically and in numbers. The final score was the exact same as the last game but this time the opponent was Hilltop, which defeated the RedHawks, 21-14.
It was a back-and-forth battle as Hilltop took a 7-0 lead and the RedHawks battled back to tie up at 7 on a 2-yard run by Esteban Castillo.
In the second quarter, Hilltop took a 14-7 lead, but again Mountain Empire battled back and scored on a Gabe Hydorn 16-yard TD run late in the second half to tie it up, 14-14, at the half.
Mountain Empire received the ball to start the second half and on fourth down, a bad path snap caused them to turn the ball over deep in their own territory. After a tough stand, Hilltop eventually scored to go up 21-14.
The score stayed that way late into the fourth quarter when the RedHawks took over and drove down the field.
On third down from the Hilltop 22 yard-line, Hydorn threw a pass to Nathan Rose that he seemed to catch and roll over onto the ball that was ruled a catch by the sideline ref, but after a group discussion but all the referees, the call was overturned and the RedHawks crowd went wild in disagreement.
The fourth down pass was tipped by Marcus Smith but not caught. Mountain Empire fell just short again playing a team in a higher division.
At the end of the game, the Hilltop coach spoke with the RedHawks, and surely it had something to do with how well of a game they played.
Next Friday, Mountain Empire starts and league play.