EAST COUNTY FEARLESS FORECASTER – Week Eight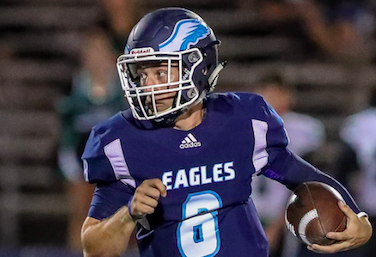 Granite Hills senior quarterback CRIS OSTRENG / Dan Barnes Photography
2018 EAST COUNTY PREP FOOTBALL
FEARLESS FORECASTER – WEEK EIGHT
By Ramon Scott
EastCountySports.com
LA MESA – The Grossmont Foothillers find themselves as home underdogs against the undefeated Granite Hills Eagles at Jack Mashin Stadium on Friday night.
Both squads are 1-0 in the Grossmont Hills League after wins last week.
The teams have virtually flipped their positions in the county power rankings since the start of the season.
Last Friday, Granite Hills senior linebacker NOAH MEDEIROS secured the 30-27 win with a fourth-and-goal sack against Steele Canyon.
Senior quarterback CRIS OSTRENG scored a touchdown with gave the now ninth-ranked Eagles the late lead. 
Eagle junior strong safety ETHEN BISHOP returned a fumble 44 yards in the second half and JAKE HENNESSEY blocked a field goal attempt for the Eagles and AARON MACHADO picked up the ball and ran it in for a momentum-shifting score.
Granite Hills' defense has 14 sacks and 16 takeaways this season
Grossmont junior quarterback JAIME ODOM connected with several of his targets for touchdowns in just a few minutes span last week in a 51-7 win over Valhalla.
BRODY SCHICKER, DEMARI CRAWFORD and DESMOND CARTER caught TD passes in just a little over three minutes of play.
Odom has passed for over 1,000 yards this season and 11 touchdowns.
The quarterback found nine different receivers last week, including junior SHAWN WILLIAMS, who caught a touchdown. THOMAS MANGUM, another main target, had an 85-yard kickoff return for a touchdown following a handoff.
Grossmont's offensive front is led by DEVIN JENNINGS, RAYMOND LIRA, JOSH HOWERY, and NATHAN KITCHEN.
Granite Hills leads 25-21, but Grossmont has won seven of the last eight meetings. However, those games have been spread over the last 18 years.
The last times these two teams met was in 2013 when Grossmont won 63-49 over the Eagles in the third-highest scoring game in CIFSDS 11-man football history, but the result is not listed in the CIF record book.
The ratings say the Eagles are expected to win by about two touchdowns but the Foothillers will be a live underdog here… GRANITE HILLS, 28-24.
SANTANA (4-3, 0-1 GVL) at WEST HILLS (5-1, 1-0 GVL) – The Wolf Pack have had possession of the Jack Dale Cup for the last six years while subtly putting its rivalry with the Sultans on the back burner.
The schools meet for the 30th time on the football field with West Hills leading the series lead, 22-7.
Last year, the Pack won, 34-7, at home as JORDIN YOUNG passed for two touchdowns and ran for another.
Santana's COLTON SNIPES had a touchdown reception in the fourth quarter in that one.
Looking for a downfield spark in the passing game last week against Mount Miguel, Santana sophomore quarterback DREW TEMPLE entered the game and completed 11 of 19 passes.
BROOKS MOUTAW and LINCOLN SUMNER rushed for touchdowns in the loss for Santana.
For West Hills, in its win over El Cajon Valley, junior IZAYAH FUSSELL rushed five times for 107 and a touchdown while YOUNG passed for two scores and ran for another.
Junior KOLE KLINGERMAN and senior TRAVIS DEAL caught the scoring passes from the Wolf Pack signal caller. Klingerman's brother, KIP, scored on a blocked field goal return.
West Hills freshman BRADEN OBERG rushed for a touchdown, while his senior brother, TRENT, had an interception on defense. 
And the Cup goes to… WEST HILLS, 31-17.
No. 11 CHRISTIAN (6-0, 1-0) at MORSE (4-2, 1-0) – The undefeated Patriots host the Tigers in a matchup of 1-0 Eastern League teams.
The Patriots won their showdown between the expected two best teams in the league, but the Tigers also entertain hopes of a title after winning 54-25 against La Jolla last week.
Christian is coming off of a 48-28 over Mira Mesa as senior quarterback OWEN EASLEY accounted for five scores last week, throwing for 219 yards.
Easley passed for three of the scores, including two to Homecoming star ALEX GONZALEZ and a 60-yard connection with JACK ST. FLUER to open the scoring.
Gonzalez also had three sacks.
Morse has UCLA-bound Shamar Martin but Isiah Thompson had over 200 yards and five touchdowns on the ground against the Vikings.
This pairing between large- and small-enrollment schools is being played for the sixth straight year, with Christian winning them all.
The last four meetings have been decided by 10 points or less… CHRISTIAN, 31-24.
No. 19 MONTE VISTA (5-1, 0-0) at MOUNT MIGUEL (2-4, 1-0) – The Monte Vista Monarchs host Mount Miguel in the "original" battle for Spring Valley.
These two teams, which will meet for the 58th time, like to use different means to travel down the field these days.
Monte Vista senior JAHMON MCCLENDON continues to move up the county's all-time rushing ranks after he gained over 250 yards last week, as he moved into seventh-place on the county's all-time rushing list.
Monte Vista's BRYANT ADAMS recorded a pair of sacks, while JEVON BROOKS had an interception and recovered a fumble in the win in Santee.
The Monarchs will have to defend Mount Miguel's wide-open aerial game with sophomore quarterback J.D. LAVERDIERE. 
Laverdiere racked up over 400 yards passing last week in a league-opening win at Santana, including three touchdowns and over 200 yards to emerging junior star JAHIEM ALLEN-POMPEY, who finished with 11 catches overall and added an interception in the end zone.
Senior LARRY YZAGUIRRE rushed for two touchdowns for the Matadors, while sophomore MIKEY AVANT caught a TD pass.
The Matadors' ERIC GRAHAM had a touchdown reception and an interception.
The Monarchs have won the three of the last four meetings, but still trail the Matadors in the series, 32-26… MONTE VISTA, 38-17.
STEELE CANYON (4-2, 0-1) at EL CAPITAN (2-4, 0-1) – The Vaqueros' stunned Helix in the first quarter last week when JEFTY REYES got behind the secondary and caught a perfect pass from WICK HAUSER for a 7-6 lead.
El Capitan will look to surprise the Cougars when the teams go searching for their first win on Friday night.
El Capitan senior BRANDON WILLIAMS had a sack late in the first quarter against the Highlanders as the Vaqueros trailed by just a touchdown early in the second quarter.
Steele Canyon will look to shake off the sting of another close loss to recently found-rival Granite Hills.
NATHAN BARNETT had 244 yards of total offense and a touchdown and KENNETH WATSON rushed for a pair of scores but the Cougars couldn't cash in from inside the 10 on their final possession of the game.
Senior VALON MARTINEZ had a 49-yard big catch that put Steele in scoring position at the Eagle 7.
Steele Canyon out-gained the Eagles with 362 yards of total offense.
Steele won the season finale last year, 28-7, as Watson rushed for 161 yards and a score in the game, while El Cap's DONNY GREEN had a 68-yard reception in that one.
The Cougars lead the series 5-3, including three-straight… STEELE CANYON, 31-19.
VALHALLA (0-6) at No. 3 HELIX (3-3) – Helix moved up once again in the county rankings after a couple of notable upsets last week in the top five.
Junior ELELYON "FATTO" NOA had 319 yards and five touchdowns and 319 yards last week in a 41-7 win against El Capitan and XAVIER HAMLETT showed his big-play ability from the defensive side of the ball with a 34-yard interception return.
Junior JEREMIAH FLETCHER is the latest Helix defensive star. He added to his laurels with a sack and a tackle-for-loss in the span of just a few plays last week. ANTHONY LOMBARDO also had a sack against Valhalla.
Valhalla senior KIARE WORTHY always turns in his highlight-reel play every week it seems. He took a 42-yard screen pass to the end zone last week to make it a game early against Grossmont.
Senior ZACH LARSON blocked a Hiller field goal attempt.
Helix has won eight straight meetings and lead the series 37-5-2… HELIX, 42-0.
CASTLE PARK (2-4) at EL CAJON VALLEY (0-6) – The El Cajon Valley Braves host the Castle Park Trojans in a game with a pair of programs currently fighting the laws of attrition when it comes to varsity football.
Castle Park has had to forfeit a pair of games this season because it couldn't field a healthy team, but the Trojans also have a pair of wins.
The Braves are winless but are just a few notches below the Trojans in the official computer ratings and they are at home here.
Last Friday against West Hills, in one of the wackiest plays of the year, El Cajon Valley sophomore Clarence Johnson picked up a live ball after a screen pass wasn't blown dead. 
After some encouragement from the El Cajon Valley bench, Johnson began running to the end zone and won a sprint to pick up six on what turned out to be a 75-yard run.
Johnson also had a receiving touchdown in the game from senior quarterback Atlantis Eidejus. Senior Brandon Robinson leads the Braves with 10 receptions this season.
The Braves and Trojans last met in the 2005 CIF Division 2 quarterfinals after several Castle Park parents filed a lawsuit after the CIF ruled the team would forfeit six wins. 
At the time, at least three forfeits made a team ineligible for postseason play.
A Superior Court Judge allowed the Trojans to play their playoff games, but the Braves had the final verdict behind Abraham Muheize's seven touchdown passes and 600-plus all-purpose yards in a 56-32 win.
When the Braves play a non-league game in the middle of their league schedule, they have a 5-4 record since 1991… CASTLE PARK, 32-19.
MOUNTAIN EMPIRE (3-3) at O'FARRELL CHARTER (0-6) – O'Farrell has been a full-fledged high school for six years now, but this is its first year of football, and the Falcons will play their first-ever Homecoming football game on Friday afternoon at 3:30.
ESTEBAN CASTILLO and GABE HYDORN had touchdown runs in the first half last week to send the game into the half tied at 14-all against Hilltop.
However, the Lancers scored the only touchdown of the second half.
The RedHawks were just an overturned call away from possibly tying the game in the final stages.
On third down from the Hilltop 22-yard line, Hydorn threw a pass to NATHAN ROSE that he seemed to catch and roll over onto the ball.
The play was ruled a catch by the sideline ref, but after a group discussion by the referees, the call was reversed and the RedHawks crowd went wild in disagreement.
A fourth-down pass was tipped by MEHS receiver MARCUS SMITH but not caught.
DALLAS PRINCE had seven receptions to lead the RedHawks.
Senior BENITO RUIZ had an interception and a forced fumble and recovery for Empire, while senior teammate CHARLIE SALLEE forced a fumble and had to fumble recoveries.
The Falcons' only touchdown this season came in Week 1… MOUNTAIN EMPIRE, 56-0.