Pack wins; Braves' Johnson makes hay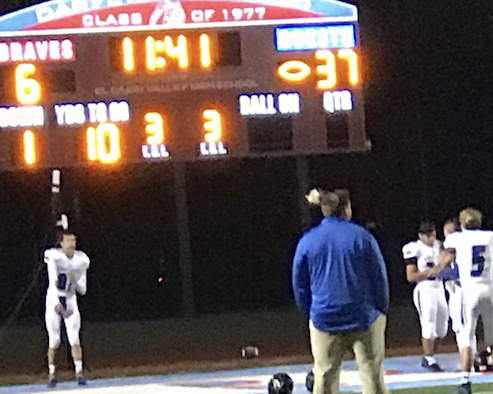 West Hills during halftime against El Cajon Valley on Friday night.
2018 EAST COUNTY PREP FOOTBALL
WEST HILLS  47, EL CAJON VALLEY 13
EastCountySports.com staff report
EL CAJON – The West Hills Wolf Pack defeated host El Cajon Valley for the 21st time in 24 meetings on Friday night, but the Braves' CLARENCE JOHNSON surely earned a spot as a leading candidate for the best touchdown of the year in the football follies category.
Johnson picked up a live ball following some encouragement after a dropped screen pass and dodged a few stunned defenders before showing his true speed in the open when he finally raced 75 yards for a touchdown, outsprinting two desperate West Hills defenders.
The pass was determined to have never traveled forward and there was no whistle to blow the play dead.
It was a play that thrilled the home stands.
Otherwise, the Wolf Pack tended to the business at hand, knocking off El Cajon Valley, 47-13.
Junior IZAYAH FUSSELL rushed five times for 107 and a touchdown for West Hills, while senior quarterback JORDIN YOUNG passed for two scores and ran for another.
Junior KOLE KLINGERMAN (8 yards) and senior TRAVIS DEAL (10 yards) caught the scoring passes from the Wolf Pack signal caller.
West Hills freshman BRADEN OBERG rushed for a touchdown and senior TRENT OBERG had an interception on defense.
Wolf Pack senior JACK BROWNING booted a pair of field goals, as well.
The Wolf Pack blocked a punt, which resulted in a touchdown return for KIP KLINGERMAN.
Junior JOSH ALAGATA had a sack for the Wolf Pack.
Young had a 9-yard touchdown to open the scoring.
Johnson proved to be one of the fastest players on the field, adding a  30-yard score late.
Senior BRANDON ROBINSON had a pair of receptions for the Braves from senior quarterback ATLANTIS EIDEJUS.
Next Friday, the Wolf Pack will host Santana for the Mayor's Trophy, while El Cajon Valley hosts Castle Park on Homecoming.