Evans named Grossmont College interim AD
Updated: September 30, 2018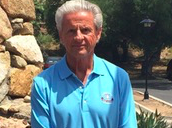 FORMER SAN DIEGO MESA COLLEGE DEAN OF ATHLETICS CLIMBS ABOARD AS GROSSMONT COLLEGE INTERIM ATHLETIC DIRECTOR
By Dave Dickens
EastCountySports.com
EL CAJON (9-26-2018) – Change is a part of our world and everyday life, particularly when we are speaking about athletic programs.
Changes are made at the administration level all the way down the ladder, down to the players even volunteer ballboys.
Let's face it, if any athletic program as a whole isn't reaching success as a whole, especially in regard to the sports that attract the most student-athletes at the junior college level.
Football, baseball, and basketball are typically what attracts the competitive student-athletes.
Typically, the student-athlete is looking for state of the art facilities, a beautiful campus, a winning tradition against quality opponents, and the success rate of student-athlete transfers to top-notch programs.
As sports historians of the East County, all of us know the success started at Grossmont College back in the 70's, 80's, and 90's, and a few years in the new millennium.
Coach Dave Jordan established a 70 percent success rate in this department.
Typically, your establishment as a noteworthy junior college is that transfer rate to fine 4-year universities.
The perfect formula for attendance and transfer success, academic excellence, great coaches, and a phenomenal Athletic Director with a resume of success.
Grossmont already has the blueprints of coaching success, longtime head football coach Mike Jordan, women's volleyball head coach Jamie Ivers, men's basketball head coach Doug Weber, and interim first-year women's basketball coach Brionna Baker, who was also a fantastic player for the Griffins.
Grossmont College has added one of the best Athletic Directors as of last Tuesday.
Interim Athletic Director Dave Evans has a resume that stands out amongst one of the best to take on the position.
A native of Kansas City, Mo., Evans attended Oak Park High School. While attending Oak Park High, Dave played tight end in the first state playoff in Missouri history.
Dave attended college at Missouri Southern State College, where he played football, as well as, baseball.
While attending Missouri Southern State, Evans played tight end, split end, and outside linebacker on an
undefeated NCAA National Championship team.
Dave was elected into the Missouri State College Hall of Fame as a player in 1994.
Dave Evans did not leave his success only on the field, he also received his Master of Science in Education, (Physical Education, Health) from Northwest Missouri State University and his Bachelors of Science Degree in Physical Education from Missouri Southern State University.
Mr. Evans began his professional career at his alma mater, Northwest Missouri State University.
Evans also served as a physical education instructor, health instructor, and football coach there for 10 years.
From 1983-1990, Evans taught Physical Education at Missouri Southern State College.
Mr. Evans was not finished by a long shot.
In 1990, he moved to San Diego. From 1990-1997, he worked as a Professor of Physical Education and Athletic Director, before finally moving to San Diego Mesa College.
"I received a call from Grossmont about a week or so ago, as I had heard there might be a change, a position available, and so I followed up," said Evans. "A great opportunity given to me as the winning tradition here at Grossmont College, not to mention
the great coaching staff in all of the athletic programs.
"Being an Athletic Director for 20-plus years at San Diego Mesa, I already knew several of the coaches, head coach Jamie Ivers in particular, as she had previously coached women's volleyball at Mesa College."
Dave has been retired for the last three years and looking forward, however, to a new Inland Empire conference coming this fall, in which he would like to apply for the commissioner of the conference.
Basically, the conference years ago was called the Foothill Conference. Evans will plan on working hard on improving the athletic department, in particular for the next four months.