Monarchs pull away from Matadors' bid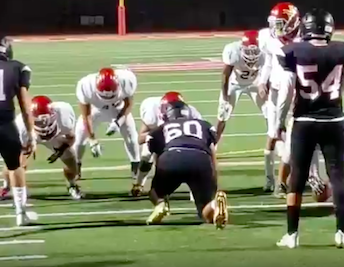 Jahmon McClendon and the Monarchs line up on Friday night against Mt. Miguel
2018 EAST COUNTY PREP FOOTBALL
MONTE VISTA 35, MOUNT MIGUEL 14
EastCountySports.com staff report
SPRING VALLEY – The Mount Miguel Matadors had every right to think they could pull off an upset of the visiting 19th-ranked Monte Vista Monarchs on Friday night.
The Matadors were toe-to-toe with their favored rivals, sitting in the locker room with the score knotted at 14-all.
However, Monte Vista senior running back JAHMON MCCLENDON rushed for two of his four touchdowns in the second half and the Monarchs outlasted Mount Miguel, 35-14, in the Grossmont Valley League game.
Monte Vista won their league opener and improved to 6-1.
But it was the Matadors who were the pace-setters in the 58th renewal of the Battle for Spring Valley.
Mount Miguel sophomore quarterback J.D. LAVERDIERE engineered a scoring drive that was capped by a short touchdown pass to ERIK GRAHAM for the first score of the game and the only score in the first period.
Monte Vista scored in the second quarter on McClendon's first score of the night, which tied the game.
Laverdiere hit Graham again for the lead on another score from inside the 5-yard line.
McClendon's game-tying touchdown in the first half came from 9 yards out.
The Monarchs regained the lead in the third quarter on McClendon's third score. The UCLA-bound back extended the lead to two scores with his fourth TD, a 6-yard run.
Laverdiere passed for 250 yards, while Graham finished with nine receptions.
Monte Vista (6-1, 1-0 GVL) will travel to take on Santana (4-4, 0-2 GVL) next week, while Mount Miguel (2-5, 1-1 GVL) hosts El Cajon Valley (0-7, 0-1 GVL).