Highlanders handle Hills hullabaloo
Updated: October 20, 2018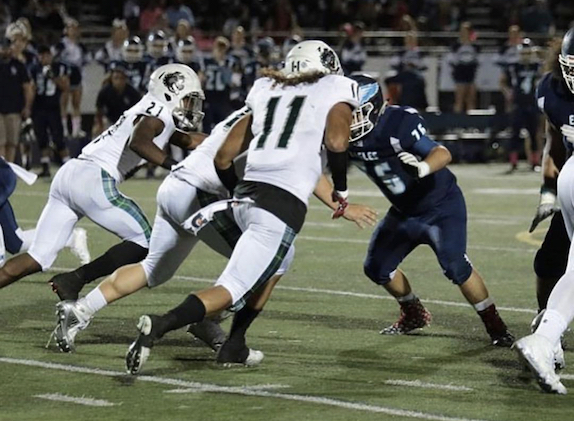 Helix rushes Granite Hills on Friday night. / photo by Antonio McIntyre
2018 EAST COUNTY PREP FOOTBALL
HELIX 52, GRANITE HILLS 31
EastCountySports.com staff report
EL CAJON – You want hoopla? You want hype? You want hope?
Granite Hills was the place to be on Friday night.
After winning three straight titles in the Grossmont Valley League, Granite Hills was rightfully moved up to the tougher Grossmont Hills League this season – where everyone knows Helix rules.
But the Eagles opened this season with eight straight wins and a victory on Friday over the visiting Highlanders would have given Granite Hills the more coveted Hills title.
This one had a live radio broadcast on 97.3, the Padres' flagship station. This one had TV appeal by KUSI's Prep Pigskin Report. This one had a huge crowd on Senior Night at Granite Hills.
No. 3-ranked Helix versus No. 9 Granite Hills even had suspense – for about 2½ quarters.
That's because this one also had Elelyon "Fato" Noa.
Granite Hills had Helix tied at halftime before the Highlanders and Noa took over the third quarter, scoring four straight touchdowns to pull away in a 56-21 win.
"We went in at halftime and challenged our guys to play Helix football," Scotties coach Robbie Owens said. "In the first half, Granite came out and played us tough. They're a good football team being 8-0, but we hurt ourselves with some penalties and a fumble.
"I challenged them at halftime. The last time Helix lost a Grossmont game was against El Capitan (in 2014). The guys really came out strong in the second half."
Noa rushed 27 times for 271 yards and three touchdowns. Despite missing 2½ games with injuries, Noa now has 1,165 rushing yards and 12 TDs.
"He's a beast," Owens said. "I've said it before, when we line up on offense we have the best player on the field. He's a special, unique kid."
Granite Hills coach Kellan Cobbs was equally impressed with Noa.
"The kid is special," Cobbs said. "I think he's the best back in San Diego County."
The Highlanders' platoon quarterbacks both produced.
The passer, senior Daniel Amon threw for 87 yards and touchdown passes of 26 yards to Tim Christopher and 41 yards to Kamryn Brown. The two TD passes matched his season best.
The runner, junior Delshawn Traylor scored rushing touchdowns of 19 and 6 yards to give him 8 TDs for the year. He also had an interception on defense.
"It was a tough first half," Traylor said. "We felt like we came out slow, but our coaches told us in the locker room to just play Helix football, and the final score shows that.
"We feel like we're the best team in the county. We just wanted to show everyone, as good as Granite Hills is, we're still the best out here."
Cris Ostreng was impressive for Granite Hills, completing 14-of-23 attempts for 164 yards and three touchdowns with one interception. He also ran for 72 yards. Jacob Setterberg caught two touchdowns passes and Henry DeLeon had the other.
Granite Hills played very well in the first half, then Helix simply took over.
"I wished we could have matched that in the second half," Cobbs said. "They just wore us out.
"We had a couple three-and-outs to start the third quarter, and we just couldn't stop them. They eventually just wore us out. They have more athletes than us."
With its fifth straight win, Helix (6-3, 4-0) clinched at least a share of the Grossmont Hills League championship and plays host to Steele Canyon next Friday for the outright crown. Helix won the San Diego Section Open Division championship last year and is looking to defend that title, but only four teams make it this year so a win over Steele Canyon is crucial.
Granite Hills (8-1, 3-1) had won 15 straight league games and was hoping to beat Helix for the first time since a 38-35 win in 2005 with Dave Waastad as coach. Helix was 2-6-2 that year, its only losing season since 1975, Jim Arnaiz' second year as coach.
Granite Hills hadn't started a season 9-0 since 1985 when Paul Wargo's club began 11-0 before losing to Vista. The Eagles close out the regular season at Valhalla and are looking for a top seed in the Division II playoffs after losing in the semifinals to Steele Canyon last year.
"Very disappointing," Cobbs said. "We knew we were the underdogs. We stayed in it for a while."
Granite Hills went three-and-out on its first possession. Helix moved the ball well in its first three possessions, but a fumble recovered by the Eagles at the 25-yard line drive derailed the Highlanders' first drive.
In a scoreless first quarter, Granite Hills gained only 49 yards in the first quarter to 73 for Helix.
The Highlanders went on top first, taking its second possession 68 yards in nine plays with Noa scoring from 28 yards on a left end run with 10:05 to play in the second quarter.
Granite Hills answered quickly, going 75 yards in just four plays. A double pass from Ostreng to DeLeon to Juni Harris gained 25 yards just before Ostreng hit DeLeon in the flat for a 10-yard touchdown after DeLeon made a nice move to get by a defender into the end zone. That made it 7-7.
Noa ripped off a couple of nice runs on Helix' next drive before Amon went deep on a fade route to Christopher for a 26-yard touchdown pass and a 14-7 Helix lead with just over 5:00 remaining.
The Eagles then reeled off a most impressive drive to tie the game 14-14 with 0:14 before intermission. A couple of roughing the passer penalties against Helix aided the march, but in the end, it was an 11-play, 83-yard drive over 5:12 elapsed.
Setterberg was the man for the final three plays, catching Ostreng passes of 21 yards, then 8 yards and 4 yards for the score.
In the first half, Ostreng was 7-of-11 passing for 81 yards and two TDs. Harris caught three of those for 40 yards and Setterberg nabbed those final three for 33 yards.
Noa had 133 yards on 15 carries to lead the Highlanders, who gained 166 yards and 206 total yards. Granite Hills had 157 total yards.
"Our defense had to do a better job of getting them off the field," Owens said. "That has to do with tackling."
Helix does a great job of making halftime adjustments, if needed, and sometimes it's simply an attitude adjustment. This one was no different as the Scotties stormed to four straight touchdowns in the third quarter to take a commanding 42-14 lead.
Helix outgained Granite Hills 189-26 in the quarter.
"My biggest thing was we had to own this," Owens said. "At the end of the game, we have to overcome our mistakes and own the game."
The Scotties came out fired up to open the second half. They drove 57 yards in seven plays with Noa taking his fourth carry of the drive 4 yards into the end zone for a 21-14 Helix lead.
After a three-and-out by the Eagles, Helix drove 36 yards in just three plays, and Traylor scored from 19 yards after a fake jet sweep to Noa with 7:30 left in the quarter.
After a three-and-out by the Eagles, Helix drove 89 yards in just five plays over 2:29 to go up 35-14 after Noa scored his third TD on an easy 2-yard run. A 71-yard run by Noa certainly helped. Harris made a TD-saving tackle at the 2-yard line, but Noa scored on the next play.
Traylor, now playing defense, intercepted an Ostreng pass to start a fourth quick scoring drive of the quarter for Helix. Three plays and 1:22 later, Traylor got his second touchdown on a 6-yard run to make it 42-14.
After a dismal third quarter, Granite Hills finally got back to the end zone as Ostreng again hooked up with Setterberg on a 19-yard TD with 9:32 left. The drive covered 69 yards in six plays.
Moments later, Helix struck again as Amon hit a wide-open Brown on a 41-yard touchdown pass to make it 49-21 with 8:09 to play.
After another Eagles punt, backup running back Joshua Shields ran for 20 yards and then 8 more into the end zone to make it 56-21. It was Shields' first TD of the year.
Elijah Liang was 8-for-8 on his PAT attempts with assists from long snapper Connor Chase and holder Chase Osborn.
Helix wound up with 466 total yards to 283 for Granite Hills. The Scotties had 373 rushing yards.
"We just wore them down in the second half, especially the third quarter," Owens said. "But we have to do a better job of getting after it in the first half."
As per usual, Michael Shawcroft was a beast at linebacker and tight end for the Scotties.
"Our running game was ultimately the factor that helped us," Shawcroft said. "When our offense is driving and moving the ball, it brings energy to the defense, and we just fly around and make plays.
"We run the ball so much that our guys are used to running it over and over, whereas other teams may not be prepared for the amount we run."
Grossmont Hills League
HELIX 56, GRANITE HILLS 21
Helix         0 14 28 14 – 56  

Granite Hills 0 14  0  7 – 21
H – Elelyon Noa 28 run (Elijah Liang kick)
GH – Henry DeLeon 10 pass from Cris Ostreng (Justin McElligott kick)
H – Tim Christopher 26 pass from Daniel Amon (Elijah Liang kick)
GH – Jacob Setterberg 4 pass from Cris Ostreng (Justin McElligott kick)
H – Elelyon Noa 4 run (Elijah Liang kick)
H – Delshawn Traylor 19 run (Elijah Liang kick)
H – Elelyon Noa 2 run (Elijah Liang kick)
H – Delshawn Traylor 6 run (Elijah Liang kick)
GH – Jacob Setterberg 19 pass from Cris Ostreng (Justin McElligott kick)
H – Kamryn Brown 41 pass from Daniel Amon (Elijah Liang kick)
H – Joshua Shields 8 run (Elijah Liang kick)