Jaguars stake claim as kings of county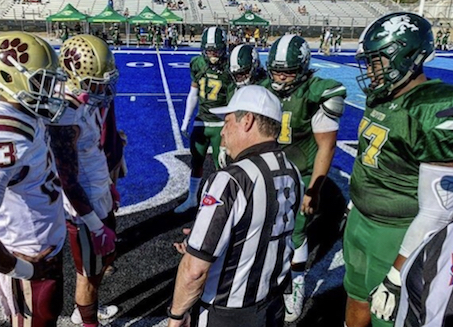 Captains including Grossmont's Jay Williams (77) prior to the game on Saturday.
2018 COMMUNITY COLLEGE FOOTBALL
SOUTHWESTERN 37, GROSSMONT 20
By Dave Dickens
EastCountySports.com
SANTEE (10-20-2018) – If you enjoy rivalry games or neighborhood contests, "Smurf Field" as the natives of West Hills High call it, was the place to be on Saturday afternoon.
As Southwestern College head coach Ed Carberry had stated at the beginning of the 2018 campaign, "To qualify as a rivalry game both teams have to beat each other, and with Grossmont and ourselves, in six meetings, we have split at three apiece."
The Griffins won the last meeting in 2015, 34-14, in which the Jags led Grossmont at the end of the first half in that exciting battle, 14-10, going back and forth, but the Griffins three years ago were victorious at home.
Enter 2018, at West Hills High School, the Jags were coming into the contest at 5-2, while the host Griffins were 0-6.
As in playoff games, rivalry games, all current records remain invisible, in theory, and this one was also tagged as a possible "trap" game for the Jags if you want to utilize the current records.
As the captains for both squads met at midfield for the official coin toss, the visitors selected tails, the coin showed heads, as the Griffins chose to defer their reception to the second half, naturally the Jags would receive. The head referee spoke to each individual player before their exit off the field to "stay healthy."
It was definitely a defensive battle in the first quarter of play, with the punt exchanges by two of the best in the county, JAIME MEDINA, of the Jags, and ETHAN ALBERTSON, of the Griffins.
However, the Jaguars strike first blood as DEANGELO HOWARD had an 8-yard touchdown catch from DEMONTE MORRIS, and the point after was successful, so it was 7-0 Jags with 8:45 left in the first quarter.
It definitely was one of the more physical performances by both teams thus far. Defenders flying everywhere, and some hard hitters from both defenses. Definitely, a high output of adrenaline, as both teams wanted this particular game.
After a six-play, 37-yard drive on behalf of the Griffins, Grossmont would settle on a chip shot 20-yard field goal by Albertson, with the score now 7-3 Jags as the Griffins added three with 3:17 left in the first quarter of play.
As the first quarter came to an end, Grossmont decided to try a 41-yard field goal, which was successful, leaving the score at 7-6 Jags.
Albertson was now 2-of-2 on field goal attempts.
"In our earlier games this season we were trying to maintain possession of the ball and try to eat up a lot of clock, but today when we felt we had the momentum, we would start using our spread packages, while trying to maintain balance running the ball, " said Grossmont quarterback BRADY ABT.
Southwestern figured they better keep control of this contest as the Griffins were starting to close in and possibly steal this one from the Jaguars, something Southwestern was beginning to feel a little too uncomfortable with.
So Southwestern, with quarterback MARCUS HERNANDEZ-TORREZ behind center, decided enough was enough, launching a 77-yard bomb into the waning hands of SEAN DAVIE for a touchdown, and after another successful point after, it was 14-6 Jags with 14:12 left in the second quarter of play.
The second quarter of play, unlike the first, was chock full of scoring and excitement.
Grossmont, with 5:39 left in the second quarter, with Abt behind center, tossed a 30-yard pass into the paws of MATHEW LINTON into the end zone for a Griffin touchdown and another successful point after made it 14-13 Jags. And that would be the closest Grossmont would come to taking the lead for the remainder.
Southwestern would score two more times before intermission, with a big strip sack of Abt by NICHOLAS BAILEY for the 45-yard scoop and score with 5:39 left in the half and another successful Medina point after extended the lead to 21-13 Jags.
Another Jags touchdown with 4:33 left eventually left the score 28-13 Southwestern at intermission.
"I was right there on the scoop and score play after Brady went down," said Grossmont offensive lineman JAY WILLIAMS. "He was down and the play was over.
"However, we also shot ourselves in the foot on some special teams plays, and we have had our challenges on offense and defense, but we are getting better and we are going to do so for the remainder of the season.
"Honestly, if we don't have a couple of special teams miscues in Riverside, we only lose that one 14-10, but we learn, move on and improve."
In the second half of play, Medina would add three to the Jags total on a 23-yard field goal with 10:55 left in the third, 31-13 Jags.
Grossmont would score yet one more time in the contest, on a 1-yard burst into the end zone by running back JARIUS BURNETTE, as the point after was successful, closing the score to 31-20 with 8:24 left in the third quarter.
Burnette broke loose on quite a few occasions for some big runs, but credit the Jag defensive line as they contained the speedy athlete for much of the game.
Burnette finished the afternoon with 19 carries for 54 yards, with only one burst for 13 yards, and the 1-yard touchdown, of course.
Southwestern finished off the Griffins, who fought hard all game with a 45-yard field goal with 1:02 left in the third quarter, and a 27-yard field goal in the fourth quarter by Medina with 8:19 left in regulation.
Medina finished the day with four punts, for 194 yards, an average of almost 49 yards a punt and the longest being a 79 yarder.
Medina was 3-for-4 on field goal attempts, with the 45-yarder the longest and 4/4 on PATs.
Hernandez-Torrez finished 4-for-9 passing for 129 yards, with a long of 77 yards and one touchdown.
Morris finished 11-for-23 passing for 118 yards and a long of 29 yards and a TD. Neither QB threw a pick.
Morris also had 12 carries for 91 yards, a 7.6 yards a carry average.
Abt finished 16-for-42 passing for 215 yards and a long of 50, with one TD and one pick.
Linton led the Grossmont receiving corps with five catches for 122 yards a long of 50 and one TD.
"There were a lot of missed calls in this game but you cannot blame officiating for a loss, it just came down to who executed better won the game," said  Williams.
"Our kicker, Jaime Medina played really well," Southwestern coach ED CARBERRY said. "Even with wind issues, being able to kick it out of the end zone on kickoffs, and he can punt the ball almost the entire length of the field. It is a tremendous advantage.
"Unfortunately, we were missing our starting right and left tackle due to attendance reasons, and no matter who you are, unless you are sick, you will be missing the whole first quarter of play no matter who you are and how bad we need you.
"Which, in turn, took a little time to get back into our rhythm. It was a great game to win, entertaining, thrilling, and exhausting as we left it all on the field today."
"I think we can win all three of our upcoming games and we came into this one with the same type of mindset," Abt said. "We just need to tighten everything up and learn to execute better and limit our miscues and with great film study and on-field preparation we are capable of winning."
Up next for the Griffins (0-2, 0-7), a home game on Saturday, Oct. 27 at 3 p.m. versus Orange Coast College (0-2, 1-6).
This could be just what the doctor ordered for Grossmont to enter the win column.
For the Jags (1-1, 5-2), they will head north into the Inland Empire to face the Riverside Tigers (2-0, 6-1) on Saturday, the 27th at 6 p.m. at RCC. It could be the toughest game of the season for Southwestern.
---
SCORING
1
2
3
4
FINAL
Southwestern (5-2, 1-1)
7
21
6
3
37
Grossmont (0-7, 0-2)
6
7
7
0
20
West Hills HS | Wolf Pack Stadium
PRD
TIME
SCORING SUMMARY
SOUTHWESTERN – GROSSMONT
1
08:45
Southwestern – DeAngelo Howard 8 yd pass from Demonte Morris. (Jaime Medina kick is good).
Drive: 3 plays, 2 yards in 0:57.
7 – 0
1
03:17
Grossmont – Ethan Albertson 20 yd field goal.
Drive: 6 plays, 37 yards in 2:03.
7 – 3
1
00:00
Grossmont – Ethan Albertson 41 yd field goal.
Drive: 5 plays, 17 yards in .
7 – 6
2
14:12
Southwestern – Sean Davie 77 yd pass from Marcus Hernandez-Torrez. (Jaime Medina kick is good).
14 – 6
2
08:21
Grossmont – Mathew Linton 30 yd pass from Brady Abt. (Ethan Albertson kick is good).
14 – 13
2
05:39
Southwestern – Nicholas Bailey 45 yd fumble recovery. (Jaime Medina kick is good).
Drive: 3 plays, 2 yards in 1:23.
21 – 13
2
04:33
Southwestern – Touchdown (Jaime Medina kick is good).
Drive: 6 plays, 26 yards in 2:52.
28 – 13
3
10:55
Southwestern – Jaime Medina 23 yd field goal.
31 – 13
3
08:24
Grossmont – Jarius Burnette 1 yd run. (Ethan Albertson kick is good).
Drive: 4 plays, 5 yards in 0:59.
31 – 20
3
01:02
Southwestern – Jaime Medina 45 yd field goal.
34 – 20
4
08:19
Southwestern – Jaime Medina 27 yd field goal.
37 – 20
SOUTHWESTERN
STATISTICS
GROSSMONT
18
FIRST DOWNS
18
7
9
2
Passing
Rushing
Penalty
8
6
4
20% (3 of 15)
THIRD DOWN EFFICIENCY
25% (5 of 20)
0% (0 of 4)
FOURTH DOWN EFFICIENCY
50% (1 of 2)
428
TOTAL OFFENSE
277
74
5.8
Total Offensive Plays
Average gain per play
79
3.5
247
NET YARDS PASSING
215
15-32
7.7
1-4
0
Completions-Attempts
Net yards per pass play
Sacked: Number-Yards
Had intercepted
16-43
5.0
3-23
1
181
NET YARDS RUSHING
62
42
4.3
Rushing Attempts
Average gain per rush
36
1.7
4-194
PUNTS: Number-Yards
9-310
48.5
Average
34.4
111
TOTAL RETURN YARDS
26
2-61
1-37
1-13
Punt Returns: Number-Yards
Kickoff Returns: Number-Yards
Interception Returns: Number-Yards
2-2
1-24
0 0
6-88
PENALTIES: Number-Yards
8-56
3-1
FUMBLES: Number-Lost
2-1
3-23
SACKS: Number-Yards
1-4
1-13
INTERCEPTIONS: Number-Yards
0 0
28:41
TIME OF POSSESSION
31:19
Southwestern

Grossmont

| PUNTING | NO | YDS | AVG | LG | TB | IN 20 |
| --- | --- | --- | --- | --- | --- | --- |
| Jaime Medina | 4 | 194 | 48.5 | 79 | 1 | 1 |

| KICKOFF RETURNS | NO | YDS | AVG | LG | TD |
| --- | --- | --- | --- | --- | --- |
| Andrew Lira | 1 | 24 | 24.0 | 24 | 0 |

| INTERCEPTION RETURNS | NO | YDS | AVG | LG | TD |
| --- | --- | --- | --- | --- | --- |
OTHER INFORMATION
Location: West Hills HS
Stadium: Wolfpack Stadium
Attendance: 155
Weather: Clear
Temperature: 91
Wind: 11 W