Dunninway, Calhoun are National Division Players of Week
Updated: October 16, 2018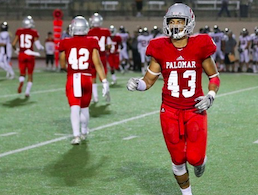 Comet Chris Calhoun is SoCal Defensive Player of the Week. (Hugh Cox File Photo)
2018 COMMUNITY COLLEGE FOOTBALL
By Tom Saxe
Special to EastCountySports.com
SAN DIEGO / SAN MARCOS (10-16-2018) – San Diego Mesa College quarterback Jake Dunninway and Palomar linebacker Chris Calhoun have been selected by the Southern California Football Association as National (State Playoff Eligible) Division Offensive and Defensive Players of the Week for this past weekend's games.
Dunninway, a redshirt freshman transfer from UC Davis from Tracy, CA who played high school football at St. Mary's of Stockton, was honored for his offensive performance in a tough 51-44 home loss to El Camino College in the Olympians' Central League opener.
Calhoun was selected for his defensive performance as the Comets pinned a 38-35 upset loss in Escondido over Mt. SAC, which had been the favored team in the Central League after two-time defending state and national champion Fullerton College was put on probation for unspecified use of ineligible players and is barred from the 2018 post-season — along with the SCFA and CCCAA vacating its 2017 division championship, 2017 state title and 2017 wins.
Depending on what penalties eventually come down against Fullerton, the Comets, who have a bye this upcoming weekend, could have a clear run to representing the Central Division title with an automatic berth in the four-team Southern California Playoffs if they were to run the table by winning their last three games of the season at El Camino in Oct. 22, home vs. Cerritos on Nov. 3 and at Mesa on Nov. 10. Or not. As for now, no decision has come down regarding how the Fullerton situation impacts what happens with the Central Conference playoff situation.
Calhoun, a freshman from Mission Hills High School, intercepted two passes against the State No. 8-ranked Mounties, the first which he returned 98 yards for a touchdown, equaling the second-longest interception return in Palomar history, and the second which he returned 19 yards to set up another TD.
Calhoun also contributed 13 tackles (9 solo), including 1.5 sacks and 3.5 tackles for loss, and he also forced a fumble.
Palomar's upset win catapulted the Comets to No. 15 in this week's Junior College Athletic Bureau State Coaches' Poll. Southwestern is ranked No. 13. With some voters no longer voting for previous unanimous No. 1-ranked Fullerton, College of the Canyons took over the No. 1 spot in the State Coaches' Poll, followed by No. 2 Butte College of Oroville, No. 3 Riverside City College, No. 4 Ventura, No. 5 Laney College of Oakland and Fullerton, now at No. 6, although the Hornets still received more first-place votes than every other team in the state put together.
The SoCal champion will face the Northern California champion for the state title at Sacramento City College's Hughes Stadium on Dec. 8.
Dunninway passed for 464 yards and four TDs and also scored on a 162 yards and an additional touchdown in the Olympians' loss to El Camino.
Dunninway had given the Olympians a 44-36 lead on a 17-yard touchdown run with 8:19 left in the game, but the visiting Warriors scored two touchdowns in the game's final 3:22, including the game-winner on a pass play with 14 seconds remaining.