Foothiller seniors cash on Senior Night
Updated: October 27, 2018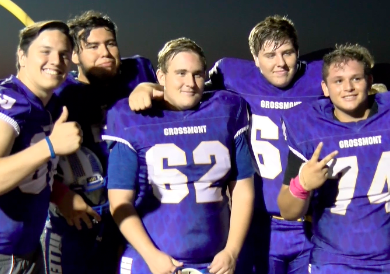 2018 EAST COUNTY PREP FOOTBALL
GROSSMONT 49, EL CAPITAN 21
EastCountySports.com staff report
LA MESA – The Grossmont Foothillers proved to themselves they could come right out of the gate and dominate a game they were expected to win on Friday night.
And fittingly, a bunch of Hiller seniors took home final game memories of touchdowns and turnovers.
The Foothillers powered past El Capitan in the Grossmont Hills League finale, 49-21, looking every bit the team they were expected to resemble this season.
Injuries and a challenging schedule have taken a toll on Grossmont's won-loss record but the Hillers get a shot at the big time on next Friday night when they travel to face sixth-seeded Madison in the opening round of the San Diego CIF Division I playoffs.
Grossmont, which earned the 11th seed, can take pride in the fact that they turned in a stellar performance against the Vaqueros on the final night of the regular season.
On Senior Night, junior quarterback JAMIE ODOM made sure all of his veterans had something to take away from this final home game other than some pregame memories with family on the field.
Senior DESMOND CARTER caught a 21-yard touchdown pass from Odom to open the scoring.
Senior DAMARI CRAWFORD was next in line, as he was on the receiving end of a 34-yard score from Odom. It was one of two scores on the night for Crawford.
Senior ZAK FARRIS got his on an 11-yard reception.
Senior THOMAS MANGUM had a second-quarter score from Odom from 24 yards out to lead 35-7 at halftime.
You couldn't have scripted it any better.
Grossmont senior linebacker ALEX GOLUJUCH got probably the biggest memory with a strip sack and return the other way 54 yards for a defensive touchdown.
Senior CONNOR SANCHEZ had an interception of his own to take home.
Grossmont (3-7, 2-2 GHL) also got a touchdown from senior JARROD LACY in the second half. Odom threw for over 200 yards.
In the first half, El Capitan's AUSTIN BAKER picked up a bouncing kickoff and returned it 87 yards down the left sideline eluding every Hiller attempt along the way. He returned another kickoff for a touchdown in the second quarter, giving the Vaquero senior his own memorable performance.
Vaquero senior ETHAN BURLESON had a team-high three receptions. El Cap senior PERNELL WINDOM rushed for 49 yards.
El Capitan (3-7, 1-2), which got a fourth-quarter score from senior NATHAN SCHUNK, is also headed for the postseason.
The Vaqueros earned the eighth-seed in Division III, which matches them up with ninth-seeded University City next Friday night.