Book closes on Matadors' record-setting season
Updated: October 27, 2018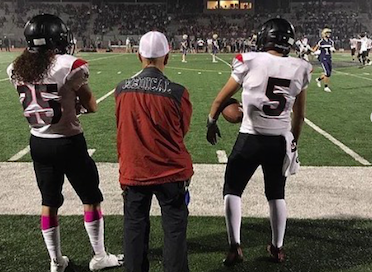 Senior Larry Yzaguirre (25) and sophomore J.D. Laverdiere stand on the sideline Friday night.
2018 EAST COUNTY PREP FOOTBALL
DEL NORTE 42, MOUNT MIGUEL 20 
EastCountySports.com staff report
MOUNT MIGUEL – The Mount Miguel Matadors' 2018 season could end up being talked about as one of the most successful seasons offensively in school history.
However, that talk could last just nine months.
Sophomore quarterback J.D. LAVERDIERE could well leave his record-setting season, which came to an end Friday night, in the dust.
Laverdiere passed for 328 yards in the Matadors' 24-20 defeat at Del Norte. He was 24-for-40 on the night.
It was J.D.'s eighth consecutive game with 250 yards passing or more. Which, frankly, is just ridiculous around these, or any other, parts. For a senior, much less a sophomore.
Junior receiver DOMINIC MORALES caught six passes for 144 yards and two touchdowns – both in the second half –  including a 49-yard score.
Mount Miguel scored its first touchdown of the game on a return to tie the game at 6-all with four minutes to play in the first quarter.
Del Norte led 12-6 in the first quarter and 26-6 at halftime.
Laverdiere finished the season just shy of 3,000 yards (2,935), breaking the previous school record several games ago. He also finished with 27 touchdown passes.
"We all played and fought till the very end of the game," Laverdiere said. "Our seniors were playing lights out this game. We just started to get rolling too late."
"My line was helping me stay protected and so was LARRY (YZAGUIRRE). We all felt like we could have done better and had a sense of urgency on us. "
Seniors ERIK GRAHAM and Yzaguirre both had three receptions in the finale.
"These past few years have been amazing to me," said Graham, who led the team with eight touchdown receptions. "Football at Mount Miguel has made me a better person and has made me close bonds with many people.
"We all worked hard all off-season to learn new things and all the effort we put in created a stronger bond than we already had. I wish the season could've been longer but unfortunately, it had to end.
"I wish the best to all my younger teammates and hope they make it farther next year. I'll always love them and have there back on and off the field. I will always remember this team, I love them like family."
Junior JAHIEM ALLEN had five catches for 66 yards for Mount Miguel.
Sophomore MIKEY AVANT finished his late-season surge, his four catches gave him 26 in just five games.
The Nighthawks claimed their first-ever winning season in the 10-year history of the program.