Prince, RedHawks pick off league title
Updated: October 27, 2018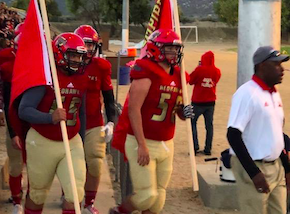 Mountain Empire takes the field on Friday night.
2018 EAST COUNTY PREP FOOTBALL
MOUNTAIN EMPIRE 28, VINCENT MEMORIAL 13
EastCountySports.com staff report
PINE VALLEY – The Mountain Empire RedHawks picked off passes then picked up the Manzanita League championship on Friday night behind six interceptions – three of them by senior star DALLAS PRINCE.
Prince, a true representative of Mountain Empire's climb to the title, had a 50-yard pick-six and a 75-yard touchdown reception from quarterback senior GABRIEL HYDORN in the first half, as the RedHawks downed Vincent Memorial, 45-16.
The RedHawks, which extended their winning streak to four games, also qualified for the San Diego CIF Division V playoffs as the No. 5 seed. Mountain Empire will host Army-Navy Academy in a first-round contest next Friday.
Holtville, which lost to the RedHawks, earned the No. 4 seed. MEHS (7-3, 3-0 Manzanita) still finished behind the Scots in the rankings, as well, but were moved up one spot likely based on Friday night's win.
It was the Scots that got the pick-fest started with two interceptions in the early going, including one for a score.
Hydorn connected with senior MARQUIS DAVIS on a short pass to give the Redhawks a 7-6 lead.
Prince turned his first interception of the game into a 31-yard rushing touchdown for a 14-6 advantage.
Hydorn had a 1-yard score for a 28-13 lead at halftime.
Vincent Memorial (7-3, 1-2) took off nearly half of the third-quarter clock before getting a 27-yard field goal, but MEHS countered with a 7-yard touchdown pass to Davis to make it 35-16.
Prince's third interception came in the third quarter.
NICK ROSE, CAMERON WILL, and MARCUS SMITH had picks in the fourth.
Smith, a sophomore, returned his interception 77 yards and the RedHawks later got a 42-yard field goal from senior ESTEBAN CASTILLO.
Hydorn was 12-for-20 for 266 yards and four touchdowns. Smith also caught a touchdown pass.
Junior NATHAN ROSE came up with a pair of big receptions for the RedHawks.
Junior linebacker JERICHO BRENNAN turned in a career performance with 15 tackles and a sack.
Will, a senior, led the RedHawks with 14 tackles, while Prince added eight stops.
Castillo had seven tackles and made all five of his PATs.
Senior CHARLEE SALLEE had six tackles and a sack, as the MEHS defensive line was in the backfield non-stop.