Warriors overcome Curry's 4 TD passes
Updated: October 28, 2018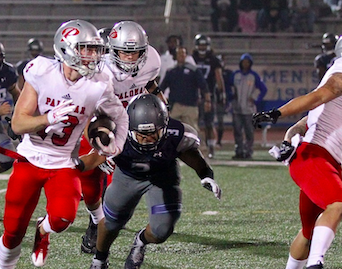 2018 COMMUNITY COLLEGE FOOTBALL
EL CAMINO 42, PALOMAR 35
By Tom Saxe
Special to EastCountySports.com
TORRANCE (10-27-2018) – Palomar, which came into the game ranked 16th in the state, came so near but yet so far from knocking off 10th-ranked El Camino on Saturday evening and grabbing ownership of the inside track to becoming the Central Conference's No. 1 playoff representative in the process.
Quarterback Connor Curry completed 28 of 49 pass attempts for 389 yards and four touchdowns but the Warriors held off the Comets 42-35 at Murdoch Stadium by taking advantage of two late fake punts and a failed Palomar on-side kick late in the fourth quarter.
Curry threw two touchdown passes to Cal transfer Logan Gamble for 9 yards and 36 yards, a 38 TD pass to Johnny Armentrout (El Camino High), a 26-yard TD pass Mikel Barkley and a late two-point conversion pass to Barkley.
Palomar, meanwhile, helped hang itself with dropped passes in the open past the El Camino secondary, missed assignments, costly penalties and three lost fumbles.
"We did so many good things, including some spectacular things, and kept battling back, but missed too many of our opportunities, had too many dropped balls and untimely penalties and were hurt by their two fake punts," coach Joe Early said. "If we would have executed, we wouldn't have been in the situation we found ourselves in at the end."
The Comets also were victims of missed tackles, a missed field goal and a missed extra point.
Palomar's other TD came on an 8-yard run on a double-reverse by Malachi Russell (El Camino High).
Gamble finished with five receptions for 80 yards and the two TDs. Devin Nilson (Carlsbad High) caught six passes for 71 yards and returned six punts for 90 yards and David Wigand (Mission Hills High) returned three kickoffs for 144 yards with a long of 61 yards. Barkley, Armentrout, Bryce Walker, Johnny Arzola (Oceanside High), Russell and Zach Morel (Vista High) joined Gamble and Nilson with multiple receptions.
Defensively, the Comets kept El Camino's relentless offensive attack off balance with 13 tackles for loss for 47 yards. Chris Calhoun (Mission Hills High) contributed nine tackles (seven solo) and a quarterback hurry; Spencer Kaoanga (Oceanside High) had nine tackles, including 2.5 for loss, and a QB hurry and Josh Bernard (Oceanside High) had eight tackles (seven solo) including four tackles for loss.
Palomar will play its final home game next Saturday when the Comets host Cerritos, a winner over Mt. SAC Saturday evening, at Escondido High's Chick Embrey Field at Wilson Stadium.
---
Palomar vs. El Camino College at Torrance, Calif.
10/27/2018 at 6:00 PM

Palomar




35

El Camino




42
SCORING
 1
 2
 3
 4
 FINAL
Palomar (4-4)
 0
 7
 7
 21
 35
El Camino (6-2)
 7
 7
 21
 7
 42
Torrance, Calif. | Murdock Stadium
PRD
TIME
SCORING SUMMARY
PALOMAR – EL CAMINO
1
11:29
El Camino – Kishawn Berry 8 yd pass from Grant Ferrauilo. (Chris Valle kick is good).
Drive: 8 plays, 70 yards in 3:31.
0 – 7
2
12:39
El Camino – Shawn Prejean 63 yd pass from Aaron Thomas. (Omar Beltran kick is good).
Drive: 3 plays, 65 yards in 1:08.
0 – 14
2
09:10
Palomar – Logan Gamble 9 yd pass from Connor Curry. (Mark Meader kick is good).
Drive: 8 plays, 59 yards in 3:23.
7 – 14
3
12:03
El Camino – Tauaese Taz 44 yd run. (Chris Valle kick is good).
Drive: 2 plays, 45 yards in 0:39.
7 – 21
3
09:06
El Camino – Tauaese Taz 5 yd run. (Omar Beltran kick is good).
Drive: 6 plays, 30 yards in 2:00.
7 – 28
3
04:31
El Camino – Kameron Denmark 4 yd run. (Chris Valle kick is good).
Drive: 10 plays, 77 yards in 4:14.
7 – 35
3
03:42
Palomar – J. Armentrout 38 yd pass from Connor Curry. (Mark Meader kick is good).
Drive: 3 plays, 42 yards in 0:43.
14 – 35
4
14:42
Palomar – Malachi Russell 8 yd run. (Mark Meader kick blocked).
Drive: 8 plays, 68 yards in 2:25.
20 – 35
4
08:35
Palomar – Mikel Barkley 26 yd pass from Connor Curry. (Mark Meader kick is good).
Drive: 6 plays, 44 yards in 1:47.
27 – 35
4
03:57
El Camino – Jeff Hansen 1 yd run. (Omar Beltran kick is good).
Drive: 10 plays, 75 yards in 4:38.
27 – 42
4
01:53
Palomar – Logan Gamble 36 yd pass from Connor Curry. (2pt conversion pass by Mikel Barkley is good).
Drive: 7 plays, 73 yards in 2:04.
35 – 42
PALOMAR
STATISTICS
EL CAMINO
22
FIRST DOWNS
20
17
3
2
Passing
Rushing
Penalty
7
11
2
43% (6 of 14)
THIRD DOWN EFFICIENCY
39% (7 of 18)
25% (1 of 4)
FOURTH DOWN EFFICIENCY
50% (2 of 4)
450
TOTAL OFFENSE
497
76
5.9
Total Offensive Plays
Average gain per play
79
6.3
389
NET YARDS PASSING
230
28-49
7.9
5-28
1
Completions-Attempts
Net yards per pass play
Sacked: Number-Yards
Had intercepted
15-28
8.2
3-11
0
61
NET YARDS RUSHING
267
27
2.3
Rushing Attempts
Average gain per rush
51
5.2
2-68
PUNTS: Number-Yards
7-263
34.0
Average
37.6
279
TOTAL RETURN YARDS
71
7-91
6-188
0 0
Punt Returns: Number-Yards
Kickoff Returns: Number-Yards
Interception Returns: Number-Yards
0 0
3-52
1-19
7-85
PENALTIES: Number-Yards
11-97
3-3
FUMBLES: Number-Lost
1-0
3-11
SACKS: Number-Yards
5-28
0 0
INTERCEPTIONS: Number-Yards
1-19
27:33
TIME OF POSSESSION
32:27
Palomar

El Camino

| PUNT RETURNS | NO | YDS | AVG | LG | TD |
| --- | --- | --- | --- | --- | --- |

| INTERCEPTION RETURNS | NO | YDS | AVG | LG | TD |
| --- | --- | --- | --- | --- | --- |

| INTERCEPTION RETURNS | NO | YDS | AVG | LG | TD |
| --- | --- | --- | --- | --- | --- |
| Isaiah Lemos | 1 | 19 | 19.0 | 19 | 0 |
OTHER INFORMATION
Location: Torrance, Calif.
Stadium: Murdock Stadium
Attendance: 145
Referee: David Bautista
Umpire: Jeremy Jones
Head Linesman: Trent Brown
Line Judge: Tony Shaw
Back Judge: Rob Schaerer
Field Judge: Kainan Kieser
Side Judge: Michael Moore
Scorekeeper: Larry Daniels