Griffins do the hammering this time
Updated: October 28, 2018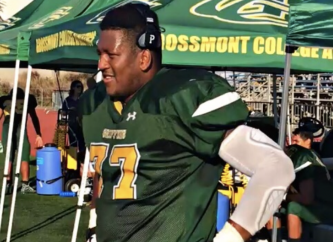 Grossmont sophomore Jay Williams on a headset in the fourth quarter.
2018 COMMUNITY COLLEGE FOOTBALL
GROSSMONT 45, ORANGE COAST 27
EastCountySports.com staff report
LA MESA – The Grossmont College Griffins earned their first win of the season in rousing fashion with a 45-27 National Conference Southern League victory over Orange Coast College on Saturday at Grossmont High School.
The Griffins led 38-7 not even midway through the second period.
Grossmont's running game was in season-best form, piling up 254 yards.
Grossmont freshman running back JARIUS BURNETTE, out of Warner Robins, Ga., rushed for 153 yards on 18 carries and two touchdowns.
Grossmont sophomore running back FABIAS SHIPMAN III also rushed for two scores.
"They weren't disciplined in maintaining their gaps and we hit those holes for big gains," said Grossmont sophomore offensive lineman JAY WILLIAMS. "We just prepared how we usually do. (Orange Coast) did a lot of slanting and it worked in our favor."
Burnette got the Grossmont scoring proceedings underway with a 46-yard touchdown run just 3:36 into the game.
On the next series, the Griffins forced a Pirate punt from the OCC 18, which was blocked by sophomore KYLER PERRAULT and taken into the end zone by freshman CALTON JOSEPH for a 6-yard return.
After a 56-yard pass brought the Pirates to within a touchdown just six minutes into the game, the Griffins put together an immediate scoring driving, capped by Shipman's first touchdown of the game, a 1-yard run.
Grossmont had an interception on the next series, which was returned to the Orange Coast 8.
On the next play, freshman quarterback BRADY ABT threw an 8-yard score to freshman HAROLD DOBBIN, raising Grossmont's late first-quarter advantage to 28-7.
"We knew they would be blitzing us and playing man so we were able to get quick completions off which coupled well with our strong run attack," said Abt, a freshman from Houston.
Early in the second quarter, freshman ETHAN ALBERTSON added a field goal for Grossmont after the Griffins recorded another interception.
After getting the ball back, Grossmont had a 93-yard drive, capped by Burnette's second score, a 4-yard rush to make it 38-7.
There was still 6:33 to go in the first half.
Shipman added his second touchdown with 1:07 left in the first half, as the score was 45-14 at halftime.
Orange Coast made some nice scores in second half, closing the lead to 45-27 with 7:20 left in the game.
Bringing the 'D' were Grossmont's DARIAN WILLIAMS, DEREK SOUTHERLAND, and DAMONTE HILL, all of whom had interceptions. Hill returned his pick 52 yards, while Southerland had a pair of pass breakups.
ANTHONY SOLA led the Griffins with eight tackles, including five solo stops and three for loss. Former Steele Canyon Cougar KYREE WOODS had 1 1/2 sacks.
Both teams are now 1-7 on the season.
Grossmont will travel to face Saddleback College at Mission Viejo High next Saturday at 6.
---
SCORING
 1
 2
 3
 4
 FINAL
Orange Coast (1-6)
 7
 7
 7
  6
 27
Grossmont (0-7)
 28
 17
 0
  0
 45
Grossmont HS | El Cajon, CA
PRD
TIME
SCORING SUMMARY
ORANGE COAST – GROSSMONT
1
11:24
Grossmont – Jarius Burnette 46 yd run. (Ethan Albertson kick is good).
Drive: 9 plays, 81 yards in 3:36.
0 – 7
1
09:41
Grossmont – Calton Joseph 90 yd punt return for TD. (Ethan Albertson kick is good).
0 – 14
1
08:00
Orange Coast – Dylan Laurent 56 yd pass from Nathan West. (Max Casper kick is good).
Drive: 5 plays, 75 yards in 1:41.
7 – 14
1
02:17
Grossmont – F. Shipman III 1 yd run. (Ethan Albertson kick is good).
Drive: 11 plays, 66 yards in 5:37.
7 – 21
1
00:27
Grossmont – Harold Dobbin 8 yd pass from Brady Abt. (Ethan Albertson kick is good).
Drive: 1 plays, 8 yards in 0:06.
7 – 28
2
13:37
Grossmont – Ethan Albertson 24 yd field goal.
Drive: 5 plays, 22 yards in 1:06.
7 – 31
2
06:33
Grossmont – Jarius Burnette 4 yd run. (Ethan Albertson kick is good).
Drive: 10 plays, 93 yards in 4:16.
7 – 38
2
04:06
Orange Coast – Jacob Brown 10 yd punt return for TD. (Max Casper kick is good).
14 – 38
2
01:07
Grossmont – F. Shipman III 15 yd run. (Ethan Albertson kick is good).
Drive: 5 plays, 61 yards in 2:51.
14 – 45
3
02:43
Orange Coast – Ahmad Lewis 19 yd run. (Max Casper kick is good).
Drive: 6 plays, 39 yards in 2:11.
21 – 45
4
07:19
Orange Coast – Dylan Laurent 26 yd pass from Pete Mitchell. (2pt conversion rush by Dylan Laurent failed).
Drive: 7 plays, 60 yards in 1:55.
27 – 45
ORANGE COAST
STATISTICS
GROSSMONT
20
FIRST DOWNS
19
10
6
4
Passing
Rushing
Penalty
4
12
3
54% (7 of 13)
THIRD DOWN EFFICIENCY
42% (8 of 19)
0% (0 of 1)
FOURTH DOWN EFFICIENCY
60% (3 of 5)
360
TOTAL OFFENSE
380
66
5.5
Total Offensive Plays
Average gain per play
73
5.2
265
NET YARDS PASSING
126
20-36
7.4
4-14
3
Completions-Attempts
Net yards per pass play
Sacked: Number-Yards
Had intercepted
10-24
5.3
1-5
1
95
NET YARDS RUSHING
254
30
3.2
Rushing Attempts
Average gain per rush
49
5.2
5-149
PUNTS: Number-Yards
4-111
29.8
Average
27.8
54
TOTAL RETURN YARDS
280
2-21
3-33
1-0
Punt Returns: Number-Yards
Kickoff Returns: Number-Yards
Interception Returns: Number-Yards
1-90
5-120
3-70
7-75
PENALTIES: Number-Yards
15-125
0-0
FUMBLES: Number-Lost
2-0
1-5
SACKS: Number-Yards
4-14
1-0
INTERCEPTIONS: Number-Yards
3-70
25:32
TIME OF POSSESSION
34:28
Orange Coast

Grossmont

| KICKOFFS | NO | YDS | AVG | TB | OB |
| --- | --- | --- | --- | --- | --- |
| Max Casper | 5 | 286 | 57.2 | 0 | 0 |

| INTERCEPTION RETURNS | NO | YDS | AVG | LG | TD |
| --- | --- | --- | --- | --- | --- |
| Isaac Soto | 1 | 0 | 0.0 | 0 | 0 |
OTHER INFORMATION
Location: Grossmont HS
Stadium: El Cajon, CA
Attendance: 200
Weather: Sunny, Warm
Temperature: 82
Wind: W 10 mph