Wolf Pack eliminated in Imperial
Updated: November 2, 2018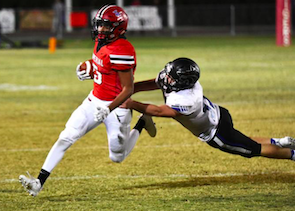 JOEY RAMOS, of Imperial, carries past West Hills on Friday night. / IVPress.com
2018 EAST COUNTY PREP FOOTBALL
SAN DIEGO CIF DIVISION III PLAYOFFS – FIRST ROUND
IMPERIAL 25, WEST HILLS 0
EastCountySports.com staff report
IMPERIAL — The West Hills Wolf Pack out-gained the Imperial Tigers, 311 to 168, in their San Diego CIF Division IV first-round playoff game on Friday night.
But for the second consecutive week, the Pack couldn't crack the scoreboard in a 25-0 loss.
West Hills had three turnovers and failed on four fourth-down conversion attempts.
Tigers star Santiago De La Torre threw for 56 yards and a TD, registered eight tackles, recorded an interception and kicked a 47-yard field goal.
Nathan Hart rushed for 101 yards and a TD on 14 carries for Imperial.
West Hills quarterback JORDIN YOUNG rushed for 176 yards and passed for 78 more while being sacked once.
West Hills (8-3) returned the opening kick off past midfield, but a fourth-down try was knocked down on an attempted pass.
West Hills was pinned at the 1 to start its next series, but Young picked up a first down on a keeper.
The field goal was the only score in the first half.
Tigers sophomore Ryan Bonillas returned the second-half kick 95 yards for a score.
After a Wolf Pack fumble late in the third, De La Torre threw to Joey Ramos for another touchdown.
De La Torre's interception set up a 30-yard touchdown run by Hart.
West Hills had its moments.
KIP KLINGERMAN had an interception for the Pack.
Young and senior BRYCEN WILLIAMS connected on a beautiful deep pass down the right sideline.
AUSTIN RUIZ-CASTANEDA and HUNTER GAUTHER combined for a sack for the Pack.
West Hills senior GIANNI GRIMM had a tackle for loss.
Seventh-seeded Imperial (7-4) will be on the road to face second-seeded Central next week.