RedHawks never more ready for Vikings
Updated: November 2, 2018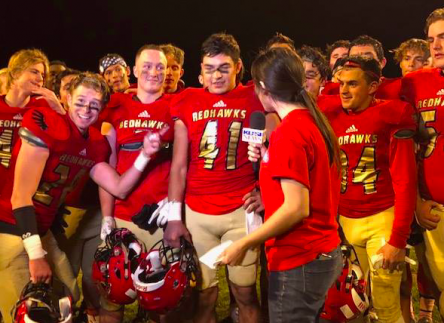 The RedHawks' ESTEBAN CASTILLO and Co. get the PPR treatment after the win over Army-Navy
2018 EAST COUNTY PREP FOOTBALL
MOUNTAIN EMPIRE 28, ARMY-NAVY ACADEMY 7 
EastCountySports.com staff report
PINE VALLEY – The Mountain Empire RedHawks looked experienced and determined in a 28-7 San Diego CIF Division V first-round playoff victory over visiting Army-Navy Academy, of Carlsbad, on Friday night at RedHawk Stadium.
And now, Mountain Empire is set to face arch-rival Holtville in the Division V quarterfinals on the Vikings' field next Friday.
Early, the RedHawks stopped Army-Navy on fourth-and-goal from the 5-yard line.
Later, the RedHawks got a touchdown from quarterback GABRIEL HYDORN on a fourth-and-goal at the 1-yard for a 7-0 lead.
Mountain Empire's JORGE GONZALEZ had a strip sack and recovered the ball.
Four plays later, ESTEBAN CASTILLO rushed for a 4-yard touchdown, giving the hosts a 14-0 edge.
The Warriors had a try for their first points in the third quarter but a field goal attempt from 42 yards was no good.
NATHAN ROSE managed a long run for the RedHawks early in the third quarter.
Later, the Warriors scored on a fourth-and-goal from the 7 after a penalty moved the ball to the 2-yard line.
Army-Navy's score made it a one-touchdown game with 7:44 left in the fourth quarter.
After Army-Navy's kickoff was out of bounds, Castillo had a 72-yard run to the end zone to put the RedHawks back up by 14.
Hydorn connected with MARCUS SMITH for a long play in the first quarter, but the RedHawks didn't score on the drive.
The RedHawks recorded another fumble recovery late, then Castillo added another rushing touchdown, this time from 15 yards out.
The RedHawks can take an underdog mentality into the road matchup after the final division power ratings seeded Holtville fourth – and with a bye – despite MEHS' 20-14 regular-season win over H'ville.