Cougars owning championship road
Updated: November 3, 2018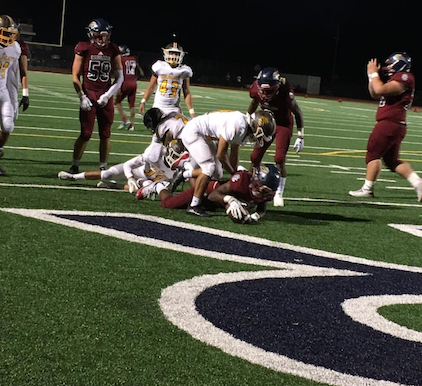 Steele Canyon scores a touchdown on Friday night against El Camino
2018 EAST COUNTY PREP FOOTBALL
STEELE CANYON 49, EL CAMINO 17
EastCountySports.com staff report
SPRING VALLEY (11-2-2018) – Once again, the Cougars of Steele Canyon had a rough start at the beginning of the season, but they have been very dangerous ever since.
Steele lost their first game of the season to a tough Carlsbad squad in one of their sloppiest performances of the season, 41-13. Five games later, the Cougars lost their league opener to the Granite Hills Eagles, who at the time were undefeated in non-league play at 6-0.
The Cougars for the last few years always play the Eagles in tight games. The Eagles handed Steele their second loss on the season on a key sack at the last second by Eagle linebacker Noah Medeiros to make the final score, 30-27, Eagles.
It has been a completely different team and season since then, as the Cougars are on a now five-game winning streak, including Friday night's conquering of the visiting El Camino Wildcats (1-10) to open up the 2018 San Diego Section CIF Division 1 football championship tournament.
Steele Canyon is now 9-2 and hungry for more.
Head coach Scott Longerbone has spoken of how grateful he is that the team has remained healthy thus far.
A few years back, he had lost a plethora of starters, so he understands.
"I have been there," said the coach. "A lot of teams in our conference have suffered because of so many injured starters at key positions, I feel for all of them.
The Cougars definitely have their so-called 12th man, referring to a phenomenal home crowd.
If you have never been to a football game at Steele Canyon, regular season or CIF football playoffs, add it to your bucket list.
The stadium was roaring from start to finish, just spectacular to see such a supportive group of students, parents, siblings, going crazy for their Cougars.
As the visiting Wildcats were the receiving team, the Cougars kicked off a beauty.
El Camino started their first drive of the game at their own 22-yard line, and in six plays, the Wildcats were unsuccessful as they were only able to pick up 23 yards, forced to punt from their own 45-yard line.
That was just a sample of what was to come from a stellar performance from the Steele defense.
The Cougars were much more methodical and were able to chew more of the clock while sustaining a great first drive.
Ten plays and four minutes later, Cougar quarterback Nathan Barnett handed off for a 45-yard touchdown to one of the featured "Three Amigos", Kenneth Watson. The point after was successful, 7-0 Steele with under six minutes to play in the first quarter.
It appeared as if it could be an offensive shootout as El Camino drove down to the Cougar 13-yard line, after a long 43-yard pass and catch.
Steele defense limited the Wildcats to a field goal, making it 7-3 Steele, but the Wildcats were on the board with 2:18 remaining in the first quarter.
Kick Return specialist Chris Carter, who has been fantastic, took the ball down to the El Camino 29 on a 51-yard kick return.
Four plays later, and the first play of the second quarter, Barnett tucked and rushed in for a 15-yard score for the Cougars, as the point after was good, and it was 14-3 Steele.
El Camino was not finished yet as eight plays later, on a drive that began at the Wildcat 12-yard line, Wildcat running back Zion Jackson turned on the afterburners for a 35-yard touchdown, but the point after shanked, leaving it 14-9 Cougars with 10 minutes to play in the first half.
It was all Cougars until the end of the fourth quarter.
With six minutes remaining in the half, Watson scampered into the end zone for a 10-yard touchdown. The point-after was successful, making it 21-9 Cougars.
The score at intermission would remain 21-9, Steele.
The Cougar defense also added two sacks thus far and forced a turnover on downs.
With about a minute into the third quarter, Steele running back Wes Neely rushed for 32 yards to the El Camino 19.
"The Three Amigos," Watson, Neely, and Barnett were owning the ground game, no passing necessary.
With nine minutes left, Barnett burst into the end zone for a 9-yard score. The point after was good, making it 28-9 Steele.
After another forced turnover on downs, Watson had another long 39-yard run from the Steele 13.
Neely decided his number was about to be called next as he scampered in for a 9-yard score with four minutes left in the third quarter. The point after was good, making it 35-9 Steele.
Steele would score two more times for good measure.
A 2-yard QB keeper for a score, 42-9.
Junior Akintunde also added a 15-yard touchdown, with the point after successful, making it 49-9 Cougars, with nine minutes left to play in regulation.
However, with six minutes left, the Wildcats scored on a pass and catch and two-point conversion, making it 49-17.
Steele Canyon got the win 49-17 and will face St. Augustine (7-3) at Saints. This game will be played on Friday, Nov. 9, 2018, at 7:30 p.m.
The Cougars finished with just 37 yards passing, however, 491 yards rushing, for 528 total yards.
Neely led the rushing attack with nine carries for 143 yards and a touchdown, Watson had 10 carries for 139 yards and two touchdowns.
Barnett was 4-of-7 for 37 yards and had 11 carries for 83 yards and three touchdowns.
"This is how we win these games big, limiting the untimely penalties and not turning the ball over," Longerbone said. "We adjusted our practice mindset and our coaching mindset that the games versus Grossmont and Helix were both playoff games."