Vaqueros can't keep up with Centurions
Updated: November 3, 2018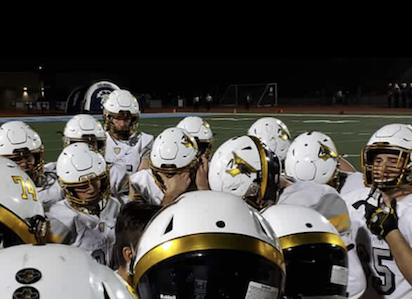 El Capitan just before kickoff on Friday night.
2018 EAST COUNTY PREP FOOTBALL
UNIVERSITY CITY 47, EL CAPITAN 30
EastCountySports.com staff report
UNIVERSITY CITY – The El Capitan Vaqueros nearly had enough horsepower against the University City Centurions in the first round of the San Diego CIF Division III playoffs Friday night.
The Vaqueros were minus a couple of key stallions that may have kept them from advancing, as UC won, 47-30.
El Capitan junior quarterback WICK HAUSER rushed for two touchdowns and threw a pair of scores to AUSTIN BARKER in the fourth quarter, as the ninth-seeded Vaqueros kept trying to catch the eight-seeded Centurions.
Vaquero sophomore TAYLOR GRASMICK continued his impressive running late in the season, going for over 125 yards on the ground.
Hauser passed for just over 250 yards on the evening.
"It was a tough night but we battled all night," El Capitan head coach RON BURNER said. "Wick and Taylor both had a great game.
"We played with our top player and without our No. 1 running back."
University City gunslinger Gunnar Gray had the game's first strike, but Hauser's 23-yard touchdown run on a mis-direction play tied the score.
Gray next connected on a 67-yard pass connection to make it 14-7.
A rushing touchdown gave UC a 21-7 lead going into the half.
Hauser's second touchdown run of the game in the opening minute of the fourth quarter closed a deficit to 27-17.
Hauser hit Barker in stride past a pair of defenders down the left side for a 34-yard score to make it 34-24 with 6:15 to go in the game.
University City (5-6) advanced to quarterfinals where it will face the top-seeded Christian Patriots next Friday night at Valley Stadium.
Gray had four touchdown passes on the night, while Jimmy Galindo added three touchdowns on the ground for UC.
Senior wide receiver Casey Granfors had two touchdown receptions for the Centurions.
The Patriots defeated the Centurions, 49-28, in the final game of the regular season. University City was winless in Eastern League play, while Christian won the league championship.
El Capitan (3-8) returns a host of players next season, according to Burner.
"We have all but one O-lineman coming back," said the coach. "Plus our QB, slot and some good young receivers.
"On defense, we have linebackers and DBs coming back."