Knights advance to championship game
Updated: November 3, 2018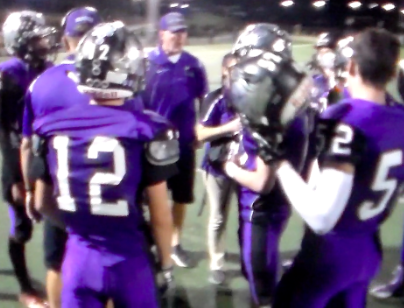 2018 EAST COUNTY PREP FOOTBALL – PLAYOFFS
SAN DIEGO CIF 8-MAN SEMIFINALS
FOOTHILLS CHRISTIAN 48, BORREGO SPRINGS 8
By Nick Pellegrino
Special to East County Sports
LA MESA (11-3-2018) – Voices from several members f the Foothills Christian Knights could be heard offering a similar sentiment.
"We're not just a basketball school," was the statement.
Well, the school is just one triumph away from joining their hardcourt brethren as a multiple CIF champion.
The Knights got a blocked punt for a quick touchdown, which helped to propel the Ocean League champions past Citrus League titlist Borrego Springs, 46-8, in Friday's (Nov. 2) San Diego Section 8-man football semifinals held at Parkway Middle School's Seau Field.
"It got us all hyped up and we just carried on with the momentum," said Nick Grant, a junior defensive end who blocked the Rams punt just 2:04 into the contest.
Borrego Springs failed to advance the ball on the game's opening three plays and were forced to punt, but Grant busted through the line.
"I just saw the punter and made a dive for the ball," he added.
Knights teammate Hunter Nickell collected the loose football at the Rams' 16, easily scooting into the end zone for a fast 8-0 after FCHS also converted the 2-point conversion.
"Nick got through the line quickly and was all over it," Nickell noted. "All I had to do was pick up the ball."
Foothills went on to tally 16 points in both the first and second quarters to mount a 32-6 halftime cushion and coasted to its second title game since 2016. However, a rematch with arch-rival Calvin Christian of Escondido failed to materialize.
On Thursday. third-seeded San Diego Jewish Academy gained revenge from a 16-10 regular-season setback to eliminate the Crusaders, 36-30.
Because of the Sabbath, next weekend's championship contest has been rescheduled to Saturday (Nov. 10) at Mission Bay High. Kickoff is slated for 7 p.m.
Borrego Springs, which finished 9-2 overall, received a big third-quarter performance by junior Andres Reyes.
A 6-foot-4 nose guard, Reyes opened the second half with a quarterback sack in the end zone, good for a safety. He also blocked a punt, but the Rams eventually fumbled as they entered the red zone.
Borrego Springs, as an undefeated league champion, also believed the school should have been rewarded with a home playoff game. Instead, they were seeded at the bottom in the four-team field.
A similar complaint was lodged by Tri-City Christian in 2010 when the undefeated Eagles (10-0) were seeded fifth and forced to open the postseason on the road against a Christian High team which posted a mere 5-5 record that season. Christian proved worthy of the higher seed, winning 78-7 in a result missing from the CIFSDS record book.
Still, anticipate seeing Borrego Springs' return to the playoffs in 2019, losing just nine seniors from the roster coached by Tim White, who is related to former San Diego Chargers All-Pro lineman Ed White (who was in attendance at the game).
Meanwhile, Foothills Christian (8-2 overall) looks forward to next weekend, seeking the Purple and Platinum's second CIF section crown under head coach Joe Mackey. They already own a 53-14 victory over SDJA and have never lost to the Carmel Valley-based school (one mile south from Torrey Pines High) in seven meetings.
Defense made the difference to subdue the Rams.
Along with the punt block, the Knights limited high-scoring Borrego Springs to just a single touchdown. Not bad considering that the Rams were the second-highest scoring club in San Diego County (to Kearny), averaging more than 48 points per outing.
Tanner Corey paced the Knights as part of 11 tackles, while Kevin Helfers posted a pair of sacks, Both are junior linebackers.
Grant also registered a fumble recovery.