Curry's 6 TDs, Comets knock off Cerritos
Updated: November 4, 2018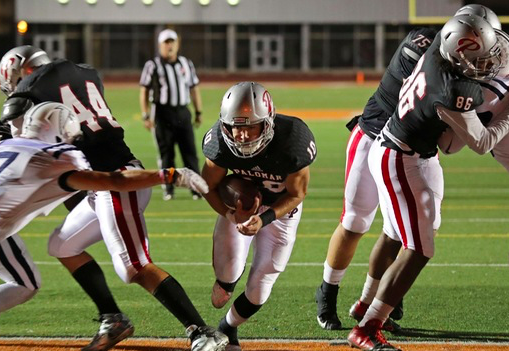 Connor Curry follows Arnold Yoder (No. 44), William Gonzalez (86) and Francisco Rodriguez (75) on his 1-yard TD. (Hugh Cox Photo)
2018 COMMUNITY COLLEGE FOOTBALL
PALOMAR 45 CERRITOS 35
By Tom Saxe
Special to EastCountySports.com
ESCONDIDO (11-03-2018) – Palomar couldn't have picked a better time to put together its best all-around football performance of the season Saturday night as quarterback Connor Curry unloaded on state No. 12-ranked Cerritos College. He got plenty of help from his teammates and, as he pointed out, his coaches, against the visiting Falcons in an SCFA National Division Central League game.
Curry connected on 24-of-37 pass attempts for 360 yards and five touchdowns, and added 50 yards and a sixth TD rushing on eight carries, as Palomar won 45-35 at Escondido High School's Chick Embrey Field at Wilson Stadium. The Comets rolled up 506 yards in total offense and took a giant step toward a berth in the four-team Southern California playoffs or at least a good bowl game on a night San Diego County's other three community college teams lost. (Palomar became bowl-eligible Saturday with its fifth win of the season).
"Our offensive line (6-foot-3, 340-pound left tackle Quinton Maxwell; 6-4, 300-pound left guard Francisco Rodriguez; 6-2, 240-pound center Anthony Escalante; 6-6, 290-pound right guard Braydon Lindholm; 6-6, 290-pound right tackle Will Eoff; and 6-4, 230-pound tight end William Gonzalez) did a great job blocking. Our line came of age tonight," Curry said.
Also playing a standout role in tandem with the line: Arnold Yoder, the Marine Corps veteran who does a lot of the heavy lifting blocking.
"Our receivers made plays," Curry added. "We got big plays out of our running backs. The defense made great plays. People look just at the players, but I've said week after week that in our case you really have to tip your hat to our coaches. They won't let us settle for anything less than our best. Joe Early has shown he's a great head coach. No one works harder or puts in more time and effort and cares more about the kids he coaches more. He and (offensive coordinator) Dan Early, put together a great game plan and called a great game, they put us in a great position to succeed every week."
Then, of course, there was Curry himself. The redshirt freshman connected on touchdown passes of 58 yards to Malachi Russell after the Comets drove down with the game's opening kickoff, 21 yards to Logan Gamble, 33 yards to Mikel Barkley, 33 yards again to Barkley and 24 yards to Lamar Raboteau. Then he scored from 1 yard out himself on a TD Shevell Sterling set up with a 47-yard run.
Jacob Vose put the icing on the take with a 35-yard field goal with 4:06 to play in the game that was set up by Curry's 14-yard completion to Devin Nilson, his 41-yard completion to Russell and his 13-yard completion to Barkley.
Defensively, the Comets became the first team all season to slow Cerritos' 6-foot-1, 230-pound sophomore running back Rhamondre Stevenson, out of Centennial High School in Las Vegas, who leads the nation's community colleges in almost every category and is being recruited heavily by SEC schools and other national powers.
Stevenson was averaging 11.4 yards per carry going into Saturday's game and was held by the Comets to 158 yards rushing and one TD on 20 carries, well under his normal output, along with two receptions for 71 yards. On the season, Stevenson is still averaging 9.9 yards per carry and 190.0 yards per game to lead the nation and 14 touchdowns, all to lead the nation. By comparison, the leading rusher in the NJCAA (non-California and Washington community colleges), Jaylen Warren of Snow College in Utah, is averaging 9.6 yards per carry, 162.6 yards per game and has scored 10 TDs.
"(Stevenson) is a great running back. You don't stop him, you can only slow him down a little, and we did that and we won," Joe Early said.
Leading Palomar's defensive performance: Josh Bernard (11 tackles, 1 quarterback hurry), Spencer Kaoanga (11 tackles), Chris Calhoun (10 tackles, tackle for loss, quarterback) and Orion Diaz (two big interceptions).
Among the receivers, Russell caught three passes for 103 yards and his touchdown, Barkley had five catches for 91 yards and his two TDs, Nilson had four catches for 67 yards and Gamble added four receptions for 50 yards and his TD.
Among the running backs, Sterling averaged 8.8 yards per carry and DeVion Sneed added tough yardage. Jacob Stepanek ran 11 yards for a first down on a fake punt.
"It was a great win," Joe Early said. "We had to battle all the way and we did. They're a good team and they're well-coached. It got emotional out there, but you have to expect that because there was a lot at stake for the postseason. The offense was probably the most effective it's been all year. We got two key turnovers which were huge."
Palomar will close the regular season next Saturday evening at San Diego Mesa, which lost its Central League match-up to Mt. SAC 41-35 in overtime. In the Southern League, Southwestern lost to Golden West 24-20 and Grossmont gave Saddleback a tough game before finally losing 45-30