Comets meet ranked Falcons in home finale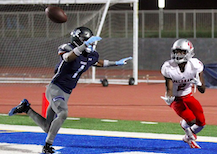 2018 COMMUNITY COLLEGE FOOTBALL
By Tom Saxe
Special to EastCountySports.com
SAN MARCOS (11-02-2018) – Palomar, ranked No. 23 in the state in the JCAB Coaches' Poll, will host another powerhouse on Saturday at Escondido High's Chick Embrey Field at Wilson Stadium.
The opponent: one of the nation's best rushing teams, No. 12-ranked Cerritos.
The Comets will be playing their final home game of the 2018 season. Kickoff for the Central Conference game is slated for 6 p.m. as coach Joe Early's squad continues its bid to qualify for post-season play in the Southern California Football Association's National (State Playoff Eligible) Division.
Palomar is coming off a tough loss on the road to State No. 10-ranked El Camino College 42-35 last Saturday night in Torrance.
"We've got another big challenge ahead of us," Early said. "We can't let the loss to El Camino determine how we play Saturday. Cerritos is the top rushing team in Southern California, so our defense will be really tested, again. The offense needs to help out defense out and score points, and our special teams have to be solid.
"We're an interception away in two of our losses, to Ventura and El Camino, from being 6-2 on the season."
Cerritos' running game features Rhamondre Stevenson, a 6-foot-1, 230-pound sophomore from Centennial High School in Las Vegas who rushed for 215 yards last Saturday in a 36-14 victory over another ranked team, Mt. SAC.
Palomar's offense features red-shirt freshman quarterback Connor Curry, one of the state's most dangerous offensive threats both in the air and running the ball.
Defensively, the Comets have been led by linebacker Chris Calhoun, a freshman out of Mission Hills High School.
PROBABLE PALOMAR LINE-UPS
OFFENSE
Quarterback
Connor Curry (6-2, 200, Fr., Evangel Christian HS, Shreveport, LA / Ouachita Baptist University)
-or-
Shea Morales (6-4, 210, Fr., Carlsbad HS)
Running Back
Shevell Sterling (5-10, 190, Fr., Grossmont HS)
Fullback
Arnold Yoder (6-1, 260, 260, So., Toledo HS, Toledo, WA / USMC)
Receivers
Logan Gamble (6-6, 200, Fr., St. Anthony HS, Long Beach / Cal)
Malachi Russell (6-0, 160, Fr., El Camino HS)
Mikel Barkley (5-11, 165, Fr., Temecula Great Oak HS)
Bryce Walker (6-0, 180, So., Bartram Trail HS, Jacksonville, FL)
Zack Morel (6-2, 193, So, Vista HS)
Slot Receivers
Devin Nilson (6-0, 187, So., Carlsbad HS)
Johnny Armentrout (5-10, 175, Fr., El Camino HS)
Johnny Arzola (6-0, 195, So., Oceanside HS, Dixie State)
Tight End
William Gonzalez (6-4, 230, Fr., Murrieta Valley HS)
Left Tackle 
Quinton Maxwell (6-3, 340, Fr., King HS, Detroit, MIIsaa)
Left Guard
Francisco Rodriguez (6-4, 300, Fr., Sicks HS, Tampa, FL)
Center
Anthony Escalante (6-2, 240, Fr., Rancho Buena Vista HS)
Right Guard
Braydon Lindholm (6-6, 290, Fr., Moses Lake HS, Moses Lake, WA)
Right Tackle
Will Eoff (6-6, 290, Fr., Vista Murrieta HS)
DEFENSE
End
Isaac Tuia (6-1, 295, Fr., Bishop Gorman HS, Las Vegas, NV)
End
Jordan Duson (6-1, 240, Fr., Oceanside HS)
Tackle
Koa Evalu-Robinson (6-3, 275, Fr., Lahainaluna HS, Maui, HI)
Tackle 
Nick So'oto (6-2, 300, Fr., Parkway HS, Bossier, LA / Northeastern State)
Linebacker
Spencer Kaoanga (6-1, 220, Fr., Oceanside HS / Air Force Prep)
Linebacker
Chris Calhoun (6-1, 210, Fr. Mission Hills HS)
Cornerback
Jihad Hightower (5-9, 171, Fr., Creekside HS, St. Johns, FL)
Cornerback
Louie Flores (5-10, 180, Fr., Mission Hills HS)
Safety
Jay Craft (5-11, 180, Fr., Cherry Creek HS, Cherry Creek, CO / Kansas State University)
Safety
Giovanni Herrera (5-10, 1195, Fr., Mira Mesa HS)
Safety
Josh Bernard (5-11, 205, So., Oceanside HS)
SPECIAL TEAMS
Kickoffs, PAT's, FG's)
Mark Meador (5-8, 147, Fr., Del Norte HS)
Punter
Jacob Stepanek (6-3, 205, Fr., Temescal Canyon HS, Lake Elsinore)
Holder
Jacob Stepanek
Long Snapper
Edwin Vorachack (5-10, 175, Fr., Escondido HS
Kickoff Returners
Lamar Raboteau (5-8, 165, Fr., Mira Mesa HS)
Damon Wigand (5-10, 180, Fr., Mission Hills HS)
Punt Returners
Devin Nilson
Johnny Arzola