Jags get Carberry's 200th career victory
Updated: November 11, 2018
Southwestern players following the victory at Orange Coast on Saturday night.
2018 COMMUNITY COLLEGE FOOTBALL
SOUTHWESTERN 42, ORANGE COAST 21 
EastCountySports.com staff report
COSTA MESA – The Southwestern Jaguars celebrated head coach ED CARBERRY's 200th career coaching victory with a traditional water bucket shower, then the players enjoyed their seventh win of the season with a bowl berth following a 42-21 National Southern League conquest over host Orange Coast at Tucker Field on Saturday night.
Two of the four local community college football teams will meet next Saturday at the Beach Bowl at the Jaguars' DeVore Stadium when Southwestern meets the Palomar Comets, it was announced on Sunday afternoon.
It will be the second meeting of the season between the top two local squads this season. Southwestern won the first matchup in Escondido in stunning fashion, 42-6.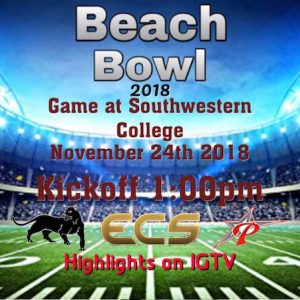 "It takes a long time to win 200 games in football," said Carberry, who won 121 career games at Monte Vista High. "All of the people, all of the coaches and all of the players across the 42 years. "I certainly remember all of them and they've made it all worthwhile."
This group of Jags made this one worthwhile for the coach with a terrific start, scoring three touchdowns in their first three possessions.
Southwestern (7-3, 2-3) managed 432 yards of total offense, led by freshman DEANDRE DANIELS, who finished with 110 yards rushing and two touchdowns.
Jaguar sophomore DEMONTE MORRIS passed for 139 yards and a touchdown to sophomore PADEN HAZUGA, while also rushing for 32 yards and the game's first score, a 16-yard run just 2:25 into the game.
The Pirates pulled to within a couple of scores with 12:40 left in the game on the second of Ahmad Lewis' three rushing touchdowns to make it 28-15.
"We got ahead 21-0, then they scored after we had a couple of turnover on downs, penalties, or whatever goofy mistakes we were making," Carberry said. "We had our own anti-offense going."
However, Jaguar freshman running back DEANGELO HOWARD quickly grabbed the momentum back with a wild touchdown that saw him run out of space along the right side, only to reverse his field and score on a 63-yard run that covered far more territory than that, according to Carberry.
"He got up the sideline, kept bouncing off people and the next thing you know he was in the end zone," said the coach. "It was a great run.
"DeAngelo gave everybody a major spark. He's super explosive and can flat out play football. He makes people miss and makes a big difference for our team."
Howard, from Bedford High in Cleveland, Ohio,  finished with over 200 yards of all-purpose yardage, and probably 300 if you count all the mileage logged on the Pop Warner-style touchdown.
Southwestern rushed for nearly 300 yards as a team despite an offensive line shuffle caused by a rash of injuries up front.
Sophomore SEAN DAVIE had a 34-yard touchdown run for the Jaguars to make it 21-0 with 5:24 left in the first quarter.
The Jaguars pulled down three interceptions on the afternoon, as NOAH BERRY, WILL HAVIRD (Grossmont) and DEVIN WASHINGTON picked off the Pirates.
LOGAN DARBY, out of Bentonville, Ark., led the Southwestern defense with six solo tackles (9 total).
"Darby is everywhere making great plays," Carberry said. "There are a number of schools interested in him."
Berry, a freshman from Gulf Breeze, Fla., had eight total stops, including two for loss, and a fumble recovery, as well.
"Berry had a bunch of key plays," Carberry said. "We had three or four key defensive players out with injuries, so people who haven't played a lot are in the mix as starters.
"Noah was kind of a swingman for us playing middle linebacker, but's he played so well we moved people around and now he's got the spot. That was a great job by him."
Lewis rushed for 139 yards for OCC (1-9, 0-5 in conference).
Southwestern College may not have gotten the matchup that it may have expected with the Comets, but the game sets up as a regional attraction.
Daniels rushed for 222 yards and four consecutive touchdowns to start the game in the meeting back on Sept. 9. The Jags' defense had six sacks.
Since then, the Comets' CONNOR CURRY has improved to become one of the top quarterbacks in the league after the team lost a couple of QBs early in the season.
---
SCORING
1
2
3
4
FINAL
Southwestern (7-3, 2-3)
21
0
7
14
42
Orange Coast (1-9, 0-5)
0
7
0
14
21
Costa Mesa, CA | Dick Tucker Field
PRD
TIME
SCORING SUMMARY
SOUTHWESTERN – ORANGE COAST
1
12:35
Southwestern – Demonte Morris 16 yd run. (Jaime Medina kick is good).
Drive: 7 plays, 75 yards in 2:25.
7 – 0
1
07:43
Southwestern – Deandre Daniels 9 yd run. (Mark Alejandre kick is good).
Drive: 7 plays, 27 yards in 2:28.
14 – 0
1
05:24
Southwestern – Sean Davie 34 yd run. (Mark Alejandre kick is good).
Drive: 1 plays, 34 yards in 0:13.
21 – 0
2
09:13
Orange Coast – Ahmad Lewis 42 yd run. (Max Casper kick is good).
Drive: 3 plays, 78 yards in 1:02.
21 – 7
3
03:32
Southwestern – Paden Hazuga 25 yd pass from Demonte Morris. (Mark Alejandre kick is good).
Drive: 2 plays, 61 yards in 0:30.
28 – 7
4
12:40
Orange Coast – Ahmad Lewis 8 yd run. (2pt conversion rush by Ahmad Lewis is good).
Drive: 13 plays, 74 yards in 5:44.
28 – 15
4
12:13
Southwestern – DeAngelo Howard 63 yd run. (Mark Alejandre kick is good).
Drive: 1 plays, 63 yards in 0:20.
35 – 15
4
08:19
Orange Coast – Ahmad Lewis 1 yd run. (2pt conversion rush by Ahmad Lewis failed).
Drive: 9 plays, 66 yards in 3:46.
35 – 21
4
02:44
Southwestern – Deandre Daniels 2 yd run. (Mark Alejandre kick is good).
Drive: 9 plays, 50 yards in 5:24.
42 – 21
SOUTHWESTERN
STATISTICS
ORANGE COAST
23
FIRST DOWNS
29
7
14
2
Passing
Rushing
Penalty
9
14
6
20% (2 of 10)
THIRD DOWN EFFICIENCY
53% (9 of 17)
100% (2 of 2)
FOURTH DOWN EFFICIENCY
100% (1 of 1)
432
TOTAL OFFENSE
407
57
7.6
Total Offensive Plays
Average gain per play
78
5.2
139
NET YARDS PASSING
199
9-21
6.6
1-8
1
Completions-Attempts
Net yards per pass play
Sacked: Number-Yards
Had intercepted
18-32
6.2
2-13
3
293
NET YARDS RUSHING
208
36
8.1
Rushing Attempts
Average gain per rush
46
4.5
3-141
PUNTS: Number-Yards
3-103
47.0
Average
34.3
171
TOTAL RETURN YARDS
107
2-34
3-94
3-43
Punt Returns: Number-Yards
Kickoff Returns: Number-Yards
Interception Returns: Number-Yards
1-0
7-106
1-1
9-113
PENALTIES: Number-Yards
12-99
1-1
FUMBLES: Number-Lost
3-2
2-13
SACKS: Number-Yards
1-8
3-43
INTERCEPTIONS: Number-Yards
1-1
21:24
TIME OF POSSESSION
36:15
Southwestern

Orange Coast

| PASSING | C-A | YDS | LG | TD | INT |
| --- | --- | --- | --- | --- | --- |
| Demonte Morris | 9-20 | 139 | 36 | 1 | 1 |
| Team | 0-1 | 0 | 0 | 0 | 0 |

| PUNTING | NO | YDS | AVG | LG | TB | IN 20 |
| --- | --- | --- | --- | --- | --- | --- |
| Jaime Medina | 3 | 141 | 47.0 | 54 | 1 | 3 |

| KICKOFFS | NO | YDS | AVG | TB | OB |
| --- | --- | --- | --- | --- | --- |
| Max Casper | 4 | 238 | 59.5 | 1 | 0 |
OTHER INFORMATION
Location: Costa Mesa, CA
Stadium: Dick Tucker Field
Attendance: 350