Griffins score season high but get fifth-straight loss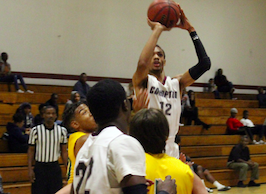 Compton shoots against Grossmont on Wednesday night.
2018 COMMUNITY COLLEGE MEN'S BASKETBALL
EastCountySports.com staff report
COMPTON – Freshman LAMON HUDSON came off the bench and scored 15 points for Grossmont College but the visiting Griffins fell to Compton, 74-62, on Wednesday night.
It was the fifth consecutive loss to open the season for Grossmont but Burton feels the first win drawing closer.
"I think we have a good team but we just need chemistry because we are mostly freshman," said Hudson, a freshman from Little Rock, Ark. "I was just trying to do what I need to do to help my team win."
Compton (1-1) led 41-32 at halftime but the Griffins played more competitively in the second half.
It was the highest offensive output of the season for Grossmont by 12 points.
No other Griff scored in double figures but sophomore forward JOSH BURTON, out of Patrick Henry High, added nine points and a team-high nine rebounds.
"It's nice having Lamon on the floor," Grossmont's JOSH BURTON said. "He brings great energy on both ends.
"There is a huge difference between this years team and last year. I believe we're getting better even though our record doesn't necessarily reflect that."
Grossmont shot better than Compton, 44 percent to 41 percent, but the Griffins shot themselves in the foot with 25 turnovers.
CHRIS MOYER, out of West Hills High, added eight points for Grossmont.
Both of the squads will head to the San Bernardino Valley College Alvin Hunter Classic. The teams will meet again on Saturday in their second game at the tournament.
On Friday, Grossmont will square off with the host Wolverines (3-0) at 7.
"San Bernardino is a good team but we're good, too," Burton said. "We need to figure out the rough patches and play together. We have to be smarter with the ball and when our turnover numbers go down our scoring should go up."
The Griffins met SBVC in the second game of the season, suffering an 81-44 defeat. The score was tied 20-all with just over three minutes left in the first half.
"We had a great first half against (SBVC) at College of the desert," Burton said. "We have to limit turnovers and play an entire 40 minutes. We have yet to play hard and together for an entire game. If we can do that I believe we can beat anybody."
Freshman Jordan Griffin scored a game-high 20 points for Compton, which faces West LA on Friday at 3 p.m. to begin the tournament.
SADDLEBACK 73, SOUTHWESTERN 63 – Saddleback improved to 4-0 after trailing at halftime of their home-opener to end the Jags' three-game win streak.
JOSE SERRANO scored 13 points for the Jaguars in the opening 20 minutes as Southwestern carried a 36-31 lead into the locker room.
Former Rancho Bernardo High guard J. J. Overton led Saddleback with 14 points and 12 rebounds. He also finished with three assists.
Southwestern (3-2) also got 13 points and a team-high seven rebounds from NATHANIEL PEARSON.
PALOMAR 84, EL CAMINO 68 – JAMARIO HARRIS scored 19 points, MAREK SULLIVAN had 18 points and 12 rebounds, and MICHAEL CHATMAN had 17 points and 14 rebounds to lift the Comets over the Warriors.
Palomar improved to 2-2 and will get ready for the Palomar Tournament, starting Friday, Nov. 23.