Hornets are buzz after upset of Eagles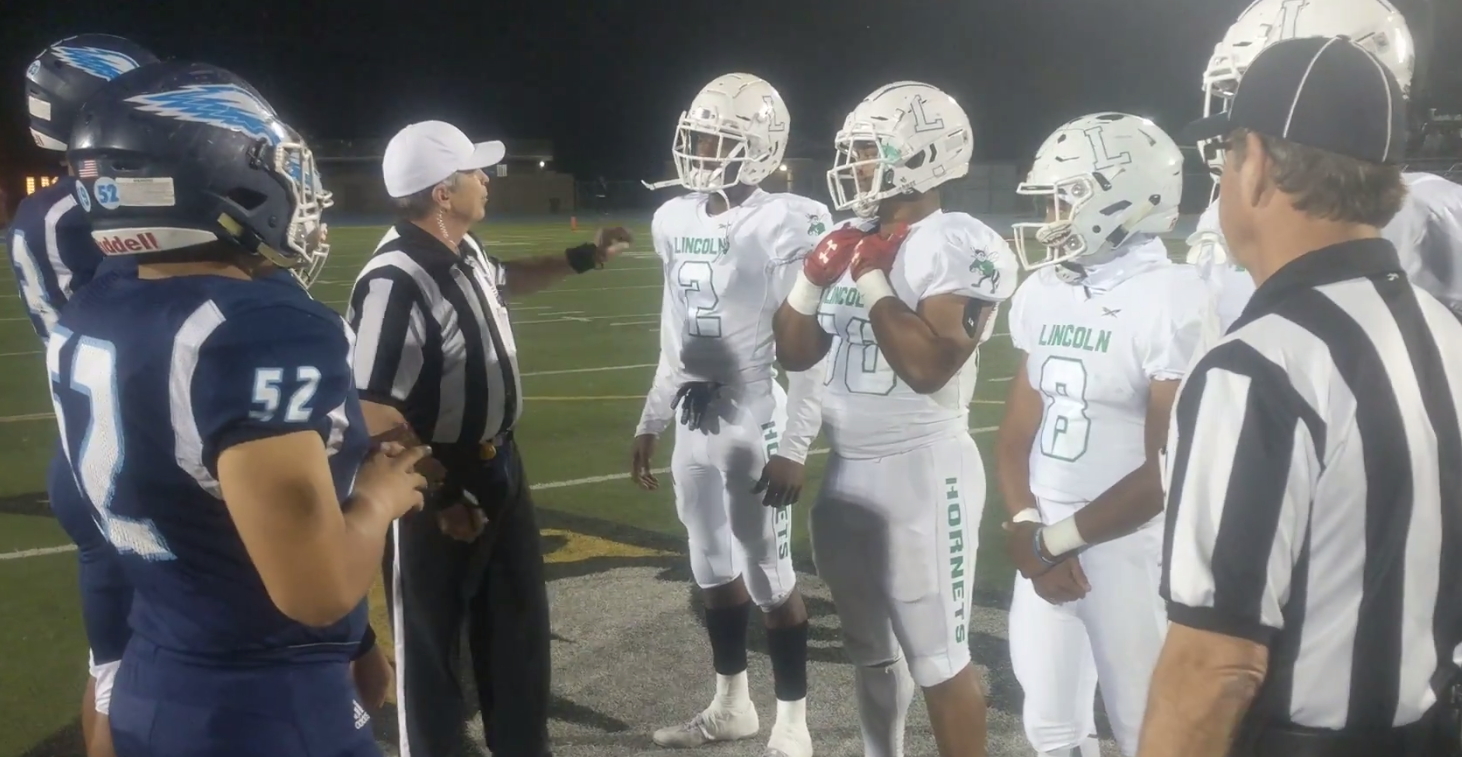 2018 EAST COUNTY PREP FOOTBALL
SAN DIEGO CIF DIVISION I SEMIFINALS
LINCOLN 34, GRANITE HILLS 20
By Ben Worthen
EastCountySports.com
EL CAJON – The simple version of last night's results at Granite Hills' Valley Stadium tells the story of a San Diego CIF Division II No. 1 seed, Granite Hills, being beaten 34-20 by the No. 5-seeded Lincoln Hornets. The simple version rarely tells the whole story though.
While the game wasn't the end cap on the season that Granite Hills would have preferred, it nevertheless capped a brilliant season that by all accounts proved to be a hard-fought and consistent campaign.
There was a litany of calls that both sides of the contest could claim helped turn the tide of the game from nearly the coin flip all the way until the bittersweet ending. Bitter for the Eagles, sweet for the Hornets.
If you had asked Coach David Dunn in pre-game what he predicted, you would have gotten a humble reply about the strength of Granite, and the never-sure nature of prep football.
Eagles coach Kellan Cobbs knew it wouldn't be easy to face a Lincoln team peppered by Division I kids, some of which were already committed to big programs next year.
Still, confident, coach Cobbs knew his team was prepared for the challenge that the evening would bring – he coolly accepted that the game would be a contest. Again, the outcome of this game wouldn't be relegated to such a simplistic commentary.
This was a game that some could say was won in the first three special teams plays on the night. Lincoln's coach would remind you his philosophy is one of total football, where all the team players understand the importance of the special teams' mindset on both sides of the ball.
It was also a game that was plagued by awkward, "once-in-a-season" penalties and more than a handful of indeterminant stoppages. When was the last time you saw two potential sideline interference calls in a 20-minute window? These stoppages proved as deft at turning the momentum of the game around, as they were a strong incentive for passionate fans in the bleachers to hurl commentary at the opposing team and the referee team.
Don't call these fans milquetoast. They were passionate, loyal and loud on both sides.
It was 13-13 with 9:30 remaining in the second quarter of the game but that was the most even it would be for the rest of the contest. Despite spirited efforts by Granite's team, Lincoln's dropped three touchdowns on the scoreboard before the half.
With all the points needed to win already on the board for Lincoln, the second half proved the fighting spirit of both teams
In the end, even though there were some impressive stats on the board for individual players, this game is better viewed through the lens of well-oiled machines in the form of two well-run programs of football, playing together. While stats are usually a key component to game summaries, to simply lay out the stats on this one would be a disingenuous telling of what was an eventful and interesting night of football, that no one could have predicted.
Granite was without two of their stars, a third player ineligible for the game as well. Eagle QB Chris Ostreng ran for 106 yards all-in. No one could say that his ability to find a pocket was lacking in any way on the night.
Lincoln had a mindset of togetherness that allowed them to harness the power of their dual-threat quarterbacks (Chris Davila and Raymond Spriggs Jr.)
One of Lincoln's players college-bound to a big program (Colorado), Don Chapman, contributed 75 receiving yards and a TD. Another, Jamahd Monroe dropped 12 points on the board from 2 TD's with 88 yards receiving.
Again, one could say that the difference in the game was a couple of ball handling errors and a couple of strong, early special teams contributions.
What's next for the Lincoln and Granite Teams?
Granite Hills has nothing to be ashamed of with their spirited performance, despite having several key players absent. Their 10-2 record (including this game) was not a fluke. East County and all of San Diego County has taken notice of the excellent program Coach Cobbs and his staff has put together. Their JV team (9-1) is gearing up to produce the next generation of players to sustain the building of a consistently competitive, championship-worthy team.
You can find coach Cobbs' commentary elsewhere on the East County Sports website and see his thoughts about the season and moving forward. His candor about and understanding of his program prove he is the right man, still, for this task. The Granite performance year over year has been nothing short of brilliant.
Hornets move on to the Nov. 23 game pitted against Mira Mesa's Marauders for CIF glory. If their cohesiveness is any indicator, the mighty Mira Mesa Team will also have their hands full. Coach Dunn's commentary can be found elsewhere on the East County Sports website – he's confident in his players' abilities and is looking forward to the challenge.
Some final thoughts on the game and the run-up to the CIF Championship
Granite Hills Eagles
The win against Ramona Bulldogs before this game was no pushover victory for even a well-run Granite team, it solidified their prowess as a team seeded at #1 in D-II with a convincing scoreline against a very good team.
Ethen Bishop, a junior, has proven to be a feisty, and capable offensive talent. He won't perhaps, receive the same kind of hype as other players in the league, with his diminutive size, but he is every bit a core player for Granite, with star power. He'll be one to watch in the new season.
It cannot be understated, the capability in upcoming years of Granite is very big; their JV assets maturing rapidly and providing a deep bench for the coaching staff of the varsity team to rely on for call-ups. If you ask coach Cobbs, he'd tell you enthusiastically how many opportunities for improvement that the Eagle's have. The improvement you ask? How does a team improve on a 10-2 record and running a competitive set of games in playoffs for the division?
By winning it all. It's not outside the realm of possibility for a team that won't turn over a ton of players and will have such a well-developed JV team to reinforce it throughout next Fall's campaign. The eyes of East County and all of San Diego will be on the Granite Hill's Eagles.
Lincoln High School Hornets
Coach Dunn moves into the CIF Championship game against Mira Mesa with more all-purpose football experience than most program's combined. But the important aspect that is often overlooked is that his team plays a complete style of football that makes them accountable for every play on the field. It leads to a team integration that is nothing short of impressive.
Quote of the night when asked for his thoughts on how special his special teams crew was early on in the Granite Hills matchup: "Well, you know, I'm a Special Teams coach… my players all need to know what to do on drives like that – they all have special teams mindsets."
More than anything perhaps, that special teams performance was a defining factor in this game.
Lincoln won't turn over many players this offseason either, though you might scrutinize that statement considering three of their stars have commitments to big programs (Colorado and Utah, of Note). Coach Dunn feels very confident that his boys will show the same heart and determination, and the same talent that it took to upset the No. 1 seed that came into the game on a high from a playing perspective.
Ultimately the special teams' performance, the long runs and longer receptions of the Lincoln Hornets proved to be too much for the Eagles, but this game was about more than just some stats, a couple of touchdowns and a big deflection on a third-and goal followed by a field goal attempt that hit the uprights to keep the scoreboard tally stagnant (Eagles could have capitalized on that play had it gone another way to turn the tide in the game).
This game showcased the maturity of coaches, players and all the heart that two teams could muster in a battering, penalty-ridden playoff game that would see only the one team move on for a shot at the championship.