Robinson returns as Braves' girls coach
Updated: November 30, 2018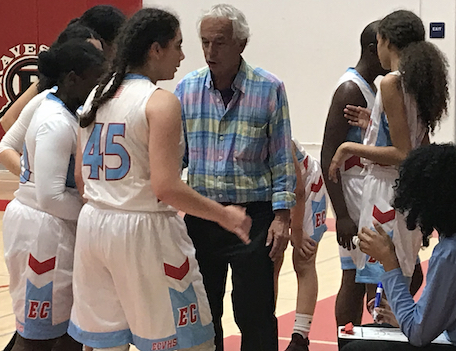 El Cajon Valley, led by head coach Randy Robinson, on Thursday night.
2018 EAST COUNTY PREP GIRLS BASKETBALL
RANCHO BUENA VISTA 36, EL CAJON VALLEY 35 (OT)
By Dave Dickens
EastCountySports.com
EL CAJON ( 11-22-2018 ) – It has been an emotional roller coaster for the El Cajon Valley High girls basketball team for the last 24 hours.
This underrated group of girls found out in the last 24 hours that Braves head coach CARLOS MOSS would be taking this season off for personal reasons.
Moss and school officials were not available for comment regarding his departure.
Moss has been at the helm for the Braves since the 2009-10 campaign.
The irony is that Moss took over the head coach role for RANDY ROBINSON, who had been the skipper for the Lady Braves from 2005-2009.  Robinson retired from Coaching in 2012.
After six years of retirement, Carlos and El Cajon Valley High reached out to Robinson, who is now the head coach for the remainder of the season.
Moss went 4-21 overall and 1-7 in league play his first season, and had his best season in 2016-17, with one of his most talented students and a player who was like a daughter to him – as all of his kids become, superstar, all-league junior at the time, LEANNA WATSON.
Moss finished 10-15 overall that season, and 1-7 in league play.
While head coach of the El Cajon Valley Braves, Moss posted a 59-151 record and considering all the athletes he worked with, he was one of the top coaches in the county at improving his group of lady athletes.
He will be dearly missed by all on the court and at El Cajon Valley High.
One comment that was available by the former coach, "It's always about my girls, good luck Lady Braves, love Coach Moss," said Moss.
A selfless man that even the media has grown fond of this East County icon.
Thursday evening, the Lady Braves basketball team took their emotions and brought it onto the basketball court.
The team was relentless and full of energy and hustled through regulation and into overtime.
It would be a special night as these girls were playing for themselves, their school, their new coach, most importantly, the coach that had spent so much time developing these young ladies, even in the offseason as he does consistently.
The first points of the evening were dropped by VEAN GORGEES for the Braves, as she hit the first bucket with 3:37 remaining in the first quarter of play.
Gorgees hit another five points in the first quarter, scoring all seven points for the Braves, including a three-pointer at the buzzer, making it 7-4 Braves at the end of the quarter.
Gorgees was not even close to finished as she added another five before the end of the half, totaling 12 points, adding another three-pointer, as the Braves were down by three, 15-12, to Rancho Buena Vista.
There were definitely too many fouls to count for both squads including a technical on the visitors.
El Cajon played a very physical, full of heart and emotion second half.
Gorgees finished the evening with 16 points, six rebounds, and four steals.
Equally impressive in the one-point loss, 36-35, in overtime, was SILVIA ABOUD with seven points, four rebounds, and a steal.
El Cajon truly battled until the end and could possibly be a competitive valley league squad.
Coming up for coach Robinson and the Lady Braves (0-2), they will face the 3-3 Mar Vista Mariners at 7 p.m. on Saturday, December 1 at El Cajon Valley High. This is a continuation of the Matador Classic.