Tigers give Matadors test for No. 1 Dons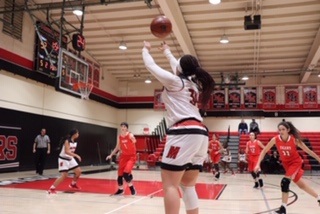 Mount Miguels LALLI GURROLA lets a shot fly on Thursday night.
2018 EAST COUNTY PREP GIRLS BASKETBALL
MOUNT MIGUEL 53, IMPERIAL 32
By John Duran 
Special to EastCountySports.com
SPRING VALLEY – The Mount Miguel Matadors improved to 3-0 after a 53-32 victory Thursday night against Imperial. Usually, a 21-point win means it a was a good night. For these Matadors, not so much.
"I give credit to Imperial for how hard they played," Mount Miguel head coach Robbie Sandoval said after the game. "I thought we played awful."
Sandoval, an 18-time league and seven-time CIF champion, has high expectations for the defending Open Division champion Matadors. Tonight, they struggled on offense, turned the ball over 13 times and looked out of sync on defense.
"I don't know what they were thinking about," Sandoval said. "I know one thing that we are going to be thinking about tomorrow at practice is we need to get a whole lot better before Saturday."
Mount Miguel will take on preseason No. 1 Cathedral Catholic Saturday at home in a battle between two of the top teams in the county.
Citlalli Gurrola, a senior, led the way with 16 points, including four threes. Despite the win, she was disappointed in her team's performance.
"Just like our coaches say, how we practice is how we play," Gurrola said. "We didn't perform our best but tomorrow in practice we have to focus and have our mentality right and be focused for Saturday against Cathedral."
Maybe the Matadors were looking ahead to Cathedral. That would explain their underwhelming performance Thursday night.
"I think it's just the anxiety for Cathedral," Gurrola said. "Preparing. We're just preparing our mindset."
Junior Nyssa Maga, who missed all of last year due to injury, believes the Matadors will be up for the challenge Saturday night.
"I think we'll be good for Cathedral," Maga said. "We just need to get our heads together. We got to stay focused, execute our plays and play defense."
It will be the biggest game in the county Saturday night. Gurrola, Maga and the rest of the Matadors will need to play much better.
When asked if any of his Matadors stood out, Sandoval simply said, "No. They all pretty much stunk."
Tip-off is at 7 p.m.
Michelle Corley
8 pts 4 reb, 3 stl, 1 to
Tiaja Bennet
2 pts, 5 reb, 4 ast, 2 stl, 3 to
Japonica Melvin
4 points, 5 rebounds, 1 to
Nyssa Maga
2 points, 1 rebound, 1 steal, 4 to
Sylena Peterson
15 points, 5 rebounds, 3 assists, 7 steals, 1 to
Nya Maga
0 points, 1 rebound, 1 assist, 2 steals, 1 block
Deyonna McBride
6 points, 5 rebounds, 1 assist, 4 steals, 2 to
Jacquee Brown
0 points
Citalli Gurrola
16 points, 3 rebounds, 4 steals, 1 to