Dons sharp in elite win over Matadors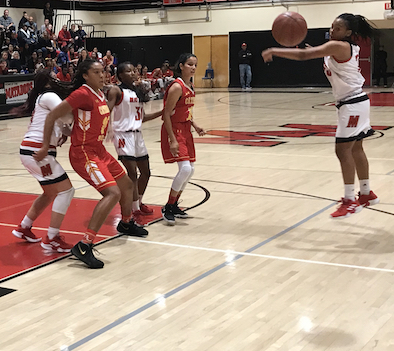 Sylena Peterson appears to float while the ball gets away.
2018 EAST COUNTY PREP GIRLS BASKETBALL
By John Duran
Special to EastCountySports.com
SPRING VALLEY – A girls basketball main event took place Saturday night in Spring Valley, as the top-ranked Cathedral Catholic Dons defeated the fifth-ranked Mount Miguel Matadors, 74-50, in a matchup between two of the top teams in the county.
It was a tough night for the Matadors (4-1), who, along with giving up a lot of size to a good Dons team, had a terrible shooting night.
"I don't think we came out with the right mentality to beat a team like that," Sandoval said. "They're very talented. You saw the game was going back and forth. But if our best players can't make shots, we can't beat very good teams."
Senior sharpshooter Citlalli Gurrola made just two three-pointers. Senior Tiaja Bennett was rejected at the rim numerous times. The Dons' size and defense kept the Matadors' offense in check for most of the game.
Sophomore Syleena Peterson had her least productive game of the season, scoring just 12 points without making a single three.
"Everyone has their off nights," a disappointed Peterson said after the game. "It just wasn't my night I guess. Obviously, I'll fix it for the next game."
With Peterson struggling, Cathedral built a 40-24 lead in the third quarter. It seemed like the game was out of hand as Peterson went to the bench for a breather. That's when the Matadors went on a 12-0 thanks to junior Nyssa Maga and the Matador defense.
"Our energy level picked up. Nyssa Maga, I thought, brought a lot of energy into the game," Sandoval said of that third-quarter rally. "Our defensive intensity picked up and that's why we were able to get some steals and convert easy baskets. Sometimes your best players aren't going to play well and you got to sit them. We tried to give (Peterson) a break and put her back in and that didn't work either."
After the Matadors cut the lead to 40-36, the Dons (3-3) went on an 11-3 run and pulled away from Mount Miguel to finish with a dominating victory.
Senior Michelle Corley led the Matadors in scoring with 16 points, maybe the only bright spot for Mount Miguel Saturday night.
The Dons dominated the Matadors on the boards. They were nearly impossible to defend when posting up in the paint. Mount Miguel's lack of size was just too much to overcome on this night.
"I tell my team just look ahead," Peterson, who led the Matadors to the CIF Open Division championship last season, said when asked what she tells her team after a defeat like this. "Just leave what you did in the past and focus what's in the present and do you."
Coach Sandoval, who every year has high expectations for the Matadors, still has his sights set on an Open championship this season. Anything less would be a disappointment.
"We're always going to shoot for the open. We'll be ready to go," Sandoval said. "We're licking our wounds and we'll be back at it on Monday.