Falcons capture Grossmont tourney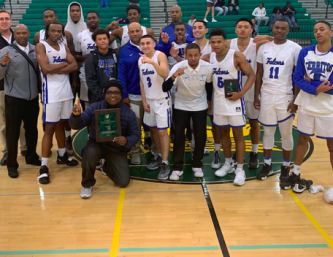 Grossmont Tournament champion Cerritos Falcons
2018 COMMUNITY COLLEGE MEN'S BASKETBALL
By Nick Pellegrino
Special to East County Sports
EL CAJON (12-3-2018) – San Diego City College owned the opportunity to say goodbye to a poor showing in late November and put together a nice winning streak to open December. However, state contender Cerritos sped forward.
In a battle between charter members of the original South Coast Conference, the Falcons finally took the lead, 64-63, with less than seven minutes remaining, eventually downing the Knights, 80-75, in the championship game at the 47th annual Grossmont College Invitational.
Cerritos moved to 7-1 overall with its second tournament triumph of the season. They earlier captured the Irvine Valley crown. San Diego City dropped to 7-6 overall.
The Falcons, which converted just four 3-point shots all contest, saw Jamal Heckard hit a triple with 6:58 left in the second half to take the lead, followed by a short jumper by Chance Hunter.
San Diego City answered on a trey by Joseph Riley, but the Falcons countered on a 14-7 run to claim the trophy.
Cerritos received most of its scoring off the bench, as tournament MVP Tawon Elston scored 21, Hunter added 18, and Darryl McMillon had 11. Among the starters, Cody Wilkes led with 11.
For the Knights,  Kai Huntsberry led the club with 18 bench points. Robby Robinson posted a double-double with 17 points and 14 rebounds, while 12.
Elsewhere
MiraCosta 75, Santa Monica 73:  The Corsairs have defeated both Southwestern and San Diego City this season, but barely failed to overcome a 10-point halftime deficit in falling to the Spartans in a consolation game at the Antelope Valley College Tournament in Lancaster.othides are now 5-4 this season.
Point guard Xavier Allison reached double figures in scoring for the first team, pouring in a game0-high 20 points. Allison also led MiraCosta with 8 rebounds.
Palomar 66, L.A. Southwest 62: The Comets rallied from MMM points down to nip the Wildcats at the 47th annual Grossmont College Invitational in an afternoon consolation contest.
Southwest forward Robert Walls converted a layin with 36 seconds remaining to move to within 63-62. However, after a Palomar timeout, the Comets' Marek Sullivan sank two foul shots, so the Wildcats subbed all five players, but Palomar guard Anthony Routh stile the ball, setting up addition free throws to seal the victory.
For Palomar (4-5), Sullivan paced the Comets with a team-high 19 points, plus 6 rebounds and 6 assists. Michael Chatman added 13 points and 14 boards, while Jacob Marco scored 10.
L.A. Southwest fell to 2-5 in a sloppy game featuring 51 combined turnovers (LASW 26-25).
Moorpark 67, Palomar 64: The Comets' second game saw them run out of gas after Raiders guard Tim Andreolli converted several key shots down the stretch, including a go-ahead 3-pointer for a 59-58 lead with 3:11 remaining to allow Moorpark to out-last the Comets in a consolation game at the 47th annual Grossmont College Invitational.
Andreolli added another triple with 1:50 left for a 4-point lead, then sank his only two foul shots in the closing second to seal it for Moorpark (6-4).
For the Raiders, Andreolli finished with team-highs of 16 points, 6 boards and 4 steals.
Palomar (4-6), Jacob Camargo tallied a game-best 24 points. Antonio Green added 11 boards, 5 assists 5 steals.
Desert 71, Grossmont 57: The Griffins displayed their best effort of the season, yet remained winless (0-10) after following to College of the Desert at the 47th annual Grossmont College Invitational.
Grossmont moved to with 45-43 with 9:19 remaining o shot by Marc Cabrera (assist to Lamon Hudson), but the Roadrunners answered with a 16-6 run, capped by a pair of 3-point goals from off the bench by Damonza Byrd.
Sam Skipper had 18 points and 8 rebounds for Desert. Byrd collected 14 points, while Gunnar Mogolis added 13 points and 3 steals.
For Grossmont, Jabbar Wade and Brendon Newble each scored 10 points, while Hudson and Josh Burton both added 9.
Elsewhere
Imperial Valley 119, Univ. of Antelope Valley JV 52: The Arabs captured this consolation game at the Mt. San Antonio College Tournament in Walnut.
It's the first time IVC has scored in triple figures since Dec. 27, 2013, defeating Barstow, 100-82.