Foothillers are better late, early
Updated: December 8, 2018
2018 EAST COUNTY PREP GIRLS BASKETBALL

GROSSMONT 78, MONTE VISTA 31
EastCountySports.com staff report
SPRING VALLEY – The Grossmont Foothillers are the latest best-kept secret in East County girls basketball.
That's not necessarily because local hoop fans haven't heard of a few of these Hillers.
It's just that they only started their season this week.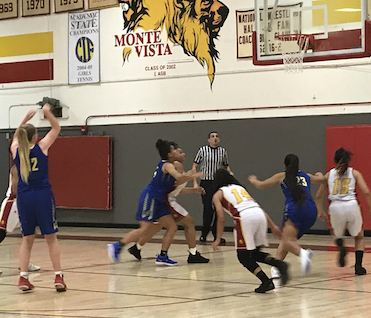 Friday night, Grossmont won its second game in as many nights, downing host Monte Vista, 78-31, in a non-league contest.

The Monarchs are an improved lot, as well, but this Grossmont team has been building toward this season.
Senior MARISSA GILES had 26 points and five steals to lead Grossmont (2-0).
"We were playing great and intense as a team," Giles said. "Our passes were really good from everyone on the court. We worked well tonight."
Although the team has been prepping for the season and figure they have a good squad, the Hillers still might just be figuring out how good they are.
"We have speed this year," Giles said. "We can run the court much better than last year, and I am looking forward to the season."
Junior SARAH HENRY added 21 points, four rebounds and two blocks for Grossmont.
"I think we overall played well," Henry said. "We came out strong and finished strong despite the slow start we had a good game."
Grossmont led 23-6 after one quarter and 40-16 at halftime.
The Monarchs came into the game a bit short-handed.
"Missing two ball handlers to injuries was hard on us tonight," Monarch head coach SABRINA JIMENEZ said. "Our energy level just wasn't there.
"Grossmont is very talented, they got great energy, and they play team basketball, wish we could have matched them with the same intensity."
ATHENA SOTELO had seven points, 10 assists and eight rebounds for the Foothillers.

Sophomore ANYSSA CHARGUALAF had 10 points and five rebounds for Grossmont.
"We didn't play Monte Vista basketball tonight," Jimenez said. "Our defense hurt us. Grossmont either beat us down the court, or they set up their offense until they got a good shot."

"Too early in the season to let this hurt us. We get back in the gym in the morning and get better for next week."
Grossmont will host Montgomery on Tuesday.
Monte Vista will visit Mission Bay on Monday at 6 in a game scheduled to be streamed by the NFHS Network