Eagles rally big, fall to Pointers
Updated: December 11, 2018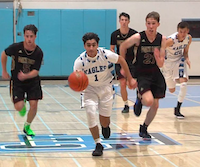 JOHN YAKOU drives to the basket against Point Loma on Monday night.
The Granite Hills Eagles fell behind early and fell far behind in their Monday matchup versus Point Loma High.
Point Loma beat Granite Hills, 68-62, but not until after the Eagles came back from an early 20-3 deficit to take the lead in the fourth quarter in front of their home crowd.
Granite Hills junior MCKAY ROBERTS made five three-pointers on his way to 31 points on the evening, all of the points came in the final three periods.
Granite eventually trailed 31-12 after just one quarter.
"We weren't ready to match their intensity," Granite Hills coach DAN DUFFY said.
Roberts had a pair of three-pointers in the second quarter and another pair of treys in the third as Granite Hills started to come back.
Roberts finished 10-for-11 from the line. The Eagles made 16-of-19 foul shots overall.
Junior JOHN YAKOU made his third three of the game in the third quarter to help the comeback.
"The guys never quit though and fought back to take the lead early in the fourth," Duffy said. "(We) missed on a couple late possessions to take the lead back. I loved our effort and heart to come back from that. "
Granite Hills' JOHN VRSICH had 11 rebounds to go with his nine points.
Senior HUNTER PIKE also had a three-pointer in the fourth quarter.