Matadors notch another top 10 win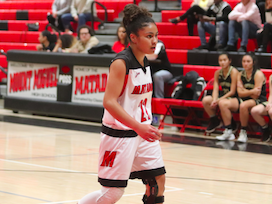 PHOTO by JOHN DURAN
MOUNT MIGUEL 48, WESTVIEW 29
2018 EAST COUNTY PREP GIRLS BASKETBALL
By John Duran
Special to EastCountySports.com
SPRING VALLEY – The Mount Miguel Matadors defeated Westview 48-29 after their defense suffocated the Westview Wolverines in the second half to improve to 10-1.
In this battle of top ten teams, this game was evenly matched in the first half. Westview led 12-11 after one but the Matadors led 25-20 at the half.
After halftime, it was all Mount Miguel, thanks to their effort on the defensive end.
"We just woke up and started moving our feet better," said junior Nyssa Maga, who scored nine points off three three-pointers
The Matadors held Westview (8-2) to just nine points in the second half.
"It wasn't a pretty game but we'll take it. I think Westview had a good game plan and they came out and played really strong," head coach Robbie Sandoval said. "We just have to do a better job of recognizing certain things and executing our game plan. As you saw our defensive pressure stepped up in the third quarter and that's when we were able to extend our lead."
Mount Miguel was without sharp shooter Citlalli Gurrola due to sickness. To make up for her absence, other Matadors who usually don't focus on scoring had to fill that void.
"We miss her but I feel confident that we have other kids that could step up," Sandoval said. "And you saw a variety of kids that hit threes and knocked down some shots. It might have thrown us off but it was good for us. Sometimes you're going to have some of your best players out and other kids have that opportunity to step up."
Four different Matadors hit at least one three-pointer, including sophomore Sylena Peterson, who made four, finishing with 17 points.
Up next for the Matadors, they will welcome undefeated San Marcos to Spring Valley this weekend. 
"We have to play defense better, execute our plays and everybody needs to be focused," Maga said about what her team needs to do Saturday night versus the Knights.
Coach Sandoval expects a tough game for his Matadors, "I expect them to come with intensity. They're a really well coached team. I do believe it's going to be a dog fight so we have to be ready to go."
Tip-off is at 6:00 p.m.
MATADORS STATISTICS
Michelle Corley
3 points, 3 rebounds, 1 steal
Tiaja Bennett 
9 points, 5 rebounds, 3 assists, 1 steal
Japonica Melvin
6 rebounds, 1 assist, 2 steals
Nyssa Maga
9 points, 8 rebounds, 3 assists, 2 steals
Sylena Peterson
17 points, 6 rebounds, 4 assists, 6 steals
Nya Maga
3 points, 2 rebounds, 1 steal
Deyonna McBride
7 points, 2 rebounds, 1 steal