Hillers, Matadors, Monarchs win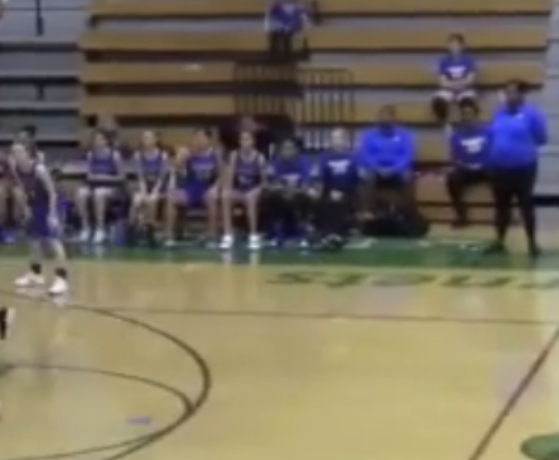 2018 EAST COUNTY PREP GIRLS BASKETBALL
EastCountySports.com staff report
LA MESA – The Grossmont Foothillers remained undefeated (5-0), knocking off the Point Loma Pointers, 68-58, in a Crawford Tournament game on Saturday.
Marissa Giles scored 23 points, while teammate Athena Sotelo scored 18 points, had seven rebounds and made four steals for the Foothillers.
"It was early but our team came out ready to play," Giles said of the morning start time. "Athena's a great player and we work well together."
"This year we are able to play fast and scrappy on defense with multiple players capable of keeping up the intensity.
Alex Purnell, a transfer from Granite Hills, added 10 points and nine rebounds for Grossmont.

MOUNT MIGUEL 65, SAN MARCOS 28 – SYLENA PETERSON scored 22 points and JOPONICA MELVIN added 11 as the Matadors won to improve to 11-1.
Mount Miguel senior TIAJA BENNETT had five points, nine rebounds, six steals and four assists.
"The plan was to come out and end our week on a win and we knew it had to start with defense," Bennett said. "I feel like we have a team who can keep these standards. And that's how we pulled out this win."
Senior MICHELLE CORLEY had seven points, fives assists and two steals. Peterson had four of the Matadors' 16 steals.
"It was a total team effort," Mount Miguel coach ROBBIE SANDOVAL said. "I thought Michelle Corley and Tiaja Bennett lead us defensively and our young freshman, Joponica Melvin, had a breakout performance."
The Matadors currently have the highest power ranking in the section.
MONTE VISTA 56, GRANITE HILLS 20 – The Monarchs defeated the Eagles as SARA TAHA scored 20 points and TORRI HONORE added 16 points.
The Eagles played a great first quarter and trailed just 11-10.
But a 20-4 margin in the second quarter decided the outcome.
"We had an opportunity to play our bench," Monte Vista coach SABRINA JIMENEZ said. "I wasn't happy with our defensive effort, or the way we executed our offense."

Monte Vista improved to 5-4 after going 2-2 this week.
"I think the four-game week really took a toll on my team," Jimenez said. "We were a step to slow to everything, I expected more hustle plays from my girls. Hopefully, we can heal and be full force next week."
A most promising stat for the Eagles was that their 10 first-quarter points were scored with baskets from five different players.
"You gotta give it to Granite, they never gave up the entire game," Jimenez said. "They have a great coaching staff, and a team with a lot of potential."

"We are getting better," Granite Hills coach BRIANNA MARTINEZ said. "We have to learn to play through adversity and reward ourselves.
"Our problem is the constant unforced turnovers but Monte Vista is a good team. It was a good match up. I'm proud to hear a coach say we played 100 percent all four quarters. That's all I ask of my girls."
UNIVERSITY CITY 61, FOOTHILLS CHRISTIAN 53 – Junior ELLIE TURK led the Knights with 19 points but the host Centurions won the non-league game.
"We had a tough night hitting shots for sure," Turk said. "We played really tough for the whole game but they were hitting most of their shots pretty well.
Turk added nine assists, six steals and four rebounds.
"I think that we definitely could have pulled out the win if we would've hit out shots," Turk said.
The Knights trailed by 13 in the third quarter but closed the deficit to with a possession later in the period but couldn't pass UC.
Sophomore ARANTXA SANCHEZ and freshman NATALY BRAVO both added 14 points for Foothills Christian.
"If we want to be a better team we have to play against better teams but we did a great job tonight," Bravo said. "I'm really proud of my team always getting better, it was a really close game and one thing that I've learned is that we have to keep working hard and archieve the goal."
Bravo added six rebounds and recorded two steals.
It was just the second loss of the season for FCHS (8-2).
"We had a tough game," Foothills coach JOEY TURK said. "Shots wouldn't drop. (We) weren't as efficient as we need to be. Our defense had many lapses on rotations and gave them open shots which they knocked down. We are a young team that will grow and learn from this."
Fonseca added seven rebounds, three assists and three steals
Bravo added six rebounds and two assists
CHRISTIE SARKIS had four points, while ANGELINA CREEL scored two points.

MADISON 54, GRANITE HILLS 19 – The Warhawks led 18-4 after one quarter, but the Eagles outscored the hosts, 10-8, in the second quarter in an earlier game.
MORSE 60, VALHALLA 29 – The Lady Norsemen dropped a tournament contest to the visiting Tigers. Valhalla is 2-4 and will play Mission Bay on Tuesday.

HILLTOP 50, HELIX 34 – Helix fell to 2-4 after dropping the Crawford Tournament contest to the Lancesr.
CHULA VISTA 58, MONTE VISTA 50 – On Friday, The Spartans defeated the Monarchs.V