"King Jay" chooses Florida State
Updated: December 20, 2018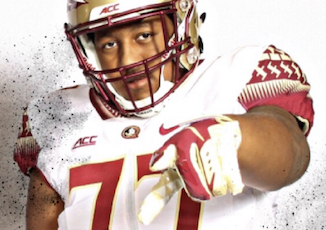 Grossmont College OT Jay Williams will attend Florida State University. / edit: sebastian dickens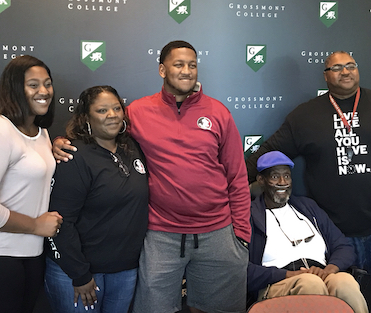 2018 EAST COUNTY COLLEGE FOOTBALL COMMITMENTS
EastCountySports.com staff report
EL CAJON – What "King Jay" Williams let college football fans know on Monday, he made official on Wednesday.
After a hot-and-heavy finish to the Grossmont College three-star offensive lineman's college football recruitment process over the last month, the sophomore from Moreno Valley announced he would attend Florida State University.
⚠️⚠️⚠️⚠️⚠️⚠️⚠️⚠️⚠️⚠️⚠️⚠️ – @GrossmontFB pic.twitter.com/Kx1JCb5pvP

— Jay Williams (@KingJay_07) December 17, 2018
Alongside Griffin head coach Mike Jordan, Williams signed a letter of intent to play for the Seminoles in front of family, teammates, school officials, and media on Wednesday at Griffin Gate.
An early graduate at Grossmont, Williams will resume school in January in Tallahassee.
A 6-foot-6, 290-pound offensive tackle from Nuview Bridge High School, Williams walked on at San Diego State as a defensive tackle.
After being cut by the Aztecs, Williams, whose frame was already starting to resemble that of an offensive tackle, re-invented himself as a football player at the encouragement of the GC coaching staff.
And did he ever.
In just one year of playing junior college offensive line for a Grossmont team that won just one game, Williams worked hard on his on-field development and once scouts started to take note, "King Jay" stepped up his own recruitment game, both with communications and film work with interested coaching staffs and a social media game that serious junior college and prep recruits should look to emulate.
"I would've never imagined that I would be here today if you had asked me this in high school," said Williams, who had 153 tackles as a defensive lineman and also caught 57 passes as a receiver in a four-year prep career at Nuview.
"All my hard word has paid off and now I'm ready to get to work."
Williams' parents were both educators, while his 21-year-old sister will soon take the bar exam. They were all in attendance on Wednesday.

"The last thing you want to do is have someone do something for you," Williams said of his drive. "If someone has to push you to do something, then you don't want it bad enough for yourself."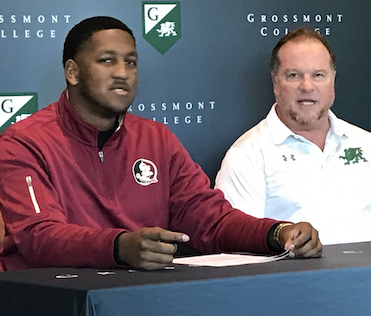 Williams' stock eventually rose as high as the No. 8 community college offensive tackle in the nation, and the 68th ranked JUCO player overall, drawing more than 20 offers from programs across the country, including several from some of college football's most recognized programs.
It may have been a down year in the win column at Grossmont, but Williams proved the recruiting adage, "If you can play, they will find you."
Over the final three weeks of the recruiting period, Williams took visits to Indiana, Texas and Florida State on consecutive weekends.
Williams also had offers from major programs Central Florida, Missouri and Louisville, as well as, several HBCUs.
In fact, it was only on Dec. 6 that Williams officially received his offer from Florida State when Seminoles' head coach Willie Taggart and wide receivers coach David Kelly came to the El Cajon campus.
That visit told Williams all he needed to know about the opportunity that lies ahead at Doak Campbell Stadium.
Had a great time and visit with Coach Taggart and Coach Kelly! Thanks for stopping by! #GoNoles🍢 #tribe19 #DoSomething pic.twitter.com/rxVZ8nK9cM

— Jay Williams (@KingJay_07) December 6, 2018
Williams majored in exercise science at Grossmont College, and he plans to major in sports management at FSU.
"I never thought I would go to junior college, but it turned out to be a great experience," Williams said. "It was the best time of my life."
It was only Sept. 25 – four games into the season – when the first Division 1 offer arrived, but Williams' drive and determination on the field was matched by his perseverance off of it.
When not practicing or studying, Williams was is own PR machine on Twitter, making sure his game footage found its way to scouts across the country.
And the tape didn't lie. Williams dominated defensive foes, earning unanimous All-National Division Southern League honors.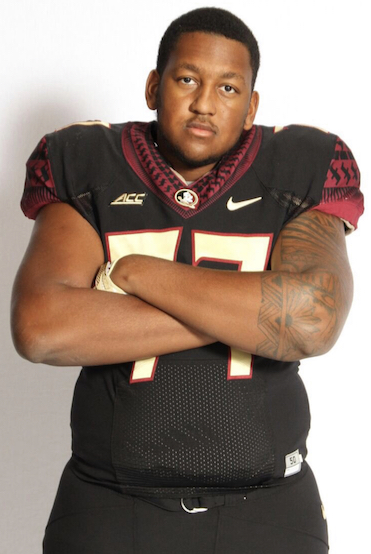 Grossmont's running game steadily improved throughout the season. The Griffs averaged 200 yards on the ground over the final three games.
"I really love the way he finishes blocks," Taggart said at a news conference in Tallahassee on Wednesday. "And when you get a chance to meet the kid, you'll see just a phenomenal young man that wants to be great at what he does.
"And he has a chip on his shoulder and looking to come here and play."
The Seminoles' offensive line was blamed by many for team's sub-par season (5-7). Florida State, which has won three national championships, has had issues at tackle for the last several years.
Despite's FSU somewhat questionable success with JUCO players, Williams is expected to compete for a starting job immediately, a testament to his rapid development.
"What an incredible opportunity he's going to have," Jordan said. "It speaks to his maturity and his ability to develop. I think he is going to go on and do great things."