Barkley commits to TCU while in Japan
Updated: December 21, 2018
MIKEL BARKLEY with his family in Okinawa, Japan this week.
2018 COMMUNITY COLLEGE FOOTBALL
By Tom Saxe
Special to EastCountySports.com
SAN MARCOS / FORT WORTH, Texas / PORTLAND, Oregon (12-19-2018) – Palomar receiver Mikel Barkley signed with Texas Christian University on the first day of the junior college early signing period on Wednesday morning as the Horned Frogs' prize community college recruit among players who will be transferring to TCU in January for the 2019 season.
"First off, TCU has always been one of my dream schools," Barkley posted on his Twitter account on Tuesday in announcing his decision to sign with the Horned Frogs after narrowing his choice of schools to Texas Christian and Utah. He also received strong interest from UCLA. "I've always wanted to play in the Big 12," Barkley added. "So this is the perfect opportunity."
Committed. #Gofrogs #FrogFam 🐸💜 @TCUFootball pic.twitter.com/2fhnOeySdw

— Mikel V Barkley ! (@Kellzo850) December 12, 2018
Barkley made his decision after being offered during his official visit to TCU this past weekend.
The 5-foot-11, 165-pound freshman came to Palomar prior to the 2018 season as a qualifier out of Great Oak High School in Temecula, where he was timed in 4.3 in the 40, looking to make an impact to transfer out after one season.
He is rated as the No. 20 "JUCO" prospect in California at all positions, No. 7 "JUCO" receiver in California, the No. 10 community college receiver in the nation and No. 90 overall prospect in the nation by 247 Sports.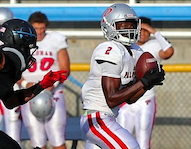 Barkley caught 25 passes for 583 yards and 9 touchdowns during the season despite playing with an injury for several games in the middle of the year. He was under the radar until well into the JC evaluation period when he began receiving interest from UCLA and Cal, among others.
Meanwhile, TCU was looking for replacements for two slot receivers, KaVontae Turpin and Jarrison Stewart and once the Horned Frog coaches saw him on video and then in person they drastically stepped up their interest in Barkley. Barkley says the coaches have told him he'll play a similar role to that of Turpin.
"He has an elite first move off the line. He's capable of begetting searation because of that, pluys he has incredible speed, and has wonderful hands to boot," according to "TCU Football (@TCUFootball"). "The Frogs were in need of a No. 2 receiver to take pressure off (their returning star receiver, Jalen Reagor)."
Flew 2 Okinawa, Japan so they could share the moment ! #gofrogs #NationalSigningDay pic.twitter.com/O7PncrqY87

— Mikel V Barkley ! (@Kellzo850) December 20, 2018
The other Palomar player to sign Tuesday morning was Jayson Pace with Portland State. The 6-foot, 260-pound freshman defensive tackle out of Temecula Chaparral High School came on strong late in the season and finished with 5 tackles for loss and 2 sacks.
Another Palomar prospect who received strong consideration from FBS programs was redshirt freshman quarterback Connor Curry, who was Louisiana 5A Player of the year and a high school All-American as a prep senior and originally committed to Clemson.
South Alabama University of Lakeland, Florida of the FBS Sun Belt Conference had shown strong recruiting interest in Curry, but when the Jaguars went another direction on Wednesday, Curry then signed a letter of intent with Southeastern University of Lakeland, Florida, the No. 21-ranked team in the nation in the NAIA.