Girls teams post big wins on Friday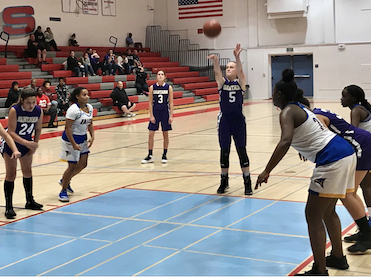 2018 EAST COUNTY PREP GIRLS BASKETBALL
EastCountySports.com staff report
A busy night in girls basketball Friday ended up with several East County teams posting victories in easily the most successful night of the season for the locals…
CHRISTIAN 61, UPPERMAN 48 – The Patriots won again in Phoenix at the Nike Tournament of Champions.
ALLIE CARREON nailed a couple of three-pointers in the opening quarter to get things started, then SIMONE JAMES put the game away with a strong offensive performance in the second half.
Christian improved to 3-0 at the event.
GROSSMONT 57, MORSE 41 – The Foothillers advanced to the championship game of the Crawford Tournament.
Senior Marissa Giles had 22 points for Grossmont.
"Morse played a box-and-one on Marissa," Grossmont head coach Grace Campbell said. "But she played smart and let the game come to her finding her open shots."
Giles also had fives steals and six rebounds.
"I just tried to listen to Coach and do what she told me," Giles said. "The team played well together I have been working to improve my defense and not foul as much."
Senior Athena Sotelo added 16 points, seven rebounds and four assists for the Foothillers.
Junior Sarah Henry contributed 12 points, five rebounds, and two blocks for the Hillers.
Grossmont was 18-of-28 from the free throw line.
The tournament championship game on Saturday is against the Madison Warhawks.
"Morse is a tough team," Campbell said. "My girls stayed composed. Three of my starters were in foul trouble and the reserve players came in and stepped it up."
Grossmont junior ALEX PURNELL grabbed eight boards.
SANTANA 55, O'FARRELL 15 – The Sultans are officially red-hot after notching their third-straight victory at the El Cajon Valley Tournament.
BELLA TERRY led Santana with 13 points and 12 rebounds. She also had five assists, three steals and three blocks.
Junior LAKAILA AGUININGOC-DAVID had 10 points and seven steals for the Sultans.
The Sultans led 25-2 after the end of the first quarter and 41-7 at halftime.
"It's honestly a relief to be on a three-game winning streak," Aguiningoc-David said. "We did start off rough but we pushed through it and worked really hard at practice.

Junior BRIANNA JERIG had 11 steals, as the Sultans swiped 28 thefts overall.
"Every single person on the team has improved since the beginning of the season and it's just a relief to see our growth," Aguiningoc-David said." I'm really proud of the entire team for coming together to get these wins.
"(We) seriously couldn't have done it without coach Jordan Franey. She's pushed us so hard and has helped us so much. If it wasn't for her, the last three games wouldn't have ended with a win.
"There is still lots of room for improvement but for right now I'm proud of the improvement we have shown."
Senior AALIYAH STONE had six points and 10 rebounds, while sophomore teammate EMMA LUNDY added six points and nine rebounds for Santana.
We played our basketball right from the tip-off," Santana head coach JORDAN FRANEY said. "We have struggled with slow starts but tonight we came in with a hint of confidence that if we run our stuff and get the ball in the hands of people where they can be successful good things will happen for us. Our decision making was great tonight and that was one of our best efforts on the offensive boards this season.
"Holding each team in the last three games to under 15 points is a collective group effort and we are getting better every day with containing the ball-handler with our hands off.
"It was a fun game to be a part of and my heart is filled when I get to see my kids earn success the right way. We are some tough kids from Santee and I wouldn't want it any other way."

EL CAJON VALLEY 46, LIBERTY CHARTER 14 – AMIYA JAMESON turned in a stellar performance with 12 points for El Cajon Valley at the El Cajon Valley Tournament.
"(Jameson) has been playing very well," El Cajon Valley head coach RANDY ROBINSON said.
Veteran VEAN GORGEES also had 12 points for ECV.
After a slow start to the game that saw the Braves leading just 5-2 after one quarter, El Cajon Valley led 19-7 at halftime.
The Braves then pulled away in the third quarter, outscoring the Lions, 17-3.
The Braves improved to 7-3 with the El Cajon Valley Tournament win, while Liberty fell to 8-5.
"We've improved a lot," Robinson said. "We're making good passes and helping each other. They are buying in."
LILLIAN AKINTONDE and SYLVIA ABOUD both added eight points for the Braves. Akintonde handed out four assists, while Aboud grabbed 13 rebounds.
"(About) had been doing some very nice things out there," Robinson said.
OTAY RANCH 56, FOOTHILLS CHRISTIAN 54 – The Falcons nipped the Knights with a big comeback in the fourth quarter, as they outscored Foothills Christian, 23-10, in a matchup of strong teams.
The Knights led 30-20 at halftime.
ELLIE TURK scored 33 points and had 10 steals for FCHS. She also had nine rebounds.
"We played really hard and aggressive but we need to work on staying strong the whole game," Turk said. "We had some defensive breakdowns in the second half which lead to their three-point shots.
"I think we need to work on staying strong all the way through a game and not letting up at any point."
The Knights are road warriors, playing none of the games on campus.
"The reason we play so many away games is the fact that we don't have a home gym," Turk said. "Our school does not have its own gym so we have to play our home games at a middle school."

Freshman NATALIE BRAVO added 11 points for the Knights.
Turk also had nine rebound, three blocks, and three assists.
Bravo grabbed four boards and handed out three assists.
ARANTXA FONSECA added five points abd 11 rebounds for FCHS, while teammte FAITH WILSON contrinuted four points and eight rebounds.

Foothills jumped out to a 17 point lead midway through the second quarter behind the deep shooting of Turk, who had four first-half threes.
"In the second half, we got into foul trouble with one of our key players," Foothills Christian coach JOEY TURK said.
Arantxa fouled out at the start of the fourth quarter.
"(There were) many questionable calls down the stretch to be honest which were very difficult for us to overcome," Joey Turk said. "But a learning experience as we play against scrappy, good teams such as Otay Ranch, which remains undefeated and one of the stronger teams in Division 2."
HELIX 45, GRANITE HILLS 18 – The Highlanders defeated the Eagles in a Crawford Tournament game between a pair of conference foes.
Helix improved to 4-5.
No other information reported.