FOOTHILLERS WIN CRAWFORD TOURNEY
Updated: December 23, 2018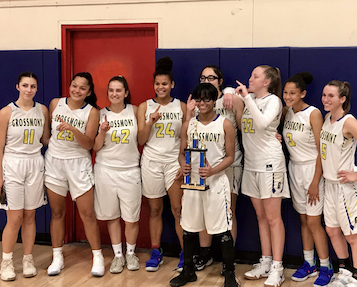 2018 Crawford Tournament champion Grossmont Foothillers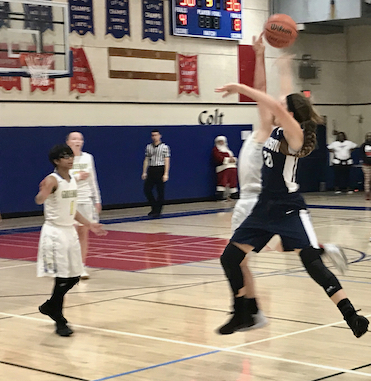 2018 EAST COUNTY PREP GIRLS BASKETBALL
By Dave Dickens
EastCountySports.com
SAN DIEGO (12-22-2018) – Many still doubt after defeating teams like Mission Bay if the Grossmont Lady Foothillers are for real?
Several programs throughout the east and San Diego County itself would like to know if indeed this girls basketball club from Grossmont High in El Cajon is the real deal.

This group of talented young ladies has no weakness on the bench or the court. Ask any one of these young athletes and they will reply, it has and will always be a team effort.
Not only do they have a talented squad, but this team also has quite the dedication, when it comes to the group of fans that go on the road in support of these young ladies.
Even Santa Claus was whooping it up, and spreading Christmas cheer for the time grew near, this would be the game of the year.
Grossmont (9-0) wasted no time as they got to work immediately attacking the basket with their high-octane offense led by the "three amigas," ATHENA "The Anchor" SOTELO, MARISSA " Feisty" GILES, and last but certainly not least, SARAH "Rebound" HENRY, she also assists the scoring trio.

Madison (9-1) coming into this final was also at the undefeated mark and looked a bit flat out of the gate, as Grossmont carved through the Warhawk defense quite easily to finish the first quarter up, 18-9.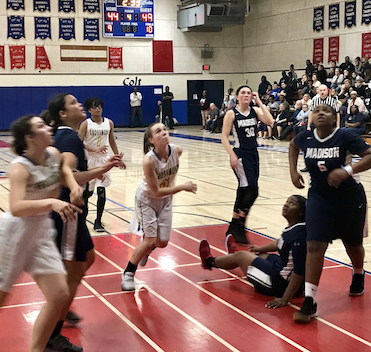 As the next eight minutes of play wore on, the Hillers started to post quite the foul frenzy, causing the Warhawks to outscore Grossmont 16-10 in the second, sinking free throws and having issues defending the outside three-point shooting advantage Madison posed.

The Hillers on many occasions left the outside shooter wide open until they finally contained that issue midway through the third quarter of play.
At the end of three, Madison gained momentum, tying the score up at 38-apiece.

To say that the natives were getting restless, or that the nail-biting had begun in the fourth quarter was an understatement.

Folks, the last eight minutes of this contest was nothing of beauty, in fact, it was quite the opposite.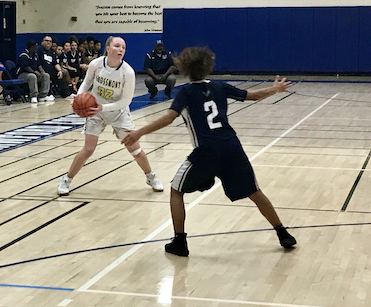 Fouls it seemed every 10 seconds of play, a few technical fouls were even issued, or at least one per team, one in particular, that could have proven detrimental, maybe even costing the Hillers the game.

As has been the tale all season for this Grossmont team, they would also be given a gift courtesy of a technical foul issued to the Warhawks.
With approximately seven seconds on the clock, Giles knocked down three free throws. Prior to this was a 53-all tie, with the game ending in favor of the Grossmont Lady Hillers, 57-53.

Not only did the Hillers win the Crawford Tournament, Sotelo, a senior, was also selected as the MVP, with 20 points, nine rebounds, and four assists in the final.