BARONS SHORT WITH LOSS OF GAME, PERSONNEL
Updated: December 23, 2018
Bonita Vista defends against Bishop's on Saturday night.
2018 PREP GIRLS BASKETBALL
By Dave Dickens
EastCountySports.com
LA JOLLA (12-21-2018) – A contest full of missed calls, horrendous officiating, and 40-plus fouls is completely unnecessary when it comes to two highly-skilled basketball squads as talented as Bonita Vista and Bishop's.
Both head coaches were disappointed with the officiating.

Not only did the Barons have to battle a great Bishop's team and all the unnecessary fouls called, their top-notch, all-around scorer and defender, ANNETH GRIJALBA, was still unavailable due to concussion protocol.

Both teams played an evenly matched first half trading scores, really an impressive first half for both squads. At the end of the first half of play, Bishop's held a slim-margin lead, 31-29.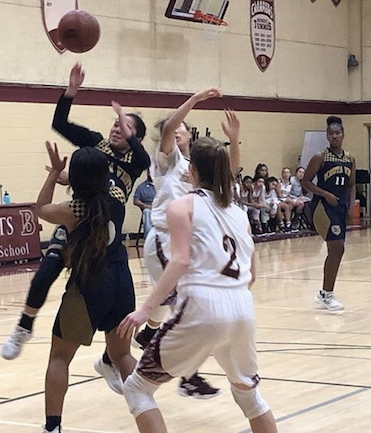 Bishop's amazing shooting efforts were led by JADA DAVIS-MACK with a stunning 24 points, 26 rebounds, and five blocks.
Mack's teammate, RENEE CHONG, had 16 points, two assists, and one rebound. The duo combined for 40 of Bishop's 66 points.

As the two teams resumed, the Knights took over, outscoring the Barons 18-10 in the third quarter.
Not only did the Knights take over the scoreboard, the Barons lost JULIA COSALAN with seven minutes left in the third quarter as she fouled out.
This was a huge blow to the visitors as the Barons were now without the services of Cosalan and Grijalba.

The wheels completely came off in the fourth quarter as the Knights began to pull away, and Bonita Vista lost yet another key player, as their top defender, STERLING EDWARDS, exited the contest with five fouls with six minutes left to play in the fourth quarter.

"We had no scorers and with our best defenders along with half of my team in foul trouble, there was little we could do," said Head Coach Tristan Lamb of the Barons. "The Bishop's coach and I could not execute the plays we practiced, due to all the fouls being called."

The Barons (5-7) will regroup, heal up, and prepare for an after-Christmas showdown at home as they host another desert team, Desert Oasis (8-2), on Thursday, December 27, at 7:30 p.m. at the Bonita Vista gymnasium.