Champion Braves making Moss proud
2018 Bonita Vista Gold Crown Tournament champion El Cajon Valley Braves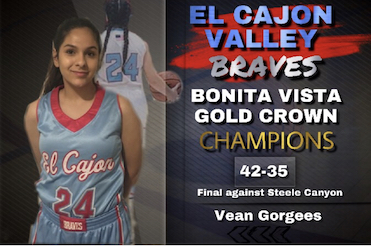 2018 EAST COUNTY PREP BASKETBALL
EL CAJON VALLEY 42, STEELE CANYON 35
EastCountySports.com staff report
CHULA VISTA – The El Cajon Valley Braves have dedicated this season to coach CARLOS MOSS, who had to step down just a few games into the campaign for personal reasons.
But the performance of his Braves so far this season has to be making him feel pretty proud right now.
On Saturday, the El Cajon Valley girls won the Bonita Vista Gold Crown Tournament with a 42-35 win over the Steele Canyon Cougars.
The win improved the team to 10-3. El Cajon Valley's most wins in a season so far this century is 11, coming in the 2015-16 season under Moss.
The Braves had great teams in the early 80s and early 90s, but this group is certain to go down as one of the best in school history, as well.
El Cajon Valley won a CIF Division II girls basketball championship in 1991 behind star TRACY WILCOX and coaching great BOB HOLM.
That Braves team finished 27-1 and avenged their only regular-season loss in the championship game, beating Carlsbad and legendary star Vanessa Nygaard.
This year's team has emerged as a top-five contender in Division IV.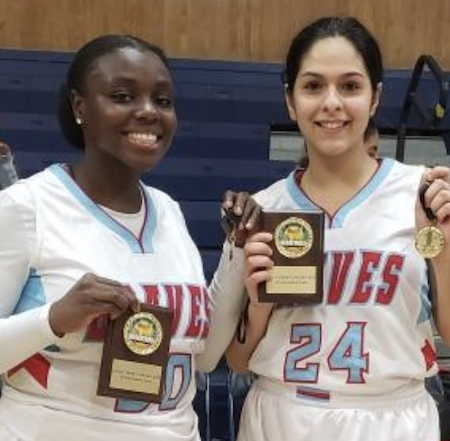 In the win over the Cougars, Junior guard VEAN GORGEES scored 11 points, including three three-pointers, and senior guard LILIAN AKINTONDE added nine points, five rebounds and six assists for the Braves.
Both players were named to the all-tournament team.
Junior AMIYA JAMESON added eight points and eight rebounds for ECV.
The Braves also proved their depth, finishing off Steele despite three starters fouling out.
Moss has been a terrific coach and mentor for the Braves, guiding the team to more than 50 wins in a pair of stints guiding the program, and by all indications, the team was poised for a dramatic improvement this year.
Fortunately, the man who helped create the El Cajon Valley Athletics Hall of Fame in 2016, has his own set of Hall of Fame credentials as a coach and teacher.
RANDY ROBINSON, who last coached the Braves girls team in 2009 and has also served as El Cajon Valley's boys' basketball coach and athletic director, retired from his post as a social sciences teacher at ECVHS in 2012.
When Moss needed to step away, Robinson was thankfully there to step in and help.
He called this year's team the most unselfish group he has coached. And Robinson's coaching career dates back more than 30 years.
"They are such a joy to coach they are all willing to work hard," Robinson said following Saturday's title game victory. "After they won the tournament, the first thing they said was, 'we need to hit the gym and practice Monday.'"
Those are sweet words to any coach's ears.
The Cougars led 13-12 in the tourney championship game on Saturday, but the Braves surged in front in the second quarter to lead 23-18 at halftime.
El Cajon led by just three points entering the fourth but the foul trouble was piling up, putting the coach to work.
"Three starters were out of the game and instead of sulking they were the loudest on the bench cheering the subs on the floor," Robinson said. "I have one ninth-grader and one tenth-grader that have never played basketball in their lives until this year and each of them got to have the joy of scoring a basket each this evening."
Gorgees, who had two of her treys in the first quarter, had a three in the fourth but was soon disqualified, along with fellow starters SYLVIA ABOUD and NEVEEN QARYAQOOS.
Freshman KAMIKA JAMESON's bucket in the fourth was no garbage time basket. The Braves needed all the subs' contributions in the fourth.
"All of them look at it as a team," Robinson said. "They just want to win. I inherited a great team that wants to learn and was already groomed by Carlos.
"They all have a special place in their heart for him."
Junior KHAYLA BRANDY led Steele Canyon with 15 points, while senior guard LALA WADLEY added 10 points for the Cougs.
Cougar sophomore MAHKAYLAH CLINE had seven points, all from the free throw line, and all in the first half.