Patriots take 4th at West Coast Jamboree
Updated: December 30, 2018
Christian High at the West Coast Jamboree on Saturday.
2018 EAST COUNTY PREP GIRLS BASKETBALL
EastCountySports.com staff report
WALNUT CREEK – Those traveling Christian Patriots earned a fourth-place finish at yet another high-profile girls prep basketball tournament on Saturday.
The Patriots have put themselves to the test of late and this event was no exception, as Seattle Prep knocked off Christian, 65-58, at the West Coast Jamboree.
The Patriots competed in the Diamond Bracket, the second-highest division at the tournament, which featured 18 classifications.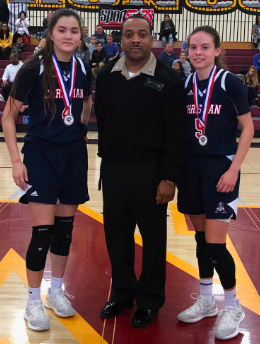 Following the contest, Christian's ALLIE CARREON and KRISTIN WILLIAMS were selected to the All-Tournament Team.
"(The) girls played with such heart," Christian High head coach VICKIE CARRINGTON said. "So blessed by the effort. I'm super proud of the Lady Patriots. Coming in fourth place in the Diamond Bracket is extremely commendable and highly respectable.
"James and Yesenia Smith both played well. Lots of different girls stepped up for us throughout the tournament.
"It was a great tournament (with) very talented players on the court.
"College and opposing high school coaches complimented our program. One lady came out of the stands to tell me how much she enjoyed our coaching and the family environment we had.
"That's really awesome when people say positive stuff – as our goal on the road is to be a light for the Lord and make Him proud because we give our best as unto him, not unto man.
"We are intense and feisty on the court as coaches on game day, which is intentional. We want our girls to compete (on) every possession and play to win.
"The outcome will be what it is, we just have to play."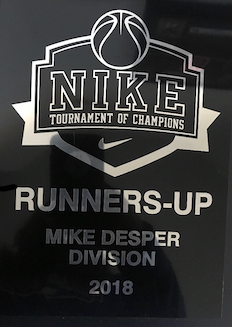 Christian High went just 1-2 but competed in an elite division just one week after facing more top-notch competition at the Nike Tournament of Champions in Phoenix, one of the country's major girls tourneys on the calendar.
"It was a great experience and awesome putting Christian girls basketball on the map in two national exposure tournaments," Carrington said.
Christian High junior SIMONE JAMES ran into early foul trouble against the big Panther squad, sending her to the bench for nearly a quarter.
If not for the pine time, James may have been an all-tourney choice, as well. She was named as an honorable mention to the all-tourney squad.
"I can't do anything else but to thank God, because, without him, I wouldn't be able to do anything," James said.
"We have such an excellent coach that teaches the word of God for being a good player and a good person. The one thing we can do is never get complacent and continue to work hard.
"Also, we are still trying to build and continue to get better. All the time. Our faith in God and our coaches give us the strength to continue on and build on what my teammates and I have learned and accomplished."
Carreon, a junior, was pleased despite the two losses at the event.
Last week, the Patriots went 3-1 in Arizona against high-level opponents.
Christian knocked off West Campus, of Sacramento, to open this tournament, before a defeat on Friday to Harvard-Westlake, a team nearly inside the state's top 40.
"Being named an all-tournament player is a complete blessing," Carreon said. "Our team is blessed with the best coaches and very talented girls. God brought us all together for a reason.
"I couldn't have done it without my sisters (teammates). They constantly encourage me and always push me to be the best player and person I can be, as well as, my coaches.
"To be able to play with these group of girls is unbelievable and we are just getting started. We have a lot of work to put in still but just over these past few tournaments, we see our hard work paying off.
"The Tournament of Champions would be my favorite tournament. I feel like that one stood out to me the most because it was super fun and we played really good as a team.
"We competed with the best from everywhere and it just felt great because we competed with them and won.
"That tournament really set the bar for what our season is going to look like, full of competitiveness and full of hard work."
Saturday's third-place game was tight throughout.
The scored was tied 15-all after the first quarter, but Seattle Prep took a 30-29 lead into halftime.
Christian outscored the Panthers 19-17 in the third.
The difference in the contest, according to Carrington, was from the free throw line for the Pats.
"I feel like we have more bonding to do but we are definitely figuring out what each other likes to do whether it's shooting off a pass or off the dribble," Williams said. "I feel like we still need to work on defense and communicate more because that's one of the main things that great teams have.
"My role is to keep moving, be ready for the ball, be ready for a pass for a shot or even having the ability to drive. If my game is off, I need to have the ability to also create for others.
"I don't feel like I have reached my potential yet. I've been told before I had a lot of it but I still have a lot to learn from my teammates and coaches. Everyone has wisdom on this team, and for me, it's just about listening and being coachable."