Norsemen capture tourney; Eagles win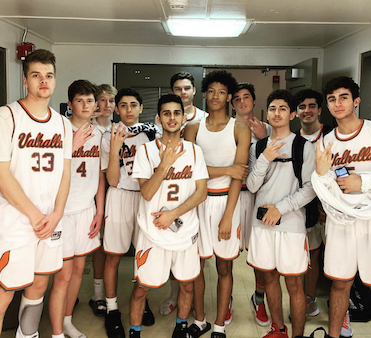 Valhalla after winning the Santana New Year's Classic on Saturday.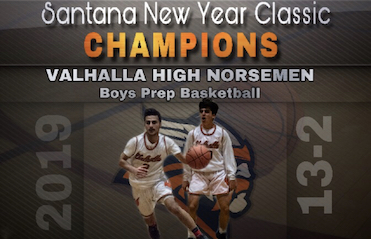 EAST COUNTY PREP BOYS BASKETBALL
EastCountySports.com staff report
SANTEE – The Valhalla Norsemen capped off a 4-0 week by winning their eight-straight game, defeating Victory Christian Academy, 70-51, to win the Santana New Year's Classic on Saturday.
Valhalla (13-2) led 44-22 at halftime, as tournament MVP JORDAN GAINES put up another big game, finishing with 26 points.
Sophomore JOE AVALOS added 17 points for the Norsemen.
Senior guard DOMANIC SAFARTA added nine points, 11 assists and five rebounds for Valhalla.
The Norsemen are decisive favorites to win the Grossmont Valley League championship. That quest begins on Tuesday at home when Valhalla hosts Monte Vista at 6.
GRANITE HILLS 75, SAN PASQUAL 64 – MCKAY ROBERTS scored 27 points, including 10-of-10 from the free-throw line for the Eagles, while teammate JOHN VRSICH added 15 points, 17 rebounds, and 3 blocked shots.
Roberts was named to the all-tournament team.
The win was a relief for Granite Hills, which missed 56 shots a night earlier in a loss to Calipatria. A game which the Eagles led until the final minute.
"I'm proud of the team's ability to bounce back from a very disappointing performance last night," Granite Hills head coach DAN DUFFY said. "John Vrsich really had a great all-around game. I'm happy for the win, but still upset about last night."
HUNTER PIKE had a strong showing with nine points, 11 rebounds, and five blocked shots.
"We've been improving all season, that's all I can ask for," Duffy said.
CHRISTIAN 59, PATRICK HENRY 48 – The Christian High Patriots picked up their first Western League win of the season by knocking off the Patrick Henry Patriots at Ryan Athletic Center on Saturday.
No information was reported.