Patriots, Matadors, Knights earn wins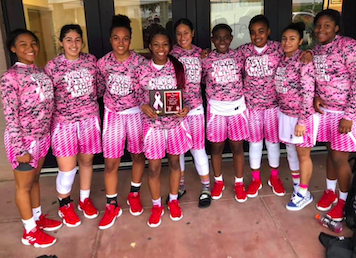 Mount Miguel following its win at the SoCal Run 'n' Gun Against Cancer on Saturday.
2019 EAST COUNTY PREP GIRLS BASKETBALL
EastCountySports.com staff report
CARLSBAD – GENEVIEVE COSTELLO was a Mount Miguel High athletics legend.
So anytime the Matadors can support the fight against cancer, which took the basketball great's life in 2013 at the young age of 26, count head coach ROBBIE SANDOVAL and his program in.
On Saturday, the fourth-ranked Matadors faced a stiff challenge from the sixth-ranked Poway Titans, but Mount Miguel claimed a pretty convincing 53-41 victory, snapping a rare three-game losing streak.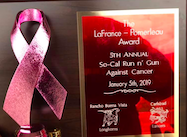 Sophomore star SYLENA PETERSON scored 24 points, including a pair of three-pointers early.
Mount Miguel senior DEYONNA MCBRIDE was awarded the Pomerleau-LaFrance Award, which symbolizes a player that plays with tremendous heart.
Mount Miguel improved to 13-4, while the Poway fell to 12-7.
The Grossmont Hills League season starts on Tuesday with the biggest matchup of the season when the Matadors travel to face challenger El Capitan.
Game 4 at CHS of the So Cal Run and Gun Against Cancer is Complete! Mt. Miguel with the win 53-41 over Poway @PowayHighTitans! #30 Deyonna McBride is the Pomerleau/LaFrance most Heart award winner! @cbadgirlsbball @KUSISports pic.twitter.com/DuMBqo8yiL

— Amanda Waters (@CarlsbadAD) January 6, 2019
CHRISTIAN 72, FAITH LUTHERAN 29 – The Faith Lutheran Crusaders took a trip to the beach and then took in San Diego State's women's game against Boise State before taking the court against the 11th-ranked Christian Patriots on Saturday at the San Diego vs. Las Vegas Showcase at Bonita Vista High on Saturday.
The Patriots then made quick work of the visitors from Nevada, jumping out to a 26-4 lead after one quarter.
Christian High led 56-13 at halftime.
Junior forward SIMONE JAMES had 19 points for the Patriots.
"It feels like every game we play our chemistry has been getting better and better," James said. "Tonight, our assists showed that.
"I have been working really hard on finishing around the rim and being strong. We came out prepared for a tough Vegas team and everyone delivered.
"The difference from this year and last year is that last year we were establishing a competitive culture, and this year we are strengthening that. With us building on that culture, we feel we can compete with anyone."
Christian High junior guard ALLIE CARREON had 15 points.
"God blessed us with an amazing group of girls," Carreon said. "Everyone brings something to the table. Just being around my teammates and their positivity just makes me play better and it makes the game fun. Knowing my sisters have my back is the best feeling in the world, I wouldn't trade it for anything. (We're) Blessed with the best coaches and blessed with the best teammates and sisters.
"We are just hungry and ready for this season."
Patriot sophomore guard KRISTIN WILLIAMS had 12 points on four three-pointers.
"I think our defense really stood out tonight," Williams said. "Steals, rebounds, and blocks. We didn't have very many fouls was also great.
"I think our recent wins have brought us closer as a team. We are really bonding and becoming one. I think it's bringing our confidence up.
"I'm starting to get my shot back and working hard on that. Now, I feel like I'm contributing way more and being more of a presence. On the court the atmosphere is fun and it's not pressuring, when we do our thing we look calm and relaxed."
"Last year, most of the pressure was on me and Simone to get the scoring and leadership done. But now it's completely different, we are back and better than ever."
Junior guard AMAYA HOWARD had 10 points for the Pats, while senior backcourt-mate YESINIA SMITH added nine points.
"Our defense led our offense very well," Smith said. "There are still things to fix and tonight I feel like we pinpointed those things very well. God was just with me on the court and I was trying to be the best floor general I could be. I play for Him, so we were all blessed on the court. We have become a more God-centered team."
FOOTHILLS CHRISTIAN 67, STEELE CANYON 47 – The Knights rallied in the second half after an impressive first 16 minutes by the Cougars in a precursor at the San Diego vs. Las Vegas event at Bonita Vista High.
Steele Canyon led 12-6 after one period and 29-24 at halftime before the Knights responded with a 20-8 spurt in the third quarter.
Sophomore ARANTXA FONSECA had 21 points, 17 rebounds, five assists, and three blocked shots to lead Foothills Christian (12-5).
Junior ELLIE TURK added 19 points, 13 rebounds, 10 assists, and six blocked shots for FCHS.
Freshman NATALY BRAVO contributed 14 points and seven rebounds for Foothills.
The Cougars' MAHKAYLAH CLINE and LALA WADLEY had back-to-back field goals in the second quarter to extend the Steele lead to 25-18.
The Knights open Ocean League play on Tuesday against Orange Glen at Greenfield Middle School.
Steele Canyon (4-6) hosts Granite Hills in its Grossmont Valley League opener on Tuesday.
LIBERTY (Nev.) 53, BONITA VISTA 45 – The Patriots came to the San Diego vs. Las Vegas event and upset the short-handed Barons.
A slow start was the detriment for Bonita Vista, as the visitors got out to a 14-5 lead.
Baron senior wing LARYSSA KURE led all scorers with 23 points, while grabbing six rebounds and dishing out four assists.
"Laryssa Kure came to play," Bonita Vista head coach TRISTAN LAMB said. "She has been stepping it up and finding her rhythm during the second half of the season."
Bonita Vista senior guard ANNETH GRIJALBA added 11 points.
"Liberty traveled to San Diego with a full team and played a great game," Lamb said. "We were missing key players and it hurt us in the end. Some of the girls have to learn how important it is to be focused and ready to play an entire season."