Vaqueros on fire with New Year's title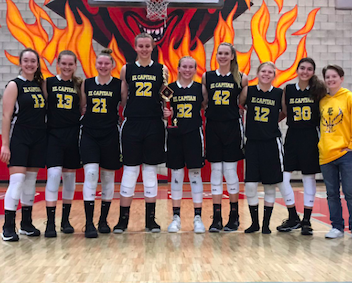 El Capitan Vaqueros after winning the Sweetwater New Year's Classic.
2019 EAST COUNTY PREP GIRLS BASKETBALL
EastCountySports.com staff report
NATIONAL CITY – The El Capitan Vaqueros got 2019 off to a ringing start with a tournament championship, capturing the Sweetwater New Year's Classic with a 46-36 win over equally-regarded Rancho Bernardo on Saturday.
The Vaqueros have won four-straight games and 10 of their last 11 heading into Grossmont Hills League play starting this week.
El Capitan sophomore MACKENZIE CURTIS scored 27 points, including nine in the fourth quarter, after the Broncos crawled to within three points late in the third.
Vaquero junior JORDAN GRANDY had a pair of three-pointers in the first half, as El Cap led 25-15 at halftime.
Sophomore EMMA DRISKILL (8 points) had a pair of field goals in the fourth quarter and Curtis' length-of-the-court drive and layup in the fourth put an exclamation point on her big week, as well as, El Capitan's tournament title.
"Everyone stepped up and did their job," El Capitan freshman TIFFANY BICKFORD said. "Tonight was a major stepping stone for me. It was my first night playing the type of defense I did on a good player for a long period of time.
"Shy Peres and I were playing lockdown defense. This was a statement from the El Capitan girls that we're not a team to mess with."
The Grossmont Hills League season opens up on Tuesday with a blockbuster of matchup as the 19th-ranked Vaqueros host the fourth-ranked Mount Miguel Matadors in Lakeside at 6.