Matadors' Edwards takes over in fourth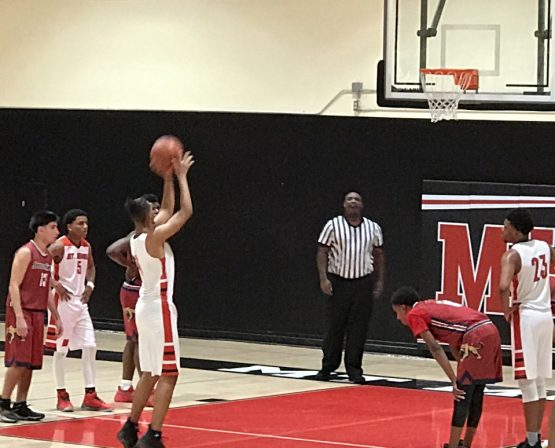 Mount Miguel at the free throw line on Tuesday night.
2019 EAST COUNTY PREP BOYS BASKETBALL
MOUNT MIGUEL 65, STEELE CANYON 60
By John Duran
EastCountySports.com
SPRING VALLEY – The Mount Miguel Matadors ended their two-game losing streak after defeating the Steele Canyon Cougars at home, 65-60, in a Grossmont Hills League opener on Tuesday night.
The fourth quarter between these Division II rivals became the Marquise Edwards show.
Edwards, a senior, scored 19 points in the final quarter to finish with a game high 35 points.
"A win is a win," Edwards said. "We played good team basketball.
"We were coming out of a slump. (We) played a couple bad games before but we came together as a team, as a family, and stayed composed and did what we had to do. This was a team win."
Steele Canyon made life difficult for the Matadors in the fourth, especially Grant Childs and Atton Hamish.
Childs scored 10 of his 23 points in the fourth while Hamish added 11 of his 14 in the final quarter.
The Cougars (2-13, 0-1) are now on an eight-game losing streak and are near the bottom of the Division II power rankings.
Mount Miguel (12-5, 1-0) was coming off back-to-back blowout losses.
Senior Lawrence Gray put up 15 points for the Matadors while sharpshooter Mikeece Dunbar added 11 points.
Steele Canyon will welcome West Hills on Friday night in a Hills League showdown. Tip-off is at 7 p.m.
The Matadors will welcome Grossmont to Mount Miguel on Friday night. Tip-off is at 7 p.m.