Matadors hold off proud Vaqueros
Sylena Peterson drives against El Capitan on Tuesday. / photo by Dave Dickens
2019 EAST COUNTY PREP GIRLS BASKETBALL
MOUNT MIGUEL 40, EL CAPITAN 33
EastCountySports.com staff report
LAKESIDE – It was one of the games of the year in the Grossmont Conference.
A matchup between two of the top teams expected to compete in the Grossmont Hills League.
An 18-time consecutive league champion against the defending champions from the conference's Valley League from last season.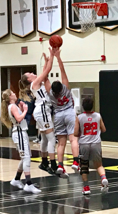 A game that only true basketball aficionados could appreciate.
And that's all who showed up on a Tuesday night to see perennial champion Mount Miguel hold off stout challenger El Capitan, 40-33, in the Grossmont Hills League opener.
The girls brought it, that's for sure, particularly on the defensive end.
Mount Miguel senior LALLI GURROLA made four three-pointers to finish with 14 points and teammate SYLENA PETERSON had a pair of threes in the opening quarter and finished with nine points for the game, as the third-ranked Matadors limited the 14th-ranked Vaqueros to just 10 first-half points.
"I feel like we didn't perform as we should've," Peterson said. "Our defensive effort was there but the scoring was a little difficult to convert tonight.
"We played a good team we both fought our hardest tonight."
After trailing by 12 at halftime, El Capitan got things rolling in the third quarter behind eight points in the period by junior guard JORDAN GRANDY.
El Capitan sophomore MACKENZIE CURTIS scored seven of her game-high 16 points in the fourth quarter.
"They played faster than we wanted to in the first half," Curtis said "If we would've finished some of our layups it would've been a different game.
"We have so much respect for Sylena and their team, but we are ready for them. And we will be ready next time, too. We executed tonight, and I am so proud of our team."
With Mount Miguel still the undisputed champion until further notice, this matchup on the road, as well as, a road test at Grossmont in two weeks, figure to be the best shot for one of the ranked upstarts to unseat the mighty Matadors.
But the Matadors led 16-6 three minutes into the second quarter. Still, the lead was in reach for the Vaqueros, but points were hard to come by for both clubs.
"I believe that (El Capitan) may be one our opponents in league that will be a little tough and we knew that coming into the game tonight," Peterson said.
The result had been decided when Curtis canned a consolation buzzer-beater at the end of the contest.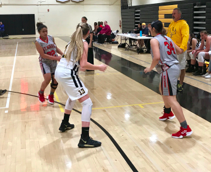 The made basket still set off a mini-celebration for the Vaqueros, who felt they accomplished a lot in hanging with the champs.
"Lately our shots haven't been falling but that one went in and let us know that we still have hope," Curtis said. "We know it is going to get better and that we still have a lot to play for. Playing them is so huge because it gets us ready for CIF."
The matchup featured two players – Curtis and Peterson – who lead the county in scoring average.
Curtis credited teammate SHIANA PEREZ for leading the defensive effort on Peterson, who came in averaging 23 points per game.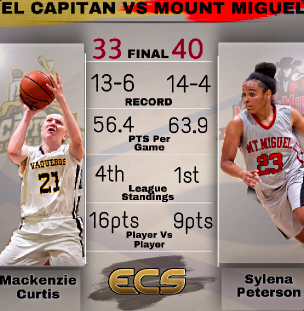 El Capitan will host West Hills on Friday in the next league contest. It will be the Wolf Pack's league opener.
Mount Miguel will host the league's other top challenger, Grossmont, on Friday at 5:30.