Rogers, Braves battle for comeback
Updated: January 12, 2019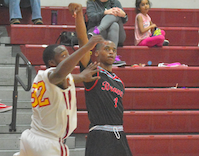 El Cajon Valley senior DAVION ROGERS follows through on a three-pointer while guarded by Monte Vista senior DERRICK WILEY.
2019 EAST COUNTY PREP BOYS BASKETBALL
By Ramon Scott
EastCountySports.com
SPRING VALLEY – El Cajon Valley senior DAEVION ROGERS has been racking up big stats for the Braves all season.
But Rogers isn't on a quest for attention for himself.
On the contrary, it seems Rogers' first priority is to get his teammates involved.
And although it was Rogers that took the reins in the final minutes of El Cajon Valley's 61-57 Grossmont Valley League win over host Monte Vista on Friday night, there was plenty of teamwork that made the victory possible.
The Braves trailed by 10 at halftime, but opened the third quarter with an 8-0 run to signal their interest.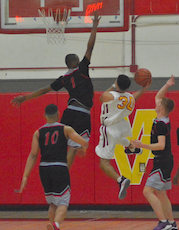 Rogers scored 30 points, grabbed nine rebounds, handed out three assists and made three steals, but got clutch contributions from teammates, particularly DASHAWN HENDERSON, DWIGHT BREWER, MASON THACKER and BRANDON ROBINSON.
"It was a big game," Rogers said following the win. "We kinda fell into a slump and were looking to get out of it.
"Without my teammates, I wouldn't even be able to get the open looks I do so I give a huge shout out to them they all played hard when it counted."
Rogers made huge shots down the stretch – from close range and from three-point land – but it was his supporting cast that made it possible with their clutch buckets.
Thacker hit a big three-pointer and Brewer made a driving scoop to give El Cajon Valley a 55-54 lead.
"Coming from that angle I knew I had to put some type of rotation on the ball or else it wouldn't have gone in," Brewer said. "At such a critical time in the game, as a captain, I thought it was time for me to step up."
Rogers got his shot going in the third quarter with a big three-pointer from the corner, then again in the middle of the fourth quarter from the opposite side while being guarded closely by Wiley.
But it was his late fourth-quarter trey, followed by a put-back that gave the Braves a two-possession lead.
"It helped that we got the three-point shot going because we didn't hit any in the first half," Rogers said. "Once I got my shot blocked in the beginning (of the second half), I was like, 'oh boy, this is the kinda game we're gonna have.'"
"But mental toughness played a big part in my individual game and we had pretty much everyone who attends the home games at our place to travel out and watch, which made the win even more special. It was a great team effort tonight."
The Monarchs had a strong presence inside with their formidable senior tandem of DEMARCUS MCKAN and DERRICK WILEY.
Wiley had nine points in the first quarter, while McKan added six points in the second period to help build the 34-24 halftime lead.
"Derrick Wiley is really unguardable," Rogers said. "Especially in a game like this where fouls are being called left and right."
Even with the Braves' quick surge to get back in the game, Monte Vista quelled the comeback early in the second half with more inside scoring from the duo.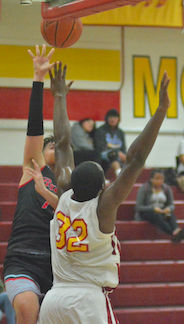 And when senior guard TOMMY GALLEGOS was perfect with his behind-the-back pass to senior KENNY STEVENS for a momentum-shifting layup, the Monarchs appeared to have their mojo back.
But El Cajon Valley did their best to put bodies on the Monarchs' bigs and Monte Vista's late shots in the fourth rimmed out, allowing the Braves their opportunity.
"I'm glad we pulled through," Rogers said. "We really needed this to boost our confidence throughout the home stretch of the season. We all know that at the end of the day when there's adversity, there's nothing more we can do than link arms, buckle down, and do what we're coached to do.
"Our coach (SCOTTY JAMES) really encourages us to come together in desperation time and it shows on the court."
El Cajon Valley (8-9, 1-1 GVL) finds itself right back in the thick of the Grossmont Valley League chase in the early going at 1-1 after heavy league favorite Valhalla was upset by Granite Hills on Friday night.
The Monarchs fell to 0-2 in league and 7-12 overall.