Edwards' 44 points paces Matadors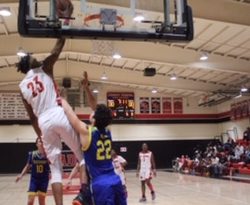 Mount Miguel senior MARQUISE EDWARDS goes up for a basket against Grossmont on Friday.
2019 EAST COUNTY PREP BOYS BASKETBALL
MOUNT MIGUEL 76, GROSSMONT 57
By John Duran
EastCountySports.com
SPRING VALLEY – The Mount Miguel Matadors dominated the Grossmont Foothillers 76-57 Friday night to improve to 13-5 overall and 2-0 in the Grossmont Hills League.
Marquise Edwards continued to show why he is one of the best players in the county, scoring 44 points and putting the Matadors ahead by as many as 30 in the fourth quarter before head coach Jay Rowlett decided to pull his starters.
A buzzer-beating three put Grossmont up 15-13 after the first quarter. After that, it was all Mount Miguel.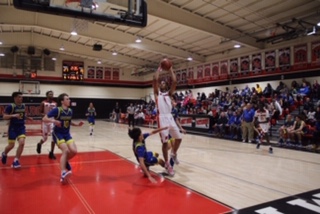 Lawrence Gray, a senior, scored 11 of his 15 points in the second quarter where the Matadors outscored the Foothillers 22-8.
Edwards, who scored 31 second half points, wanted this win badly for his team after having a rough couple of weeks.
"It means a lot. Past couple weeks we've been on a bumpy road but we came together as a team and got the win," Edwards said.
Edwards is fully aware this team depends on how he and his fellow seniors, Gray and Mikeece Dunbar, perform. He talked after the game on how serious he takes in preparing to perform at a high level.
"It's very important because if I don't come out and perform how I do then the loss is on me and everything that happens is on me so I take it very serious," Edwards said.
Grossmont fell to 10-8 on the season. A 20-point game by Lachin Bekirov was not enough for the Foothillers to overcome the high-scoring Matadors.
Grossmont will take on Steele Canyon on Friday, January 18 at home. Tip-off is at 7 p.m.
Mount Miguel will travel to West Hills on Tuesday, January 15. Tip-off is at 6 p.m.