Titans' win over Hillers ends poorly
Updated: January 15, 2019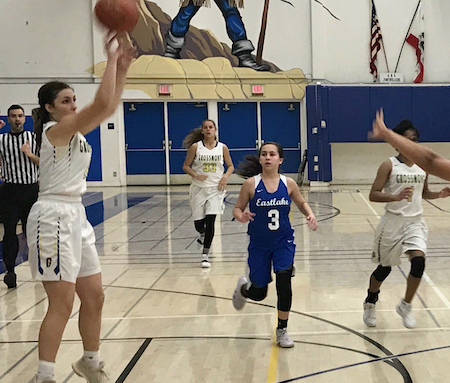 Grossmont's Athena Sotelo attempts on shot on Monday night against Eastlake. / photo by Dave Dickens
2019 EAST COUNTY PREP GIRLS BASKETBALL
EastCountySports.com staff report
EL CAJON – It was a cold, rainy night outside of the Grossmont High gym on Monday night, but things got a bit heated inside near the conclusion of Eastlake's 40-33 upset win over the host Foothillers.
With all of about 25 people attending this non-league affair, you could almost hear the conversations over the bouncing of the basketball, which may not have been a good thing.
Prior to the contest, Grossmont head coach Grace Campbell noted that Eastlake is a well-coached team and although the Titans are down a bit this season, it would definitely be a close game.
This evening was maybe not as eventful on the court as it was off the court, and in the stands, as both sets of fans were going back-and-forth in mostly pleasant arguments over who was the better team and if the officiating was worth a darn. All were just opinions, of course.
Although there was not much of attendance, several of the Titan faithful traveled to El Cajon to see their team triumph this evening.
Eastlake opened up the game with a 4-0 lead, and then from there, it was pretty much a back-and-forth affair, with neither team being up by more than five points throughout the remainder until the very end of the contest.
The Hillers were unsuccessful not only in rebounds but also at being successful at the rim, and the Grossmont defense appeared to be a little flat without many steals, allowing the Titans to hang around in a game that was forecasted to be in favor of the Foothillers.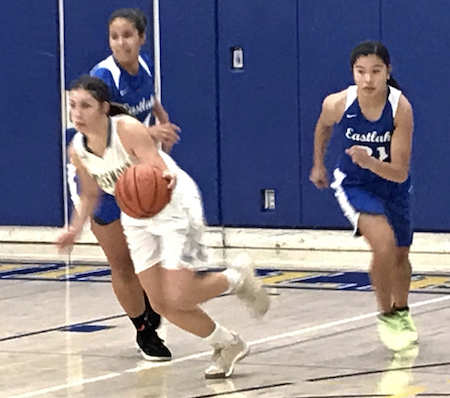 The game was tied 13-all at halftime and Grossmont led 24-22 at the end of three quarters.
However, Eastlake made the difference scoring nearly half of their total in the final stanza, outscoring the Foothillers, 18-8.
Senior Athena Sotelo was the scoring leader with 12 points for the Hillers, including a pair of three-pointers. She also grabbed three steals.
Junior Sarah Henry had seven points for Grossmont, while sophomore teammate Daneca Perez added six points, seven rebounds, and three assists.
Sophomore Anyssa Chargualaf had five points, a team-high nine rebounds, and also made three thefts.
Tenth-ranked Grossmont (13-5) has definitely been a streaky team, and this one ended up on the lackluster end, according to Campbell.
"We just probably played one of our most lackluster games of the year," said Campbell. "Now we must really work hard and prepare for a league showdown with El Capitan and we need to be prepared for that one."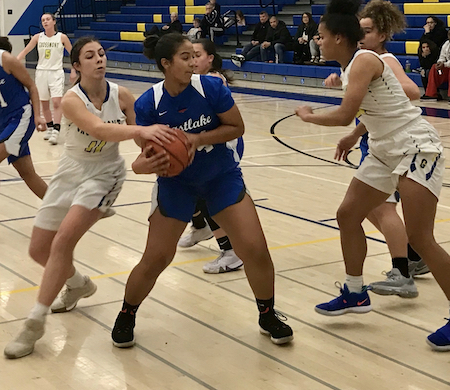 It was the second-straight loss for Grossmont, following Friday night's Grossmont Hills League loss at Mount Miguel.
But, they'll have three days of preparation for the game against the Lady Vaqueros here on Friday evening.
"(El Capitan) head coach Darrin Curtis and his assistant Wally (Yeakle) are fantastic coaches and you bet they will have those ladies one-hundred percent prepared to take us on on Friday," said Campbell.